Aethereus – Leiden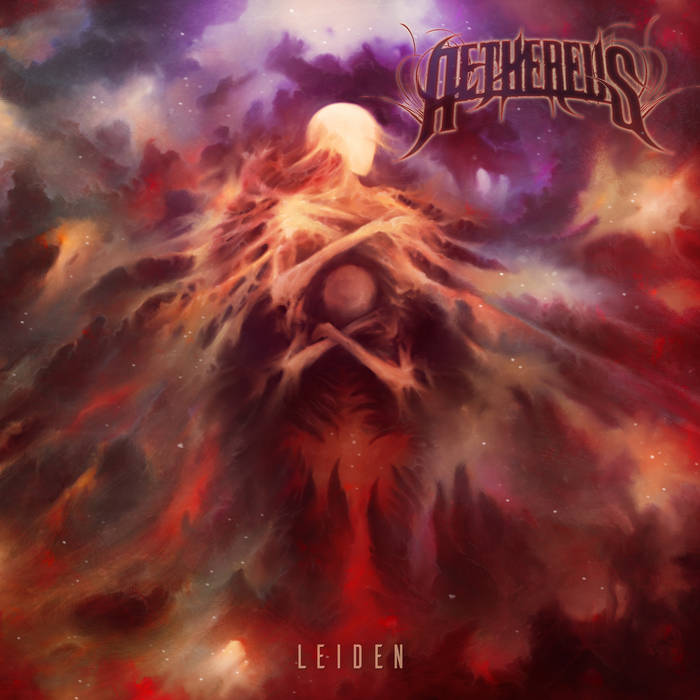 Aethereus is a rather unknown death metal band, one whose name I may have heard before but surely never listened to, but they do fit in exactly the category I love most as their music is highly complex and virtuous. Yes, we're dealing with another tech-death band and quite unsurprisingly, they're signed to The Artisan Era. "Leiden" is the group's second full-length album and while I haven't heard their debut, I have to say that this one surely is impressive for a second release.
I wouldn't dare label this simply as tech-death though, it seems to have more influences than that and above everything, what I think is special about this album is just the uniqueness. It is brutal and it is technical but from a creative standpoint, it is very intricate and original in a way that really satisfies my inner nerd. From a genre-perspective, I would say elements of brutal death metal and melodic death metal appear quite often, making this a more diverse listen and granting some more accessible moments throughout an album that is otherwise an onslaught of complexity.
The first thing that struck me about Aethereus as soon as I heard the first single 'Behold, The World Eater', was the brutality of the sound. Drums and vocals are the main elements that make their sound an absolute stink-fest. Despite extreme speed and precision in the drum performance, Matt Behner has a playing style that mainly strikes through its absolute relentlessness. There is of course, as there must always be in tech-death, a strong use of blast beats, but his abilities reach far beyond just that. It's on the most progressive parts of the songs that he really shines. He's got a unique way of bursting the blasting and the double kicks in and out, intertwining them with transitions and slamming some incredibly nasty moments. And there's also something about the way the drums are produced that just makes them sound absolutely gargantuan.
Aethereus – Behold, The World Eater ( Click here if the video does not play )
The effect of a raging colossus is further amplified by vocalist Vance Bratcher, who is solely responsible for why I listed brutal death metal among the genres I hear on this album. His growls are so guttural, filthy and downright obscene, as well as ongoing for long amounts of time without leaving much room for breath, making it such that by the end of the album, you'll be having a really hard time trying to unclench your stink face.
By comparison, the bass and guitars seem to add more of the melody, accuracy and dynamic of the music. Of course, the drum performance is incredibly precise as well as blisteringly fast, but it's still the massive heft of it that comes across the most to me. But the riffage honestly feels like constant progressive motion, and it's what keeps the songs feeling like a rollercoaster. It's so creative, dynamic and experimental in the way it ranges and changes that it's just a joy to follow along with the guitars. Benjamin Gassman and Kyle Chapman are incredibly skilled not only as individual performers but also in putting their performances together. The two guitars don't always follow the same riff pattern and you can hear them moving in different directions but with clear connection among each other, almost as if they were interacting. And when the solos come in, it's where this band really becomes melodic death metal. The creativity that went into the solos is very impressive, sometimes showing fabulous shred technique like for example on the solo in 'Leiden', but generally going all out on creativity. For example, the solo in 'The Living Abyss' actually got me thinking of Plini due to the clean, melodic and almost playful style with clever accents and bursts of shred while the one in 'Son of a Nameless Father' seemed to have a slightly bluesy or classic rock tone going on there, but still keeping the sound fitting to the death metal background. Despite all this melody talk, I do need to stress that the chug fest and occasional dissonant chords in the riffs are particularly gnarly and an essential addition to the previously mentioned stink face syndrome.
Aethereus – Son of a Nameless Father ( Click here if the video does not play )
Now let's have a quick look at the bass, shall we? Scott Hermanns doesn't play a fretless bass but he can sure make it sound fluid and wobbly enough to add the more refined touch to the texture of the sound. Among all this brutality, sometimes it almost sounds chill, but still comes through powerfully and strangely works along the squealing chaos that the guitars might be displaying. It does however pummel quite heavily in a death metal fashion and of course, gets some superb solo moments as for example in the atmospheric part of 'Behold the World Eater' or the solo in 'Shrouded in Kaleidoscopic', where it flows over an intricate drum groove and quite strangely, mixes with a superb piano sound.
This brings me to one of the most unexpected things about this album: piano and orchestrations. After being absolutely bullied by that filthy first single, the last thing I would have seen coming was grand cinematic orchestral scores opening the album and moments of grand piano setting in penetrating atmospheres. But I must say, it is an incredible match for their sound. While the music is brutal, it sure has a dramatic, menacing attitude, which is why moments of grand piano, often leaving the chords to echo powerfully, create an incredible suspense about as you wonder what sort of ungodly monstrosity is about to hit you next. The string sections occasionally have an almost cathedral-like feel but also an evil cinematic tone that I might associate with the symphonic elements in Septicflesh. Here, I must once again spotlight the outro to 'Shrouded in Kaleidoscope' where this effect is most noticeable and is also mixed in with a violin that reminded me of Ne Obliviscaris, given the context of extreme metal.
Aethereus – Leiden ( Click here if the video does not play )
With these final elements, the Aethereus soundscape is complete and ready to massacre the listener's eardrums in the most engaging way possible! And given the theatrical tone provided by the symphonic parts, Vance decided to go theatrical as well, providing whispered or spoken moments of extreme tension as well as a shrieky black metal vocal style emerging over atmospheric parts to provide the extra creepy heebee jeebees. As the most shocking moment on the album, I must mention the earth-shattering doomy breakdown with horror orchestral tones opening the album's near 10-minute closer, 'Upon Infinite Seas'. Honestly, just brace for that one. You were warned.
With that, there isn't much left to say except, get ready for the carnage. 'Leiden' will surely be appreciated by death metal fans, as well as fans of technical metal in general, and it has a voice of its own that somehow manages to be unique, in a genre where everyone seems to have done everything already.
Track List:
Aberration (06:55)
Endless Cycle of Rebirth (06:13)
Shrouded in Kaleidoscopic (06:25)
Behold, The World Eater (05:36)
The Living Abyss (09:19)
Leiden (05:03)
Son of a Nameless Father (06:03)
Upon Infinite Seas (09:43)