Cynic – Ascension Codes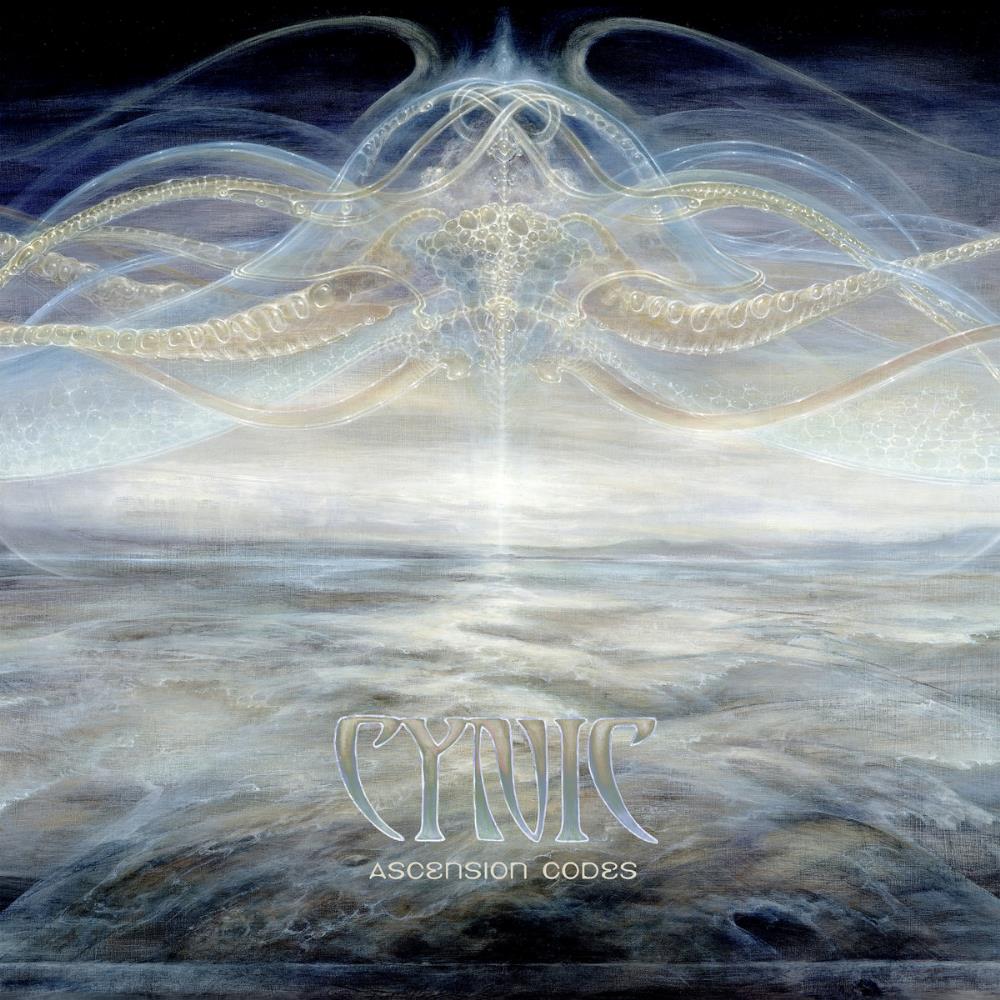 Great art comes from great pain. A tad cliché perhaps, but this certainly rings true for Paul Masvidal, guitarist and vocalist of progressive/esoteric outfit Cynic. Despite various line-up changes, the band's creative core was formed by Sean Reinert (drums), Sean Malone (bass) and the aforementioned Paul Masvidal. Sadly, both Seans passed away in an untimely fashion, leaving the band's future uncertain. As a sign of true character, Paul Masvidal decided to soldier on. He recruited the talents of drummer Matt Lynch (Trioscapes, Nova Collective) and Plini collaborator David Mackay on keyboards. Together they created "Ascension Codes", Cynic's most ambitious and arguably most accomplished release to date.
Stylistically "Ascension Codes" is a continuation of what Masvidal and co have done on "Traced in Air" and "Carbon-Based Anatomy", but on a grander scale with more musical depth. After a short ambient intro, the album starts with its first proper track called 'The Winged Ones'. It's an instrumental piece showcasing a wide variety of musical styles, including progressive rock, jazz/fusion and more ambient leanings. The sheer musicality of this piece is just breathtaking. It serves as the perfect overture for the rest of the album.
Cynic – Mythical Serpents (click here if the video does not play)
After another ambient interlude, the album segues into 'Elements and Their Inhabitants'. This is a more traditional Cynic track with Paul Masvidal's vocoder vocals in full swing. This song is just the perfect mixture of poignant songwriting, emotive ambiance and next-level technicality. The same goes for songs like 'Mythical Serpents', '6th Dimensional Archetype' and 'Architects of Consciousness'. Paul Masvidal and his contributors are simply not of this world when it comes to musicality and songwriting prowess.
Some listeners may have difficulties understanding the overall structure of "Ascension Codes" with all these ambient interludes and prefer more traditional song-based Cynic albums like "Traced in Air" and "Kindly Bent to Free Us". However, it's the musical interplay between these ambient parts and the more regular tracks that gives "Ascension Codes" its inherent mojo. It's a gesamtkunstwerk in which every element has a dedicated place in the greater overarching structure.
In A Multiverse Where Atoms Sing (click here if the video does not play)
"Ascension Codes" isn't for the faint of heart. It takes an open mind and a lot of dedication and perseverance before it unveils its otherworldly and ethereal beauty. However, when you have reached this sweet spot, you're off on a musical trip of a lifetime. Moreover, this album is a fitting and endearing tribute to the legacy of both Sean Reinert and Sean Malone. A truly ascending experience.
Tracklist:
Mu-54*
The Winged Ones
A'-va432
Elements and their Inhabitants
Ha-144
Mythical Serpents
Sha48*
6th Dimensional Archetype
DNA Activation Template
  Shar-216
  Architects of Consciousness
  DA'z-a86.4
  Aurora
  DU-*61.714285
  In a Multiverse Where Atoms Sing
  A'jha108
  Diamond Light Body
  Ec-ka72