Anna Pest – Dark Arms Reach Skyward With Bone White Fingers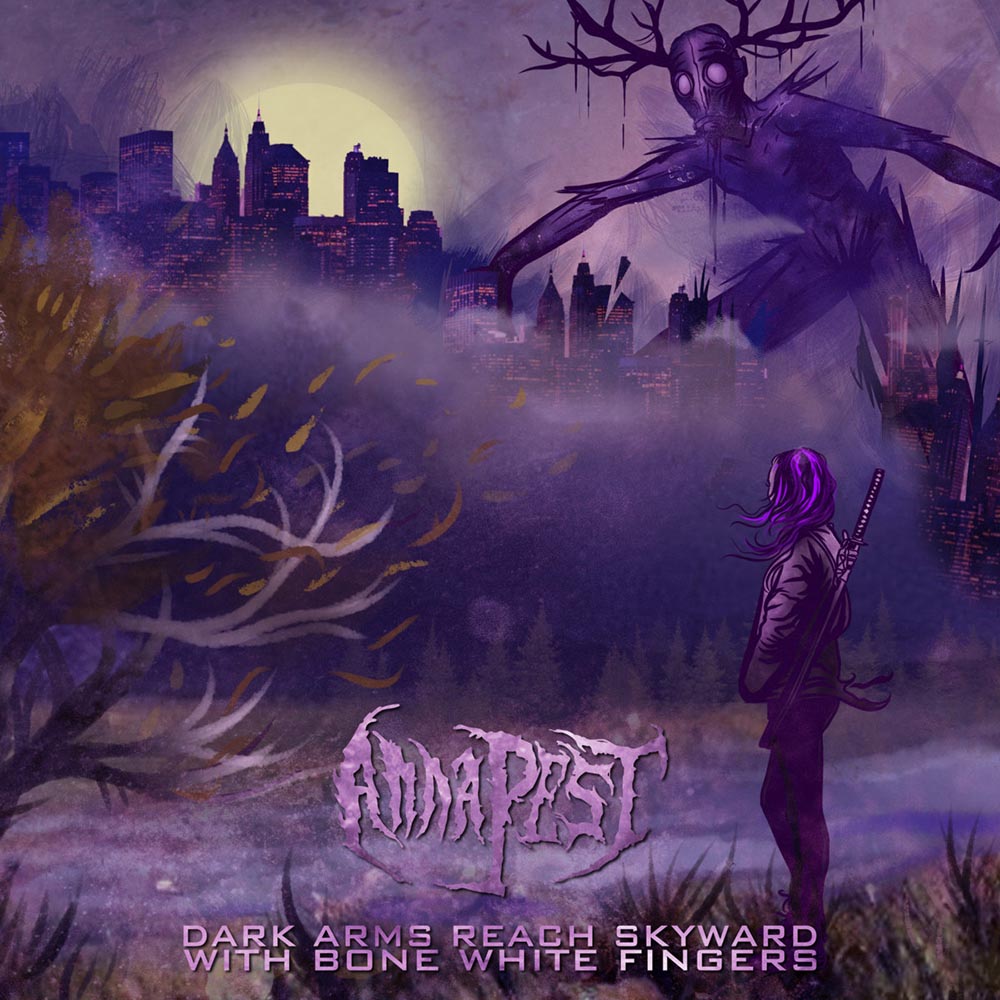 The new year will be off to an intense start with the release of Anna Pest's sophomore full-length concept album, "Dark Arms Reach Skyward With Bone White Fingers". Anna Pest is an independent solo project/artist from Montréal, Canada, formed and led by vocalist, multi-instrumentalist, and producer, April Hutchins. Her work isn't strictly limited to a single subgenre of metal; looking through her discography, she has done black metal on her debut album, "Folklore", as well as melodeath, brutal/tech death, gothic metal, and even trancecore on a range of EP's and singles launched within a 4-year timespan. And if that wasn't enough, this new record went even further to not only go yet another musical direction, but to blend elements of deathgrind, mathcore, and progressive metal. Oh, and the story is essentially a tribute to Neon Genesis: Evangelion. Simply put, this is Anna Pest's craziest release to date.
The album begins immediately with ferocious blast beats and a black metal-esque chord progression, followed by April's screams layering on top of the instrumentals for a dark and chaotic entrance. Admittedly, this is a pretty calm introduction when compared to what's about to come later on. 'Nadira' is the perfect opening track to this menacing record, as it includes almost every aspect of what to expect; mathcore-inspired riffing fused with a manic deathgrind attitude, leading into a beautiful melodic outro. This is definitely one of the more proggy tracks on here, despite being just over 4 minutes in length (making it also the second-longest song on the album).
And just when you thought it was heavy before, we transition straight into one of the singles, 'If You're Going to Do It, Do It Now'. This is one of the fastest and most aggressive songs on the album, although the level of intensity is almost no different from the other less-than-two-minute tracks scattered throughout the record. The first person to guest here is Jason Evans (Ingested), who does the more guttural slam death vocals, and he fits the role wonderfully. Again, the riffing here is top tier, complimenting the grooves, and not too crazy to the point of feeling out-of-place.
Anna Pest – If You're Going To Do it, Do It Now (click here if the video does not play)
The quality holds up for quite some time, and the seamless transitions really add to the experience. And before you know it, you hear the first set of clean vocals come in during the chorus of 'Skyward', which are done by d.are (solo electronic artist). This track in particular is one of the highlights, as it's versatile, catchy, and of course, maintaining the aggression of previous songs.
This is not the only time you'll hear clean singing on the album though. The following song, 'A Whisper in the Rain', which is one of the more black metal-inspired tracks, has some softer cleans and even harsher vocals reminiscent of Travis Ryan's (Cattle Decapitation) thrown in by April. Clearly, she has pushed herself further as a vocalist here, and the execution is spot-on. Then we have the single 'Heavy Lie the Mountains', picking back up on that usual level of mathy goodness, yet mixing some alt/prog elements at the same time. Another great track!
Focusing on the production, it's not your typical high-end quality, but it's far from sounding like a simple demo as well. April is a self-taught producer, and it's neat to witness the progression of her skills in that field since the 2014 release of "Solace" by Mellevon. When talking about this record, for how insane the instrumentals are, she did a fine job balancing everything. I will say that the overall bass I feel is a little high in the mix, and the guitar tone is almost too clean-sounding for some of the groove-oriented sections to truly shine. I guess I've grown to appreciate heavy, raw guitars for that kind of thing; however, you can really hear every note that's being played during the quick passages, so I learned to appreciate it more. Either way, I'm impressed with this result, as well as the choice of programmed drums. I gotta say that these drums are so intricate that there are probably not many drummers who could pull off some of this stuff in the studio. I do hear how the pingy snare tone can be a turn-off for some people, but I think it works well with the grindcore attitude provided.
Anna Pest – Swordmaiden (click here if the video does not play)
Continuing through the tracklist, we transition chaotically into the first single, 'Swordmaiden', which admittedly had me appreciate it more when listening in a full album approach, rather than being a standalone track. An absolutely menacing piece, and being the most deathcore of the bunch gives it similar vibes to how Infant Annihilator sounds, except not quite as wacky in the technical spectrum. Followed up by 'Ambivalence', another favourite of mine. This one's certainly one of the grooviest you'll find on the record; a sick, odd-time breakdown in 9/8 and Gojira-esque pick scrapes? Simply a good time.
'Despoiled by the Light of God' sets the balance by being another more melodic, catchy piece,  while the latest single 'Love Is Destructive', which features Duncan Bentley (Vulvodynia) on vocals, goes into a full-on clash of mathcore and slam. Sure, there are lots of different influences and subgenres thrown into this record, but the overall tone makes it a cohesive listen, and the compositions work really well together.
Anna Pest – Love is Destructive (click here if the video does not load)
Now on to the magnum opus, 'Of the Black Moon and the Red Earth', clocking in at just over 11 minutes in length. This piece is not only the best Anna Pest song, but the best thing that April has composed yet. The smooth introduction escalating in heaviness, the several movements that flow wonderfully into each other, and the last few minutes are absolutely perfect. There's some saxophone and beautiful vocal melodies, all coming together for an incredible ending… and then another 1-minute grind track comes in, reminding you what album you're listening to.
"Dark Arms Reach Skyward With Bone White Fingers" is a massive metal record that should not be ignored; essentially a milestone of Anna Pest's work. It is suggested to give it more than one listen, as there's a lot to take in from this experience. 2021 is starting already with one of its greatest extreme prog releases, and if you're also a fan of Neon Genesis: Evangelion, I couldn't recommend this more.