Árstíðir – Nivalis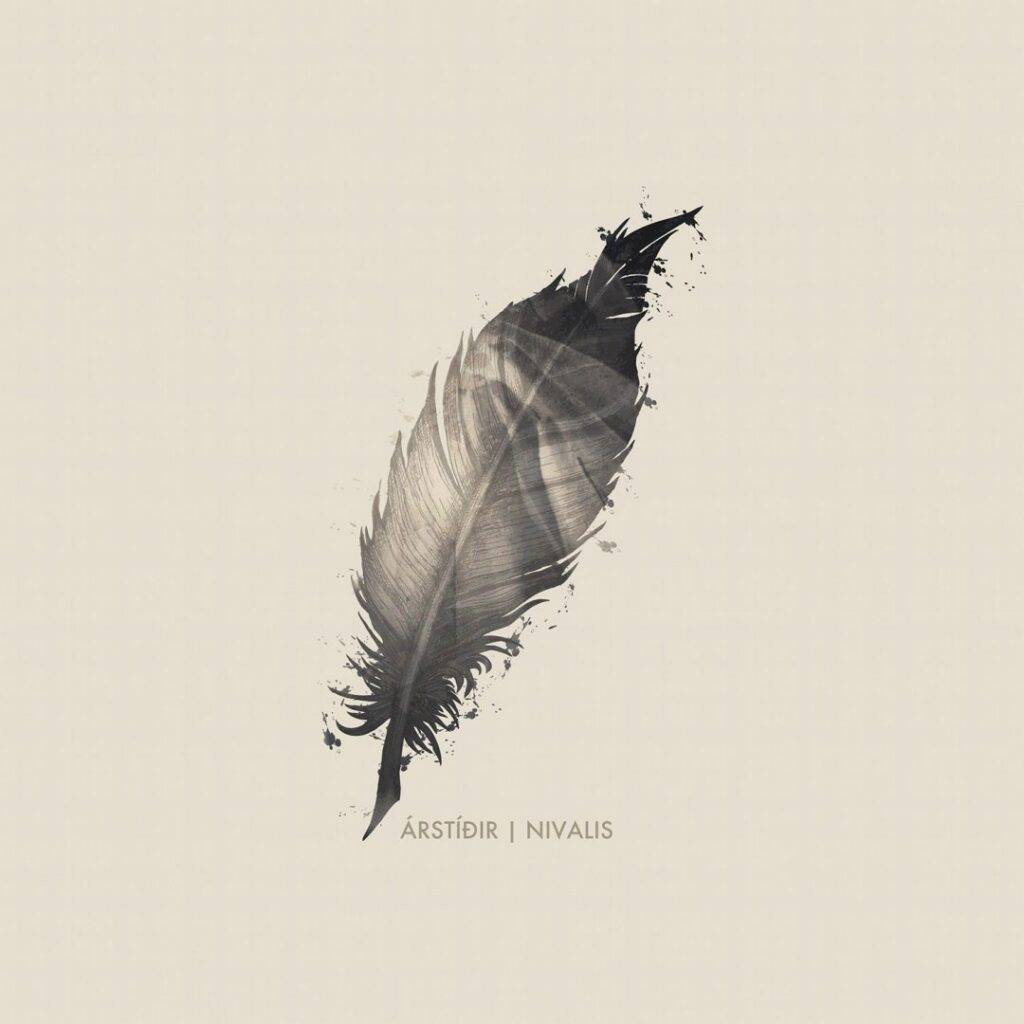 In a world that is designed to reward those who aim for a louder, bigger, faster, heavier approach, a band that specializes in the more mellow and subtler nuances of music truly is a phenomenon. Árstíðir hailing from Iceland are indeed one of those bands. Ever since they supported Pain of Salvation and Anneke van Giersbergen on their acoustic tour in 2013, they keep enthralling listeners from the progressive rock and metal scene with their unique and enigmatic sound just as they do with folk, alternative and art pop audiences.
Their third album "Hvel" marked something of a breakthrough and presented a perfect balance between songs in icelandic and songs in english, between a fully acoustical instrumentation and the addition of a full drum set. Now anyone who followed Árstíðir since then will know they announced that they were going for more drums on the next one. But fear not, "Nivalis" still is far from being an album with average rock instrumentation. The incorporation of the rhythm of the drums might be slightly increased, true, but the real surprise for me was electronic elements and more and more synthesizer sounds making their way into the Árstíðir universe.
But let's start at the beginning. 'While This Way' is pure Árstíðir magic, with those incredibly gorgeous vocal harmonies in the center of the attention. The addition of the synthesizer sounds is so subtle, that it feels completely natural, and a fully fledged drum rhythm kicking in about halfway is rounding up the picture of an impressive album opener. Now the following 'Lover' is sure to turn some heads and divide longtime Árstíðir fans. It is the most overtly 'pop' song they have ever done, while still retaining their core sound. That slick synth bass though is just as sexy as it can get. 'Please Help Me' continues in a similar vein and I can see many old school fans who only want to hear the pop influences turning away at this point. Simply put, it is their loss. The delicate string arrangements – as vital for the Árstíðir sound as the vocal arrangements, are still very much present in every of the 13 songs on the album, even if long-time member Karl-James Pestka (violin) decided to leave the band before the recording of "Nivalis".
The core trio of Daniel Auðunsson (guitar, vocals), Gunnar Már Jakobsson (baritone guitar, vocals) and Ragnar Ólafsson (keyboards, vocals) once again have assembled a collection of masterfully crafted songs on "Nivalis" though, each and every one shining with a distinct own character, while all of them retain that unique sound, thanks to the aforementioned ingredients. The only song in Icelandic, 'Þar sem enginn fer', one of the longest with a four minute playtime, sitting comfortably in the middle of the album, shows some more prog influences, while the following 'Circus' indulges in a slow 6/8. 'Oroi' is more of an instrumental interlude with it's electronic pulse and subtle string atmospheres.
After the impressive tension arc of 'Mute', the entirely acoustic 'Conviction' works just as well. 'In the Wake of You' is built on a simple arpeggio and falls a bit flat due to this standard pop rhythm after all the preceding emotions. In Árstíðir terms that still equals a good 4 in our rating systems. 'Wasting Time' is getting us back on track into more emotional waters, but still, nothing can prepare you for the intensity for the final onslaught (if you forgive me that term in this context), aptly titled 'Passion'. Just like 'Shine' on the "Nivalis" predecessor "Hvel", 'Passion' manages to pull on the heartstrings so vehemently, that it is entirely possible I will shed a tear or two every single time I listen to it, such is it's sublime beauty. And 'Shine' didn't even had that crazy explosion of the voices, never heard before in the Árstíðir sound universe. In a way, 'Passion' is the culmination of all of Árstíðir's work to date.
With "Nivalis", the three Icelanders of Árstíðir have created an incredibly beautiful gem of an album, regardless of genre, and a worthy follow up to their 2015 masterpiece "Hvel". What a blessing to be able to listen to music with such an emotional impact. Now bring on that "Nivalis"-Tour already, because there is one thing even more satisfying: witnessing a live performance of it.
Tracklist:
While This Way
Lover
Please Help Me
Entangled
Like Snow
Þar sem enginn fer (sjálfviljugur)
Circus
Órói
Mute
Conviction
In the Wake of You
Wasting Time
Passion