Aversed – Impermanent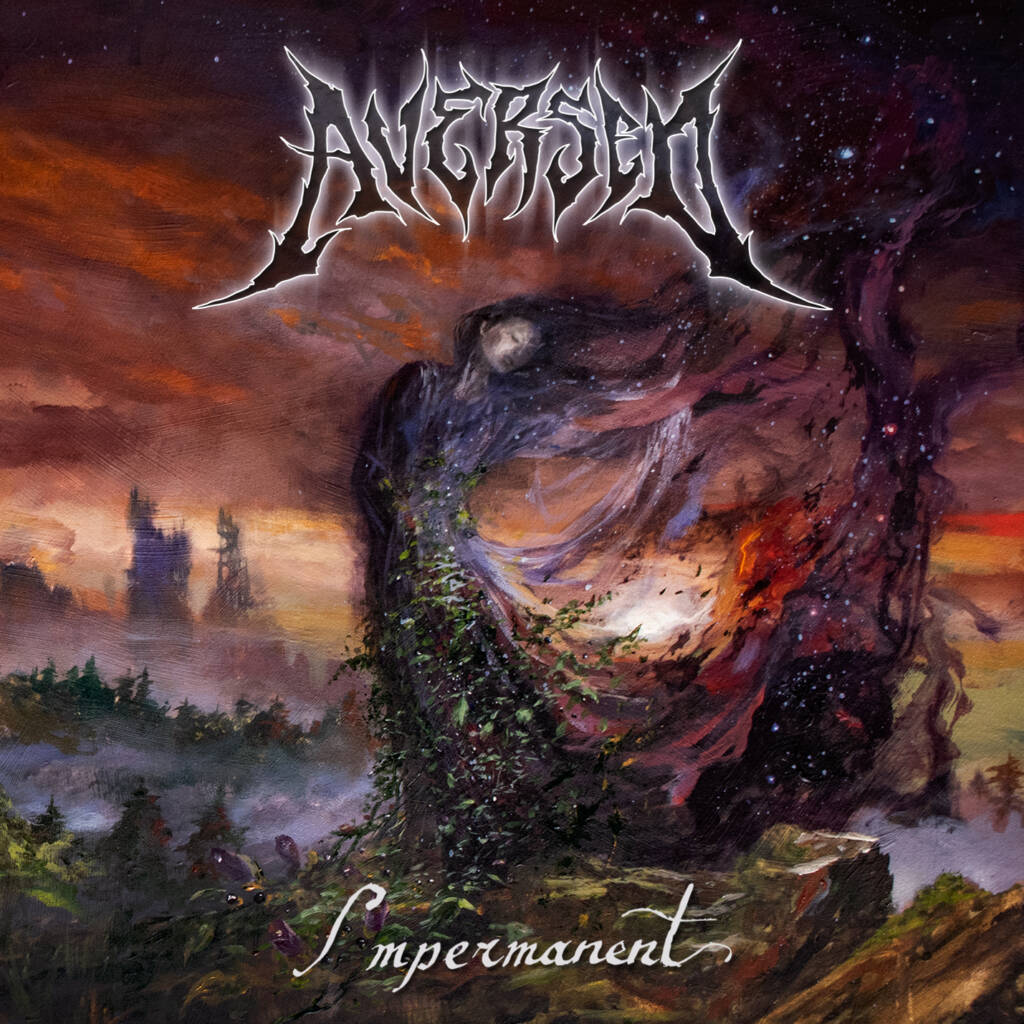 After spending the last few years concentrating on their individual projects, and live duties with other bands, Aversed are back. The Boston Massachusetts based band has previously released a couple of EPs, but 2021 sees the appearance of their debut album "Impermanent". With this release, they have shifted their style more towards blackened, orchestral melodic metal. After their hiatus, during which members of the band were involved with such outfits as Allegaeon, Unflesh, and Seven Spires, they have returned with a seriously themed collection of songs.
The whole concept of the album revolves around their own struggles with anxiety and depression with a backdrop of the impending environmental collapse of the Earth. The songs reflect overwhelming anger at mankind for not doing enough to stop both the natural and human world from crumbling around us.
If you visit Bandcamp to pre-order this album, you could be forgiven for believing that this album only has four tracks and is a mere 23 minutes long. I can assure you that is not the case. There are -actually- nine songs totaling 56 minutes. Presumably, the full album will be shown once it is released. I was hoping to get an insight to all the songs by reading the lyrics on Bandcamp, but alas that is not yet possible for all the tracks.
Despite the absence of lyrics for the opening track 'Natsukashi', the title itself gives us a bit of a clue. The Japanese word has no direct one-word translation in English, but instead means something that brings back fond memories. I guess what they are saying here is, although there are many depressing things happening in the world right now, occasionally a pleasant recollection comes flooding back, evoked by a sound, a smell, a taste, or a sight.
Throughout the album, vocalist Haydee Irizarry delivers an equal mix of growls and clean singing, and like a lot of similar vocalists, it's hard to believe it's the same person doing both. Her cleans remind me a bit of Brittney Slayes (Unleash the Archers). The evidence is there to see in three of the videos released in advance of the album.
Aversed – Close My Eyes (click here if the video does not play)
Aversed – Laboratory (click here if the video does not play)
Aversed – Impermanent (click here if the video does not play)
'Abandoned' has a gentler, melodic beginning, and even when it gets going, it remains catchy. 'Solar Sea' also has a melodic start and for a change, a melodic finish. There's also a whirling guitar solo slotted into the fast-paced body of the number. 'Malaise' sets off at top speed initially, slowing to a more comfortable pace later, and more guitar solos see the last minute of the track out. Penultimate track 'Spiraling' does indeed have some spiraling guitar work in it, as you would hope. There are many changes in the song, making it one of the most varied on the album. It may be coincidence or deliberate, but I have noticed that the afore-mentioned 4 tracks on Bandcamp are the same songs as the 4 YouTube videos that have been released.
Aversed – Abandoned (click here if the video does not play)
Taking us to the end we have the longest track on the album. At over 8 ½ minutes, 'Nightshade' is another track with a very varied song structure. They throw in everything at their disposal including some marvellous lead breaks. When it's all over, bar the shouting, there is no shouting, just a gentle fading out to the finish.
The experience each member has accrued in other bands and projects has enabled them to hone their skills. As a result, they have managed to produce a mighty fine record. This album is a grower, at first all I heard were grunts and blast beats, but it has way more to offer. I hope this rather excellent debut propels them to greater things because they deserve it.
Tracklist:
Natsukashi
Close My Eyes
Laboratory
Impermanent
Abandoned
Solar Sea
Malaise
Spiraling
Nightshade