ProgPower Europe 2023: Book your room at The Castle now!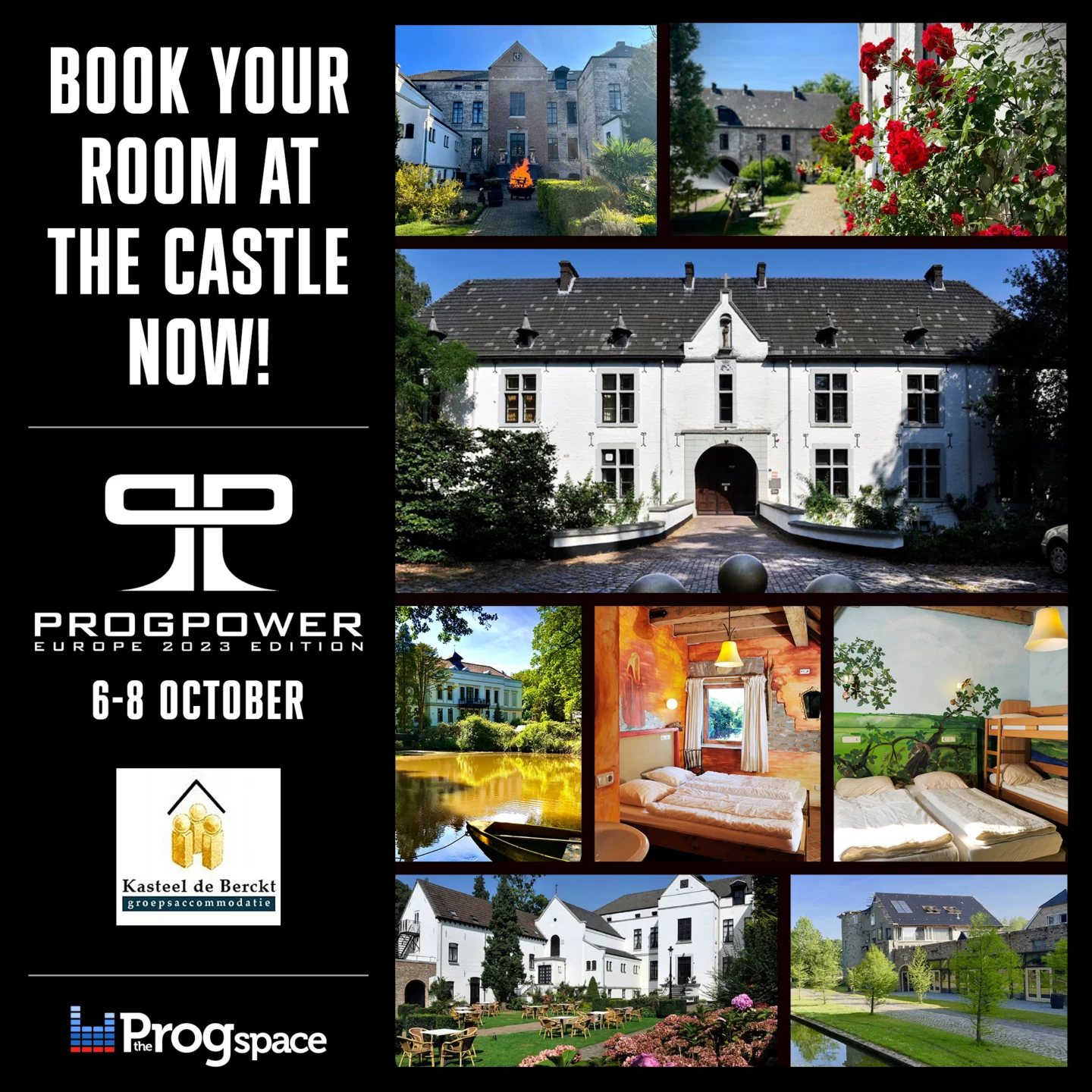 One of the things that make ProgPower Europe so unique is that you can sleep at a real castle! Booking for rooms at the historical Kasteel De Berckt is open now!
Booking your stay at Kasteel De Berckt during the festival, makes up for the full ProgPower Europe experience! Most of the visitors and many bands stay at the Castle. You can meet some of the bands or even have breakfast with your friends and the bands in the same room!
Kasteel De Berckt is located at the north outskirts of Baarlo, just a short walk from the shores of the Meuse (Maas) River, it is first mentioned in the 12th and 13th centuries, and it has gone through different owners and restorations, some still going on today. The main building is from 1830 and some of the original foundations from the renaissance building can be seen today in the cellars. De Berckt is a large estate with accomodations for groups, many different meeting rooms and halls as well as a a golf course and extensive green areas. You can also find many wild and semi wild animals strolling around the Castle, running squirrels, beautiful peacocks, the castle cat Lana, chickens and roosters, llamas, garden birds, etc.
The Castle has a big courtyard where the majority of the ProgPower Europe visitors relax before heading to the festival, and when you return in the evenings, you will find a bonfire lit, where you can share about the festival's impressions around the warming fire.  Accesible from the courtyard or from the main bulding, you will find the Chapel, where the ProgPower Europe Pre-Party happens the Thursday before the start of the festival. The Pre-Party is the 'unofficial' opening of the festival. The Progspace is proud to organize it again for the next edition!
There are many different rooms for 2 people or more. There is a big chance you will share a room with other people, there is no guarantee for single rooms. Breakfast is included and will be served in the morning between 09.00 and 11.00 hrs. On Thursday evening before the Pre-Party, a dinner will be served if you are interested, between 18.00 and 20.00 hrs. The cost is € 10 (cash only) and you can pay at the entrance.
Booking options: 
4 Days (Thursday – Monday): €160,00

3 Days (Thursday – Sunday or Friday – Monday): €135,00

More information and booking: https://progpowereurope.com/de-berckt/