Gazpacho – Fireworker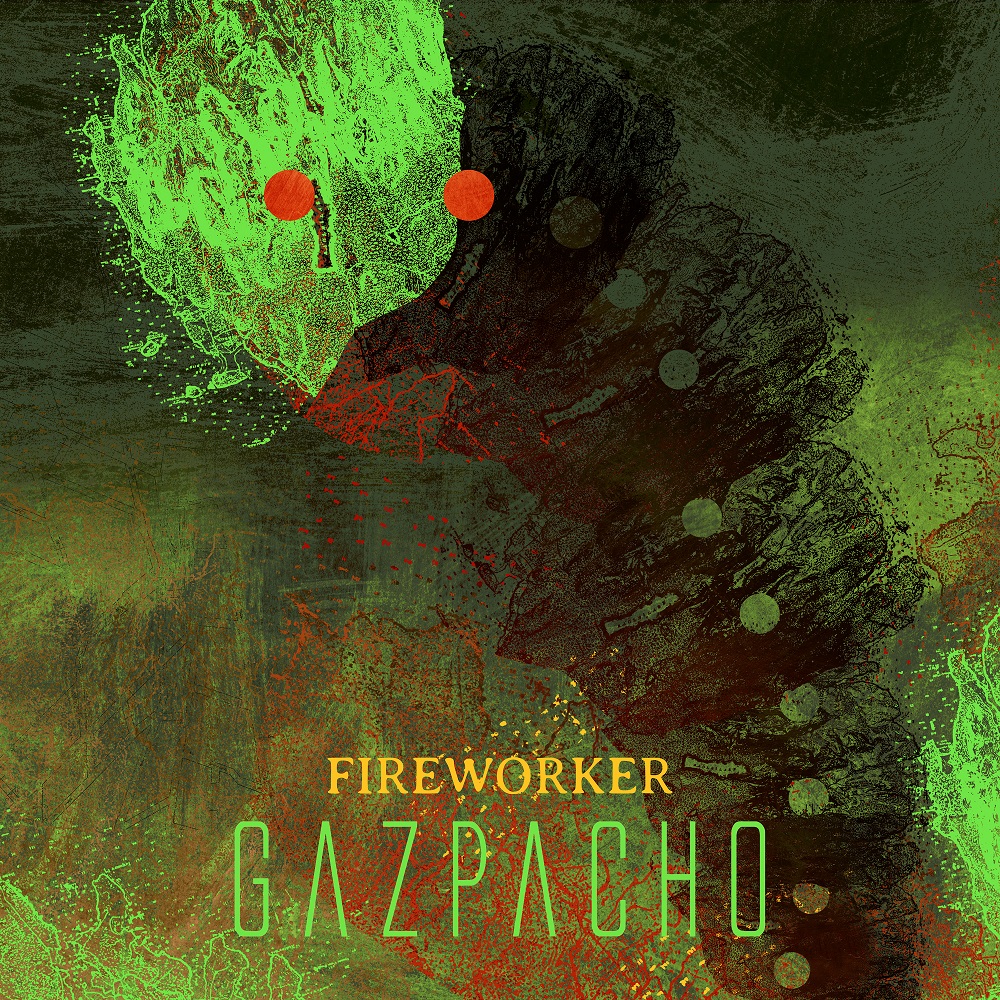 I first discovered Gazpacho several years ago. It was a slightly reluctant honeymoon to start with, and it was only when I saw them in concert at the Dome in Tufnell Park, London, that I realised how good they were. For a band that I have been blissfully unaware of until relatively recently, it was quite a surprise to learn that they have been going for nearly 20 years and have released 10 previous albums. This is compounded by the fact that according to the press release, they have reigned for that entire period as the kings of atmospheric and affective art rock. Well, long live the kings, I say.
In keeping with an average of one album roughly every two years (that should keep Spotify happy), they have only gone and done it again! The latest release from the Norwegian sextet is entitled "Fireworker". It clocks in at just over 50 minutes and has five tracks that all live up to expectation. These are five chapters in a single conceptual "trip". Gazpacho's recurring protagonist is investigating the labyrinthian hive of his own psyche to engage in a Bergman-esque confrontation with the "Fireworker." The album cover was designed by Antonio Seijas in the Wimmelbilder style (a genre of picture filled to the brim with all kinds of things). This is no Where's Wally though, but apparently depicts "the billions of neurons that create the cave of the mind". Confused yet?
Opening song 'Space Cowboy' is just under twenty minutes long. Jan-Henrik Ohme's distinctive vocals lead you mournfully into this first chapter of the story. He appears to be singing random words that make little sense. I guess the lyrics will need some scrutiny, as the song progresses on its long journey. It is almost operatic in some places with a choir making several appearances. As you can imagine, this is a very varied track with all sorts of styles in its composition. Essentially it's Progressive Rock Jim, but not as we know it.
The combined length of the next three tracks is shorter than the preceding epic. 'Hourglass' is a gentle ballad featuring Thomas Andersen on piano and Mikael Krømer on Violin. Oh, and the choir again. Title track 'Fireworker' sits in the middle of the track list. It is an upbeat and lively number that has been released as a single in advance of the full album. The lyrics start with "Come closer, I'm the lord of pseudo thinking". Confused yet?
Gazpacho – Fireworker (Click here if video does not play)
Thomas Andersen had this to say about their latest release: "It's an attempt at a safe way of looking at something highly dangerous because the animal does not understand music or poetry. We're trying to outsmart it by writing around it, as music can go places words can't and there's a magic to it all." 
"Fireworker" will be released on Kscope on 18th September, on CD, a gatefold 2LP on 180g black vinyl (3 sides audio, 1 side art etching) and digitally. It encompasses all the themes of the previous albums under one umbrella. Andersen elucidates: "It's like when you slip on ice and straighten yourself out before you even know that you're slipping. It is like someone took control over you. There is an instinctual part of you that lives inside your mind, separate from your consciousness.  I call it the 'Fireworker' or the 'Lizard' or the 'Space Cowboy.' They are all the same name for that other entity that has been an unbroken lifeforce since the beginning of life. It has survived every generation; it is procreated successfully, with a new version in each of us. It has evolved alongside our consciousness, and it can override us and control all of our actions." Confused yet?
'Antique' introduces programmed effects conveying the tragedy of a thousand generations that never had control. Sounds vaguely familiar. Final song 'Sapien' finishes off what 'Space Cowboy' started, and at over 15 minutes long it is a slow and serene but very varied, epic finish to an entrancing album.
Gazpacho, like many other bands, had to postpone their European & UK 2020 dates to October 2021 because of covid-19. However, they are planning to play the whole of "Fireworker" via a livestream, which will also include them playing other songs from their back catalogue, and a question and answer session on the new album. Details of both the livestream and the rescheduled tour dates are to be announced soon.
A second single has been released, but you won't find the track in this form on the album. Titled 'Clockwork' it is actually part of 'Space Cowboy'.
Gazpacho – Clockwork (click here if the video does not play)
Despite the absence of their live performances, this excellent album should keep you satisfied for now, and I hope all the confusion has been ironed out. Gazpacho remain vivacious, evocative, and imaginative after all these years and long may that continue.
Tracklist
Space Cowboy [19:43]
Hourglass [04:15]
Fireworker [04:41]
Antique [06:24]
Sapien [15:22]