Poem – Unique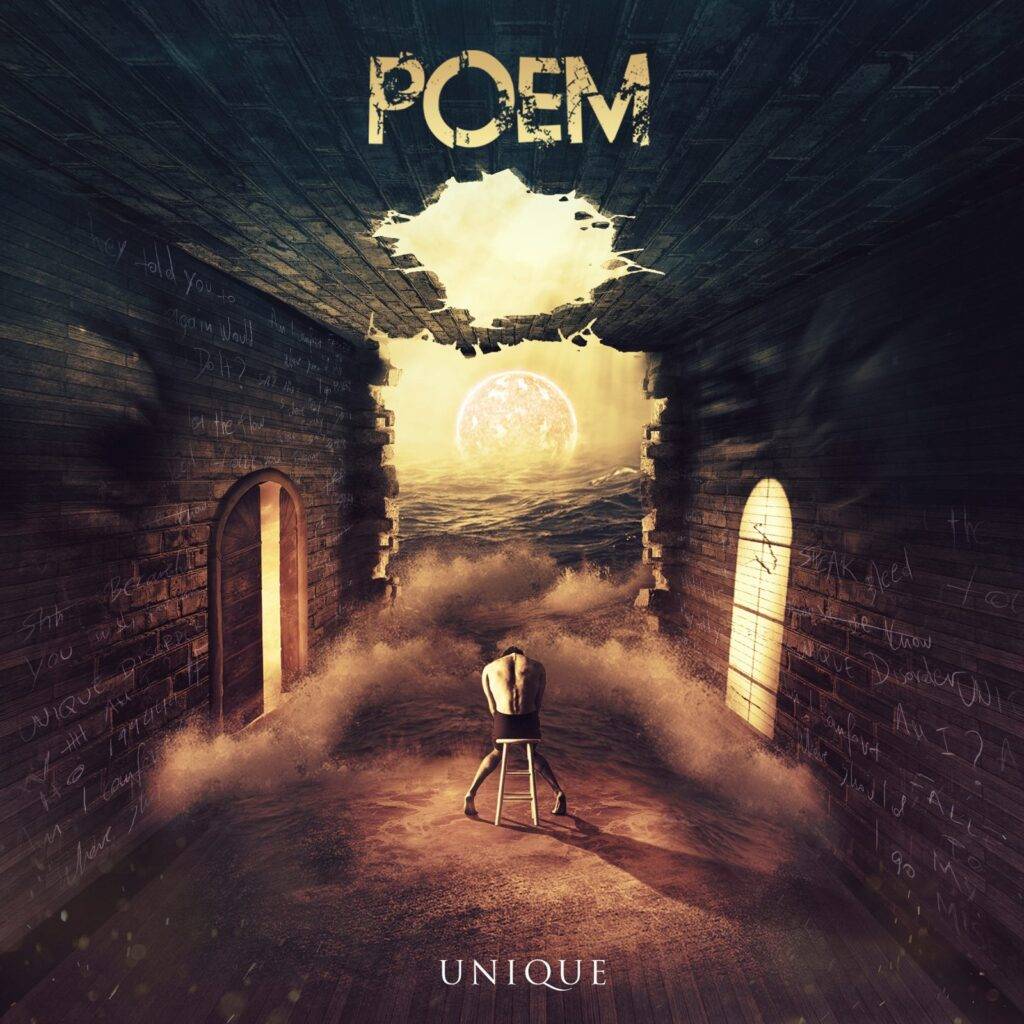 Straight from Athens, Greece, comes Poem's third album, aptly called "Unique". Their follow-up to the widely acclaimed sophomore album "Skein Syndrome" promises to take the band deeper into the grooves and emotional delivery that characterizes them. Formed in 2006 by George Prokopiu (vocals/guitar), who remains as the sole original member, and further complemented throughout the years by Laurence Bergström (lead guitar), Takis Foitos (bass) and Stavros Rigos (drums), they have been churning out groovy, emotional and interesting songs since their debut "The Great Secret Show" back in 2008.
Straight from Stavros's mouth we hear that "behind every song lies a powerful story", and the first one in this album shows us in the first minute and half what to expect from them. 'False Morality' starts with a killer, groovy riff and superb drum work, coupled with George's melodic and layered voice. The chorus stands in contrast with the dynamism and angularity of the verses, yet at the same time, it ties together the song in a very pleasing way. And that middle section with Takis leading the way on the bass is just perfect. The only complain I'd have with this song is that it feels that it ends too soon and that when compared with the next ones, the vocals could've been even better.

And having said that, we proceed to 'My Own Disorder', which they played during their tour with Andorra's Persefone last year. Everyone is on point for this one, which includes the best evidence of that great sense of melody and harmony these greeks have, with that intertwining riff in the chorus and George's voice and cadence playing with it. This is my favorite song from the album and it's barely the second of seven. That ending is entrancing. 'Four Cornered God' follows with a more modern delivery on the groove, almost djenty, but then it turns into a soft, almost delicate, ballad, with a beautiful guitar solo from Laurence very early in the song. A very emotional song with very interesting dynamic changes and, once again, an extremely satisfying middle section. Laurence comes back in the end for another excellent solo as well.
'Discipline' has an impressive performance from Takis on bass and grooves thrown left and right in the best of ways, and even some harsh vocals for good measure, and 'Euthanasia' has another great middle section with acoustic guitars, excellent percussion, and a tearjerking guitar solo, but the title track comes next to take the cake. 'Unique' has it all, with a superb progression in the introduction that just keeps getting extra layers only to be topped over by another great guitar solo. But what really drives this song for me is the drum work, with the most interesting and ambitious fills and grooves from Stavros. And to end a song with what basically is an extended drum solo is just amazing. The album closes with the proggilicious 'Brightness of Loss' , with a vocal delivery from George that has no weak points whatsoever. And they saved the best riff to close the album, with that delicious polymeter from Stavros.
"Unique" showcases what Poem can do very well: groovy riffs, interesting compositions and incredible middle sections that redefine every song. This is a worthy album for prog fans who don't mind to have a lot of grooves and pounding drums.
"Unique" will be out on February 23rd through ViciSolum Productions.
Tracklist:
False Morality

My Own Disorder

Four Cornered God

Discipline

Euthanasia

Unique

Brightness of Loss