Ghost Toast – Shade Without Color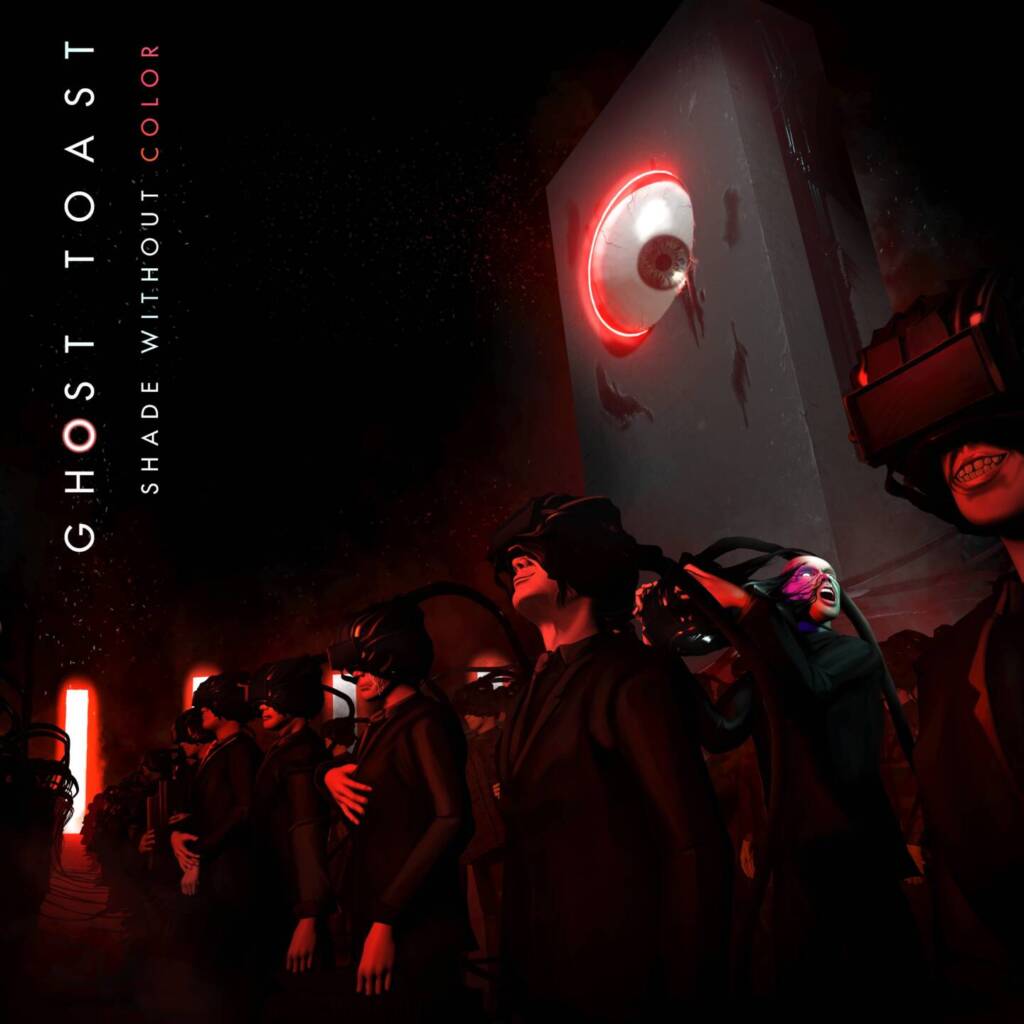 Ghost Toast (equally cool and hilarious name) is an experimental progressive rock/metal band from Debrecen in Hungary. They formed in 2008, originally as a three piece (guitar, bass & drums). They are now a quartet having added a keyboard player. Now, after a change of drummers, they are releasing their fifth album 'Shade Without Color". This is a follow up to their 2020 album 'Shape Without Form'. The two are intended as a kind of double album, but with different release dates. Both titles come from T.S. Eliot's poem The Hollow Men and both albums mostly deal with the subject of emptiness.
The material on this album contains a multitude of influences, and everyone will hear different ones in there, no doubt. The use of short, narrated clips from films, books, poems and interviews adds extra interest and more on that later. Apart from these clips the album is mostly instrumental and covers many musical styles. Over its nine tracks and 67 minutes there are plenty of surprises.
As if to get things warmed up, opening track 'Get Rid Of' is a straight forward instrumental with heavy riffing. The pace changes several times and there are some Rush sounding parts, but no frills to speak of. It ends with a short-spoken line of "This conversation can serve no purpose anymore – goodbye". This is taken from 2001: A Space Odyssey (1968) where Hal the computer is speaking to astronaut Dave Bowman.
Ghost Toast – Get Rid Of (click here if the video does not play)
Emptiness could also be associated with dystopia and the slightly disturbing cover artwork by Antal Miklós Tod hints at just that. The next track, 'Leaders' is more subtle and laid back. It starts with a melodic rhythmic keyboard, bass and drum section which leads into another sound clip.
This one is from the sci-fi author Frank Herbert, famous for his Dune series of novels, themselves dystopian in nature. The clip comes from an interview on NBC in 1982. "The mistakes (of leaders) are amplified by the numbers who follow them without question. Charismatic leaders tend to build up followings, power structures and these power structures tend to be taken over by people who are corruptible. I don't think that the old saw about 'power corrupts and absolute power corrupts absolutely' is accurate: I think power attracts the corruptible." The track gets heavier both before and after another short clip, this time from Rachel Maddow, a NBC news anchor.
Ghost Toast – Leaders (click here if the video does not play)
When an album is over an hour in length, there's almost bound to be a long track or two. There are indeed a few, but the one that stands out at over 12 minutes is 'Chasing Time'. This also starts in mellow fashion but merges into heavier realms giving drummer Zoltán Cserős plenty of scope to flex his muscles. Although there are no sound clips, the band cite Cormac McCarthy from his novel 'All the Pretty Horses'. "Scars have the strange power to remind us that our past is real."
Ghost Toast – Chasing Time (click here if the video does not play)
Haunting cello notes from János Pusker drift out from the speakers signalling the start of 'Let Me Be No Nearer'. As the track fills out, the cello and infectious rhythm give out a Middle Eastern Vibe. Later the guitars take control of things with a driving riff, but the cello is still there occasionally. Towards the end there is one of only a few singing parts on the album. A beautiful female voice gives the end of the track an equally haunting feel. The title comes from a line in T.S. Eliot's, The Hollow Men, "Let me be no nearer, in death's dream kingdom".
Another change in mood and style comes in 'Acceptance'. Interspersed among this poppy, jazzy track are snippets of a speech by Jim Carrey. There are a few heavy chords in the middle but overall, this one can be put down as easy listening. Then it's back to the heavy riffing with 'Deliberate Disguises' and a clip from The Never-Ending Story. "What is the Nothing?" – "It's the emptiness that's left. It's like a despair, destroying this world. And I have been trying to help it" – "But why" – "Because people who have no hopes are easy to control. And whoever has control has the power."
Two long numbers follow, firstly 'Reaper Man' which is named after the Terry Pratchett novel of the same name. It has a relentless rhythm throughout with a variety of moods and narrated clips from Pratchett's novels. Nigel Planer reads from 'Guards Guards' and then passages from 'Reaper Man' are read by Stephen Briggs and Clarence Simms. The band also has a favourite passage: "All things that are, are ours. But we must care. For if we do not care, we do not exist. If we do not exist, then there is nothing but blind oblivion. And even oblivion must end someday."
Secondly, comes 'Whimper' which is the final word in T S Eliot's poem The Hollow Men. The track itself is far from a whimper, it is in fact quite grandiose with choirs and driving riffs. Towards the end there is a clip from the poem read by Tom O'Bedlam. "This is the way the world ends. Not with a bang but with a whimper".
So, to the end, and a different poet this time. Ady Endre was a turn-of-the-century (22 November 1877 – 27 January 1919) Hungarian poet and journalist. For the final track 'Rejtekből', Ghost Toast used his poem 'A perc-emberkék után' as a theme. Unfortunately, there doesn't appear to be an English translation of the poem. So, unless you are actually Hungarian, the clip at the end of the track and album will be meaningless. Enjoy the track anyway because it is sublime and ethereal, with more female vocals drifting over a tribal rhythm.
This album has a bit of almost everything. Don those headphones, lie back, close your eyes and let it wash over you. Even the heavier parts will lull you into a state of relaxation. The spoken clips give interesting breaks without disrupting the flow. If you want something a little different to add to your no doubt already excellent collection, look no further.
Track list:
Get Rid Of
Leaders
Chasing Time
Let Me Be No Nearer
Acceptance
Deliberate Disguises
Reaper Man
Whimper
Rejtekből