Green Carnation – Leaves of Yesteryear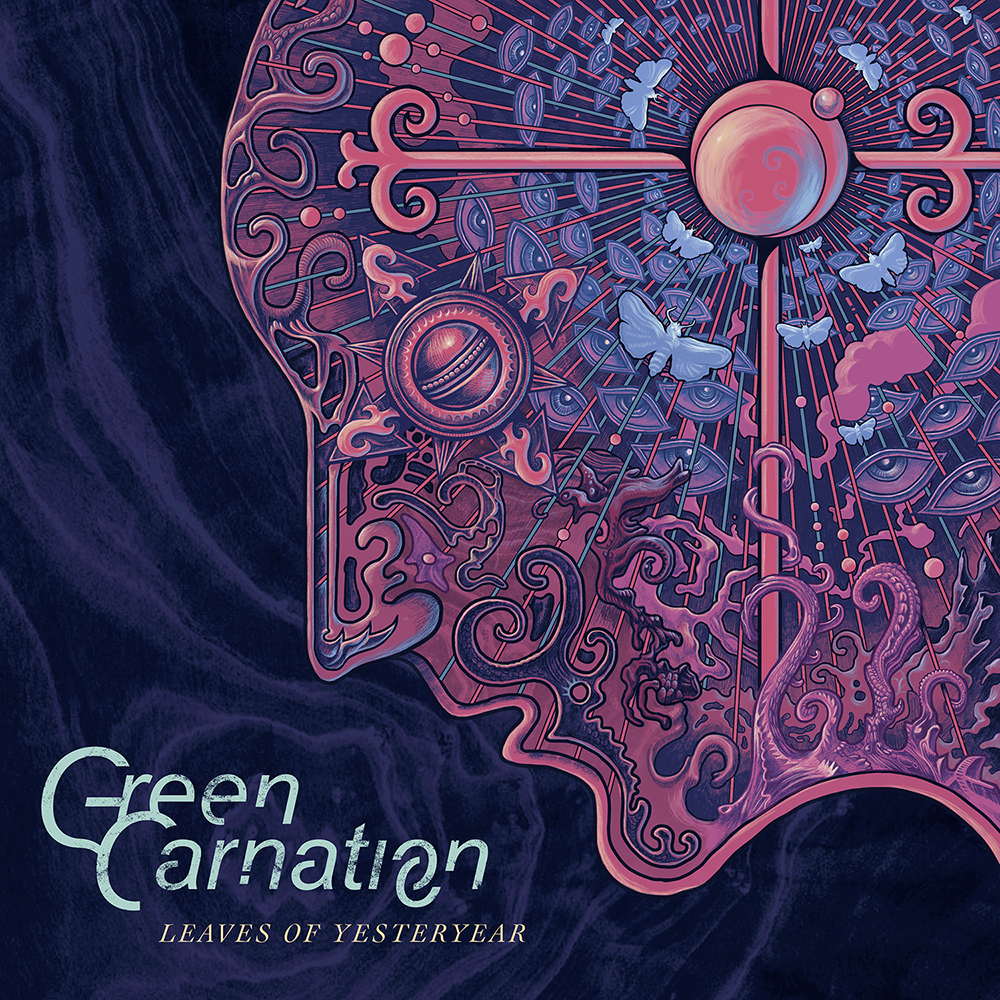 It's been 14 long years since Norwegian doom/progressive metal veterans Green Carnation released their "Acoustic Verses", the last album before their dismemberment one year later – and it looked like we would never hear their mix of dark guitars and earworm-worthy melodies again. But when they first played some reunion shows back in 2016, recorded the 15-year anniversary show for their iconic "Light Of Day, Day Of Darkness" for the DVD "Last Day of Darkness" which was released two years later and had celebrated appearances on various festivals since then (already with their new song 'Sentinels') it became clear that a comeback-album was around the corner.
And here it is, "Leaves Of Yesteryear", recorded with almost the same line-up as the Acoustic Verses, save for the new drummer Jonathan Pérez from Chile, who joined the Norwegians in 2016, and the departure of the third guitar player, Michael Krumins. The album contains three newly written songs, a re-recorded classic and one Black Sabbath cover.
The title song, 'Leaves of Yesteryear', which has already been out for some weeks as the first single, sets the ground perfectly for the comeback album. With heavy doomy guitars, lovely keyboard-driven passages and Kjetil Nordhus' unique voice full of presence, the listener is immediately drawn back into the fabulous world of Green Carnation. The song is a heavy beast, not overly progressive but diverse enough to always catch our attention, sometimes reminding us of Kamelot, but always getting back to that distinctive Green Carnation sound.
Green Carnation – Leaves Of Yesteryear (Click here if the video does not play)
Slow and heavy riffs then take us into 'Sentinels', which turns into a fun and speedy power metal song with little excursions to middle eastern soundscapes and one of those typically catchy Green Carnation choruses.
'My Dark Reflections of Life and Death' is a re-recorded doomy and gothic 16-minute epic from Green Carnation's debut release "Journey to the End of the Night" back in 2000, then with Rx Draumtanzer on vocals. Needless to say, just the modern production (which is excellently handled by Endre Kirkesola throughout the entire album, with crystal-clear keyboards, guitars and vocals and gut-shaking drums and bass) and Kjetil Nordhus' voice take the song to a whole new level. It lost much of its gothic-vibe (also due to the lack of a female singer, 20 years ago they were performed by former Tristania-vocalist Vibeke Stene) and got a shiny new dress worthy of 2020.
Starting with an acoustic guitar, some keyboard spheres and fragile vocals by Kjetil Nordhus, 'Hounds' is the third song that was newly written for the album. After this intro though, it turns into one of the grooviest pieces of music published in 2020 so far. That bass line played by Stein Roger Sordal is super sticky.
Silently, the album fades out with Green Carnation's rendition of 'Solitude' by Black Sabbath from 1971. A fitting closer after all that heaviness of the previous songs.
Green Carnation are definitely back, and with "Leaves Of Yesteryear" they make us realise how much they have been missed! The new songs are stunning, and the re-recording and the cover are a welcome addition, even if I would have loved to hear some more new material. But fear not, as Kjetil Nordhus told Dario and Randy in their Progcast Episode 54, the Norwegians won't settle down after this and already have several new songs to be released at some point down the road.
Until then, "Leaves Of Yesteryear" shines as the comeback of the year, beautiful and diverse, complex and catchy, and showing us that the Norwegians still have what it takes to stand out in the scene.
Track List:
Leaves of Yesteryear (08:03)
Sentinels (05:42)
My Dark Reflections of Life and Death (15:36)
Hounds (10:10)
Solitude (05:05)