Oceans of Slumber – The Banished Heart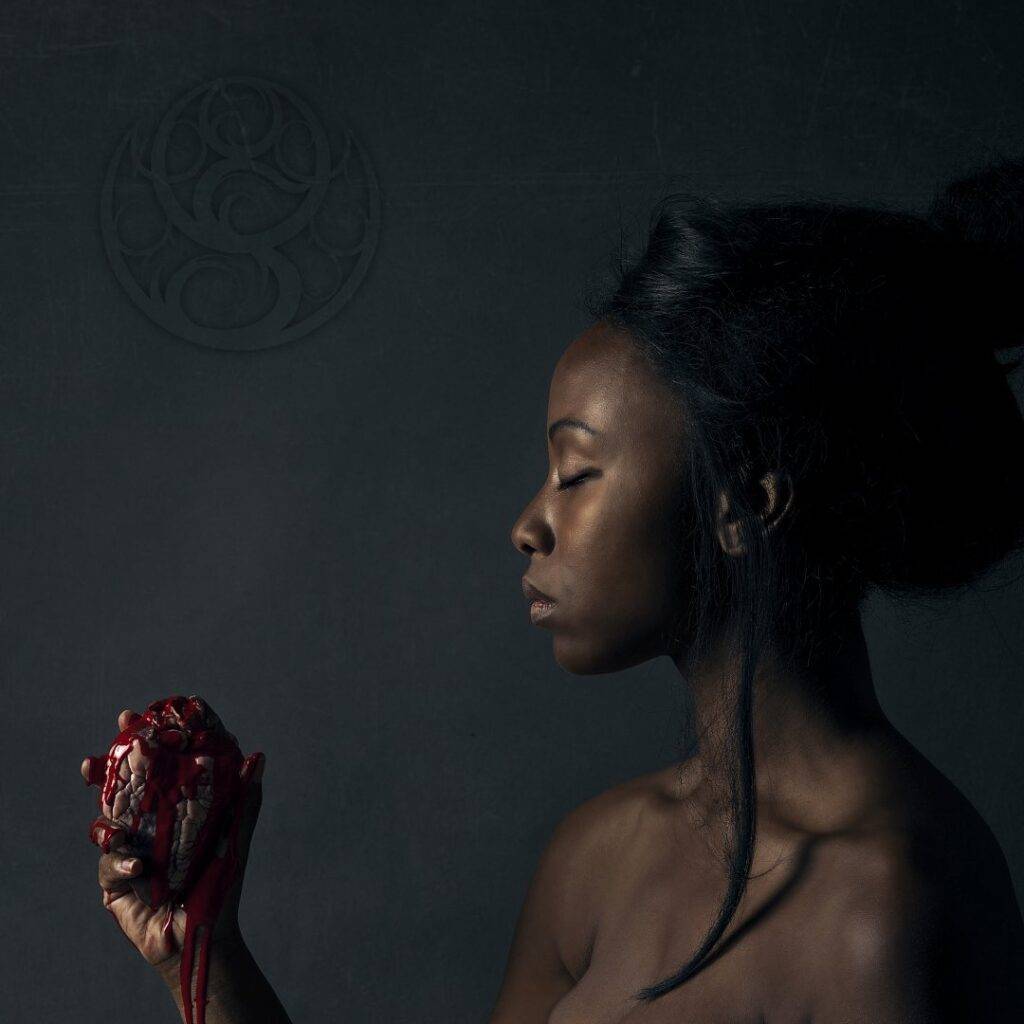 Almost two years ago, Oceans of Slumber took my heart by storm with their breathtaking masterpiece that was "Winter", still in heavy rotation here at the Munich Progspace. So it goes without saying, that their follow up would be among the most anticipated releases this year for me. It was also my most feared release of 2018, such was the perfection of "Winter" that I just couldn't imagine how in the world the five texans would be able to reach that again. But sometimes you just got to have faith in the honesty, sheer talent and exuberant passion of your favorite artists like the leading duo of Cammie Gilbert and Dobber with their three musketeers of the strings Anthony Contreras, Sean Gary and Keegan Kelly. Because "The Banished Heart" is finally here and, while being the polar opposite to "Winter" in some regards, it managed indeed to do the impossible: scoring the maximum points again.
"The Banished Heart" is not an easy album. It certainly was not easy in its creation, as Cammie and Dobber both were coming out of a personal time of turmoil and darkness during the songwriting period, reflecting heavily on overall mood and direction of the whole affair. And as if that wasn't enough already, Dobber's house was completely destroyed by the subsequent floodings after Hurricane Harvey. It certainly is not easy in its reception, as the raw and pure emotion is almost too much to bear at times and the uncompromising way of songwriting might seem incoherent at first glance. But at the same time there is always a faint, though still tangible silver lining on the horizon and with repeated listens, it all falls into place. At one point I started to ask myself how I ever thought this progression being anything but natural, as it suddenly made all sense and seemed to scream at me: there simply is no other option as to how the song can go on.
That being said, the three singles 'The Decay of Disregard', the title track 'The Banished Heart' and Cammie's duet with Evergrey's velvet voice Tom S. Englund, 'No Color, No Light' all have to do without riffmaster Sean Kelly's signature extreme vocals, making them a seemingly easy choice as promotional singles. All three clock in at well over seven minutes though and especially the first two go through different parts with almost no chorus in sight whatsoever calling bollocks to all traditional notions of songwriting. Starting with the opening track 'The Decay of Disregard', the listeners is ushered in by Dobber's signature piano vibes, that take on a more prominent role all over the album compared to "Winter". What follows is a monster of a doom metal roller coaster complete with (once again Dobber signature) blast-beats as well as subtle slow-motion parts. All held together though by Cammie's melodies and her unique, soulful vocals. And that final blast-beat chorus is just bone-crushing.
'Fleeting Viligance' starts off quiet and calm, only to turn out a classic death doom beast. Sean Gary's riffs and growls are equally menacing and Anthony Contreras shines his melodic soloing talent on the outro. Also 'At Dawn' shows that Oceans of Slumber have not abandoned their extreme metal roots to all but the occasional blast-beat. Changing from haunting slow-motion beauty to being steamrollered by drums and growls alike – and back again. But not necessarily staying in this pairing. Putting Cammie's vocals once more on top of the extreme high speed drumming, only to pull the handbrake mid-flight to ultra slo-mo – a stroke of genius.
The title track is heart-breaking beauty to extinguish the last bit of hope you might have still had after this depressing opening triple – and lift you up in a single stroke. Arguably the best song out of all 9 ('The Watcher' and 'Her in the Distance' are merely interludes, desperately needed though between all this plucking at the heartstrings), 'The Banished Heart' goes through piano and vocals only, to doom metal, blast-beats, back to piano and vocals, piano interlude, synth build-up and crushing climax till the end in only nine minutes that flow by in an instant and just leaves you there on the floor, craving for more. But it isn't about showing off any songwriting or instrumental prowess at all. Far from it. All those changes, the 'progressiveness' if you want, they are merely means to an end and this end is to tell a story, to purvey emotions. And in that, the very core and reason for their music, Oceans of Slumber succeed with flying colors. The sudden outburst around the three minute mark is simply impossible to conceive with a degree in music theory alone. As abruptly as the song ends though, the break provided by the aforementioned interlude 'The Watcher' is highly welcomed to get that fast beating heart down again.
Now when I said the core intent for Oceans of Slumber was to purvey emotions and that they are excelling in this regard, I didn't mean they are not doing the very same in the technical department. All five of them are masters of their respective instrument and with every cymbal or tom stroke you hear Dobber's passion for his drums for example. To hear his equally impressive piano skills spread all over the album though tells you just how important the emotional and melodic storytelling for him as the main songwriter is as well. However, at this point I slowly come to the conclusion that here, almost midway through the album I run out of superlatives. Not that the songs in the second half might be of any less quality. 'Etiolation's' brutal darkness, the dreamy yearning of 'A Path to Broken Stars' or the slow build of the 'Howl of the Rougarou' with its stark contrast between simple acoustic guitar and full on heaviness: each and every song tells a story. All of them would deserve a whole novel of praise.
'No Color, No Light' might literally be the bleakest song title of them all, the combined vocal power of Cammie and Tom Englund though develops a sheer beauty that turns out to be immensely powerful – and emanates hope in the end. The 'Wayfaring Stranger' continues the upward trend and closes the album in a comforting way with a different take on this old gospel song. ""The Banished Heart" represents the return. The return of life or love after a long exile, when everything seemed lost or hopeless." says Dobber. And if ever an album managed to evoke exactly these emotions – and more – if not this one, then I seriously don't know which one could. Where everything seemed smooth and almost streamlined on "Winter" in retrospect, from the songwriting to the production, this one is as dirty and as honest as it gets. "The Banished Heart" is raw, unadulterated emotions, presented in a unique melodic extreme metal package like only Oceans of Slumber can. A daring step out of their comfort zone, hopefully to be rewarded by the attentive listener.
Tracklist:
The Decay of Disregard
Fleeting Vigilance
At Dawn
The Banished Heart
The Watcher
Etiolation
A Path to Broken Stars
Howl of the Rougarou
Her in the Distance
No Color, No Light
Wayfaring Stranger