For Giants – There, There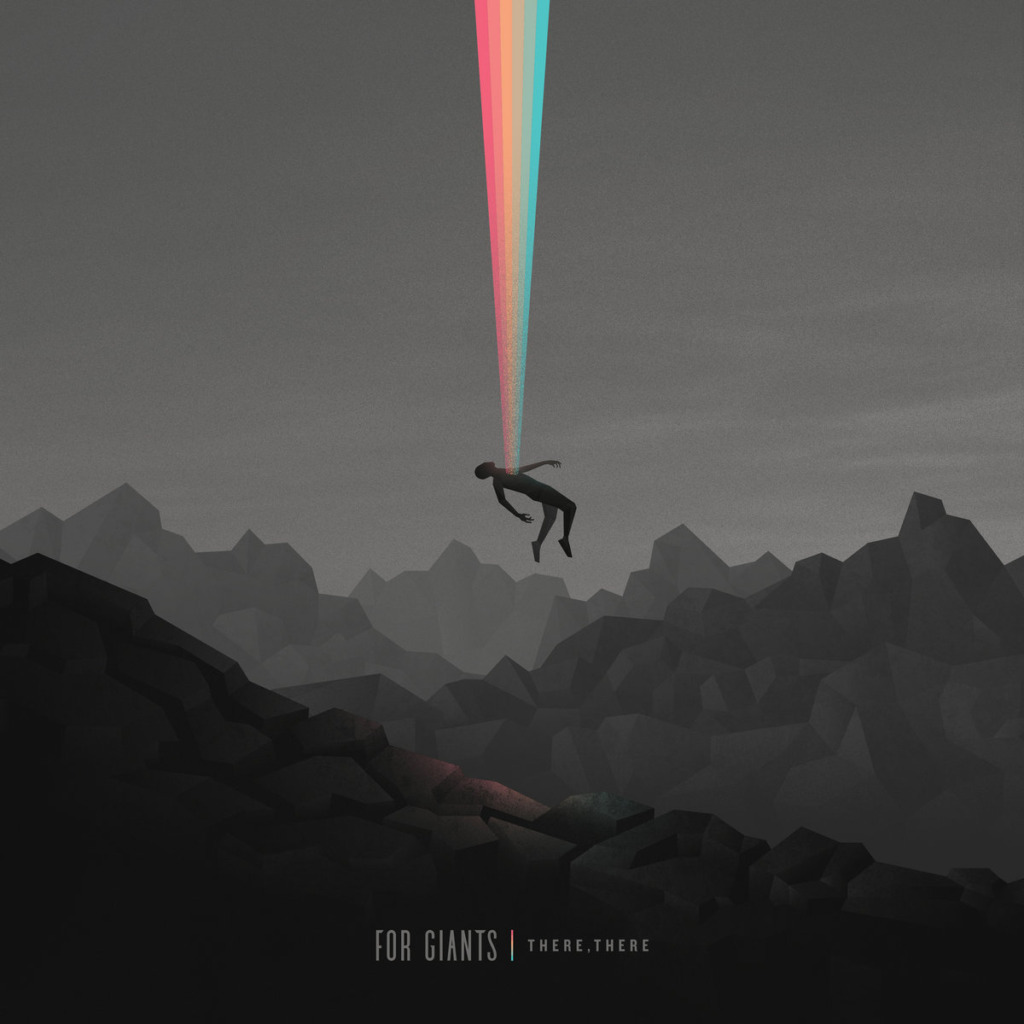 New York based instrumental prog act For Giants was a completely random find for me. Their new album "There, There" came out just a couple of weeks ago and it fits right in with the kind of mood I've  needed lately. Being their fourth studio release, it shows elegant, mature song-writing packed with energy and emotionally charged.
This is modern progressive metal spiraling around the djent, post-rock and avant-garde areas. I feel it draws a lot from bands like Intervals, throwing a bunch of bangers together, all written in a similar style but each song having its own flare. No concept, no directions, just pure jamming. The riffage is quite creative, moving from quick runs to Meshuggah-like galloping and chugs, sliced, syncopated djent patterns and some punchy headbang moments where the technicality clears out. Now that may sound quite brutal, but the techy, complex and often very heavy composition is given a lighter feel due to the many melodies, balanced production and fluid composition.
The guitar leads are once again, quite similar to Intervals, melodic, shreddy and showing some pretty exciting wailing bends. The lead tone is very lively and expressive, allowing for all the solo parts to bring a lot of character, which is what prevents an instrumental piece from sounding like it's got any missing parts. The instrument feels like it has a voice. And all the shredding stuff is interlaced with catchy and inspired themes or emotional melodies to keep the solos balanced. My favourite element in their soundscape must be the tapping sections (see 'The Lucky Ones').
Click here if the video doesn't play
The drum delivery is also on point. There's plenty of detail, underlying technicality and filling that brings a lot more drive and volume to the sound without overpowering the other instruments. On their own, the drums don't draw too much attention but rather seem to push the guitars forward and act as support. However, if you turn your ear their way, you see that a lot is going on in playing skill, variety of transitions, grooves and patterns.
By now, this may sound like quite the nerdy tech-show. And that wouldn't be entirely wrong. This is very much a nerdy instrumental music record. But it has a soul. I feel the mood that this record sets is positive, relaxing and light-hearted. It may be heavy techy music but in essence, it's all about playfulness. Like the title suggests, "There, There", the album has a very comforting feel. I'd describe the mood as similar to that of a friend trying to cheer you up (not just from the title but from the music itself). It feels like taking a load off and lightening the stride. So if you're going through hard times, I would strongly recommend this album as an emotionally relieving experience. It also seems to build a bit of a starry, atmospheric post-rock kind vibe, which I'm primarily getting from the soaring melodies that emerge every now and then and from the echoey clean guitar passages ('Wood and Vine' is a good example). In the end, it seems to blend heavy parts and delicate emotions very well, feeling complete and satisfying.
It's probably not the most original record. This sort of djenty instrumental music has become quite common in the modern prog artists that keep emerging. But it definitely has its own character and does the job right when it comes to delivering the intended emotions. It's also very well produced, pushing forward energy but allowing clarity and melody to shine through equally. The sound has a pleasing, clean texture, not too raw and not too processed. So, if you want to give it a try, for 44 minutes you can drop your worries and make way for some cheer in your vibe.
Track List:
Being (03:51)
The Lucky Ones (04:48)
What Happened To You (04:27)
Help Is Not Coming (04:39)
Church (04:52)
Wood And Vine (04:26)
How To Die (03:45)
Bartending For Ghosts (04:48)
October Moon (04:26)
There, There (04:59)