Scardust – Breaking The Ice – Live Stream Show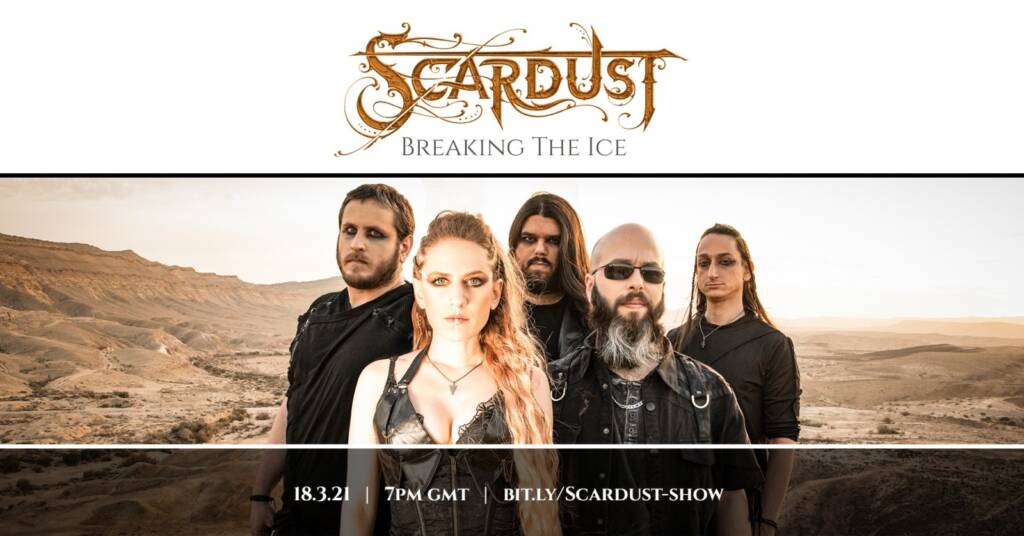 Israeli progressive metal band Scardust have recently gone through a line-up change with the departure of Bassist Yanai Avnet and Keyboardist Itay Portugaly. At first I was pretty sad about the news but of course, members leaving means other members joining. Aaron Friedland is now in charge of the keyboard and on bass, most surprisingly we have Orr Didi, one of the main composers and creative minds behind everything the band's been doing since they started. Orr is basically a founding member of the band, only he never took the stage up until this point. So what better way to welcome these two to the group if not through a live show? I haven't followed a lot of live stream shows since the pandemic situation started but I knew I couldn't miss out on Scardust – "Breaking The Ice"! Clever name they chose for the event, referencing the song 'Break The Ice' from their new album "Strangers" but also fitting very well for the introduction of new musicians to the audience! Thus, the show kicks off with 'Break The Ice'!
The track list was very cleverly arranged. After the opening song the band goes on to connect 'Tantibus' from their debut EP "Shadow" with 'Tantibus 2' from the new album "Strangers" and with 'Addicted' as these three songs were made to flow together in one, even though they are split up within the band's discography. This makes for over 10 minutes of ongoing live music and afterwards the band returns to their full-length debut "Sands of Time", offering three songs from this record before returning to the new album. This is also the first ever Scardust show where the ballad 'Sands of Time' is not the closing track, because now they have a new ballad, 'Mist', which does the trick just as well. So the tracklist was balanced out to promote the entire band's discography while focusing more on the new record and arranging the songs to create a good flow from each track to the next.
Then we get to the performance itself, and it's no surprise that the musicianship on display was intense, technical and passionate! This band can balance out the highly advanced and complex traits of their music with tons of energy while having a lot of fun. Seeing them on stage is both a joy to listen to and a sight to behold for the highly analytical prog-snob as well as for anyone who's just there for the hype. Personally, I tend to fit in both those roles. All musicians were, in turn, spotlighted to great extent as the music is filled with solos on all instruments. So you feel like you get to know them up close musically. Yoav Weinberg and Yadin Moyal did an incredible job as I already knew they would. But I was impressed with the new members as well. Aaron not only nailed all parts but he also seemed to go for some different keyboard tones than those used on the album, which I thought was a nice touch. And Orr Didi, since he's the one who composed most of this music, had no shame in improvising and changing some bass solos here and there as he saw fit. Noa Gruman also delivers an outstanding vocal performance, filled with energy and charisma, showing that she can be an incredibly proficient singer all the while having a ton of fun and engaging with the audience, even though most of us weren't even there (giving the microphone to the camera to sing for example).
Apart from being incredibly proficient as musicians, the emotion and energy that this band releases on stage and the way they present themselves is really beautiful. While Yoav and Aaron don't flash out a lot due to their instruments forcing them to stay put, the other three make sure to headbang like crazy jump around and put up a real show. When the music leads into any proper headbanging passage, Noa and Yadin's windmills spread out through the air and Orr somehow manages to headbang and jump at the same time without dropping his glasses. You can really feel their joy of playing this music live and it's incredibly infectious. Keep in mind, all this happens while playing incredibly challenging music.
Now with streamed shows there's always the awkwardness of the pauses between songs that is a challenge to handle and I love how they addressed that. Rather than trying to hide those moments or keep a flow throughout the whole show, which can work very well but might kill some of the interaction, Noa actually made use of these pauses and took the time to really talk to the audience, introduce the new members, present the songs and not hide the silence that was obviously there. Also, there was actually a small live audience of close fans of the band that were allowed to be there on site and we could hear some of their responses and reactions, which strongly reminded me of what it's like to actually be at a show. There was also a merch giveaway winner selected during the show.
And as a final touch, the band was expecting some guest performances for the song 'Out of Strong Came Sweetness' featuring Kobi Farhi from Orphaned Land and for 'Concrete Cages', featuring Patty Gurdy. Kobi was forced to cancel and thus, we got to find out that Yadin Moyal can also take the role of a vocalist and deliver some pretty decent tunes while still playing his unhuman guitar parts, so there goes some massive respect. Patty however, did show up digitally and played both her vocal parts and her gurdy and she also threw some hilarity in there with her reactions to the many solos on the extensive 7-minute piece, culminating with Noa's infamous and legendary voice solo (if you don't know what this is about, see my "Strangers" review for details).
Scardust recorded live stream (click here if the video does not play)
Looking at how the performance was delivered to us at home, I have to say it was not all perfect. Sound-wise, I felt the drums came forward a bit too strong and the keyboard was slightly buried but not to the extent to which you couldn't hear it and I could still thoroughly enjoy the songs. And some of the cut-shots of Patty Gurdy were buffering a little, though I don't know whether I should just blame my internet connection for that. But I could hear everything loud and clear. The shots and angles of the band were very dynamic and beautiful, not cutting frames too often which is something I tend to find tiresome. And for about an hour I was feeling the hype so intensely that I could mentally place myself in the venue and try to see it as a real show. Afterwards, I came back to the recording (which is still up for a few days so make sure to check it out) and realized the same show works just as well if you want to sit back, relax and take it all in. So energy or chill, whichever you want, you're in. The Ice has been broken!