Sangdragon – Hierophant
There are many bands that mix genres, working mellow elements into a more extreme framework or vice versa. French band Sangdragon have taken a different approach for their latest release. "Hierophant" spans two CDs which are diametrically opposite to each other. CD1 'The Black Dragon' consists of 7 symphonic death metal tracks and CD2 'The White Dragon' has 8 dark medieval folk songs. The band's name translates as dragon blood, so lots of fantasy and dragon stuff going on here.
You might be thinking that 15 tracks of sword and sorcery would be a lengthy affair, maybe over 2 hours. In fact, the whole thing is just 87 minutes long. The grandeur of the project is not diminished by this fact, it is just a little surprising. I guess they had too much material for one CD. So, the perfect solution was to release it as two totally different ones.
After a short, vaguely middle eastern and orchestral intro the band launch into 'Curse of Desert.' It is a predominantly fast-paced number interlaced with choral chants and Arabian hints courtesy of female vocalist Cynthia Marciniak.  The video of this track is a shorter version, but it gives you an idea of the band's heavier style. In places it reminds me of Fleshgod Apocalypse. Judging by the comments under the video, the band is little known outside of France.
Although the following song 'Let the Fire Speak' continues in the same vein, albeit at a slower pace, not all tracks are in the same style. The cheery 'I Proudly March to Die' starts in a Celtic fashionwith a suitable marching beat. In parts it reminds me of some of Ad Infinitum's material. As it progresses, it evolves into what its presence on The Black Dragon would suggest, symphonic death metal.
Symphonic death metal is a bit of a mixed bag, there's some thrash, some orchestral, and lots of other stuff going on. All this softens the phrase "Death Metal" somewhat and makes for a more interesting experience. Perhaps one of the more varied tracks on The Black Dragon is 'Under my Stigmata.' In which, a dramatic piano intro builds into a powerful, bombastic and epic number.
The sound of crashing waves forms the backdrop to the opening bars of 'Frozen Fear.' It features main man Vincent Urbain on bouzouki and provides a stirring finish to the first part of this double album. For fans of Game of Thrones, there is a great rendition of the show's theme tune by the band. This seems like a suitable bridge to CD2.
So, what of The White Dragon?  Well, it is exactly what it says on the tin, dark medieval folk. The material is the sort of tunes you can imagine appearing in Game of Thrones or the Witcher. Reminiscent of bands such as Wardruna it is played for the most part on acoustic instruments.
Some of the tracks, such as 'Winged Blade' will transport you back to the middle ages. Here a band of musicians entertain royalty at their banquet in a wild and debauched environment. The tables groaning under the weight of immense amounts of food, serviced by scurrying serfs with shadows dancing against blazing fires.
Others such as 'Majesty' are more laid back, darker and indeed majestic. The sort of thing you might hear in a film score with choirs and string sections. Then there are mellow ethereal tracks such as 'Snow' which features cello played by Alison Forest. So, it is quite a mixed bag and the antithesis of CD1.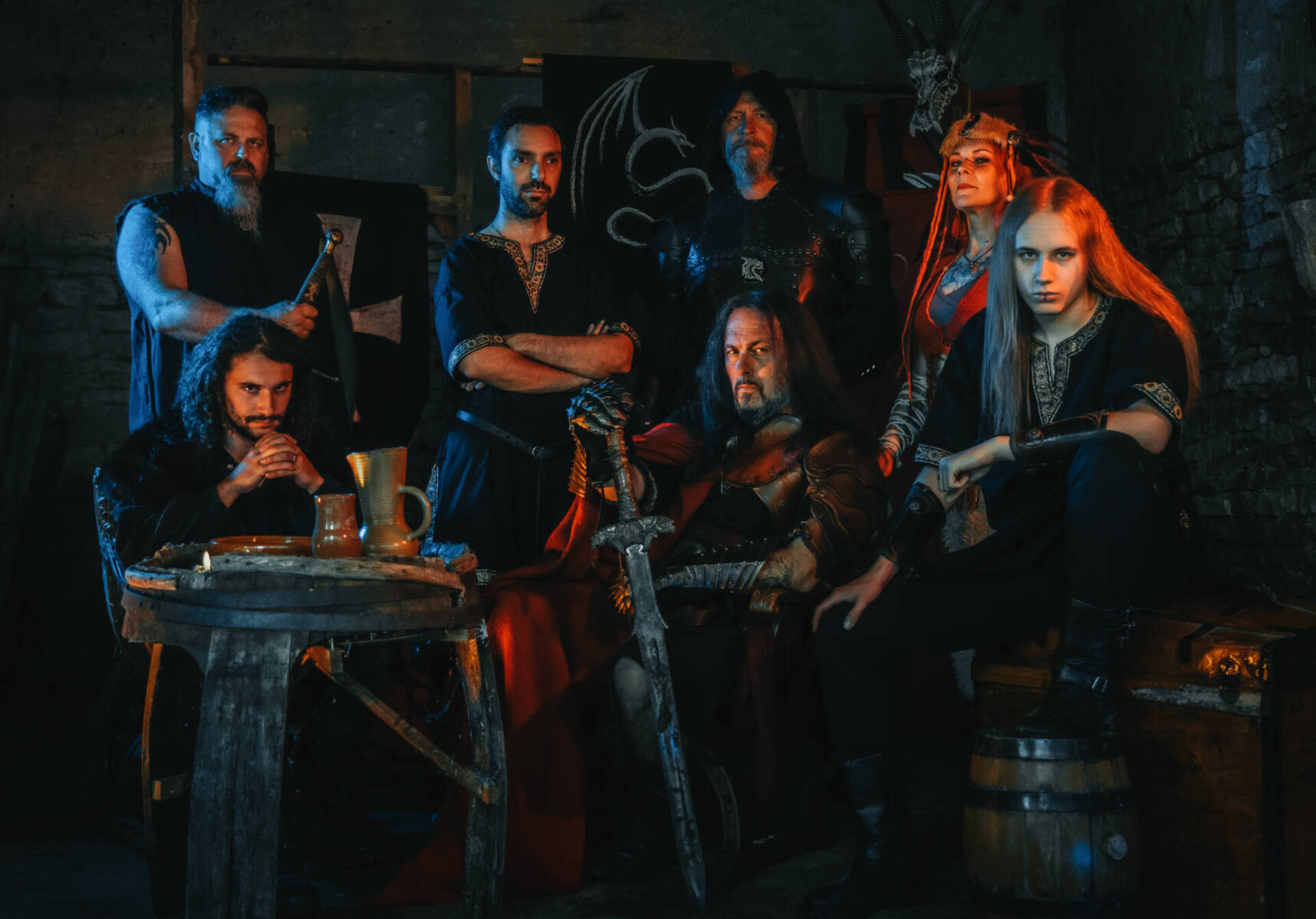 It took a few plays of both CDs before I really got into this material. Only then did it become clear that there was more to it than met the ear on first listen. I can imagine that this band is great live, especially mid-afternoon at a festival. There is a huge amount of diversity across this brace of albums and that makes for an interesting and enjoyable experience.
Track-list:
CD 1. The Black Dragon
Curse of Desert
Let the Fire Speak
I Proudly March to Die
War is War
Carnal Legacy
Under my Stigmata
Frozen Fear
CD 2. The White Dragon
Cernunnos
Winged Blade
Behind the Mist
Tvern
Majesty
Snow
Sweet Frozen Fear
Back to Elysium