Soen, Ghost Iris & Wheel live in Munich, March 19, 2019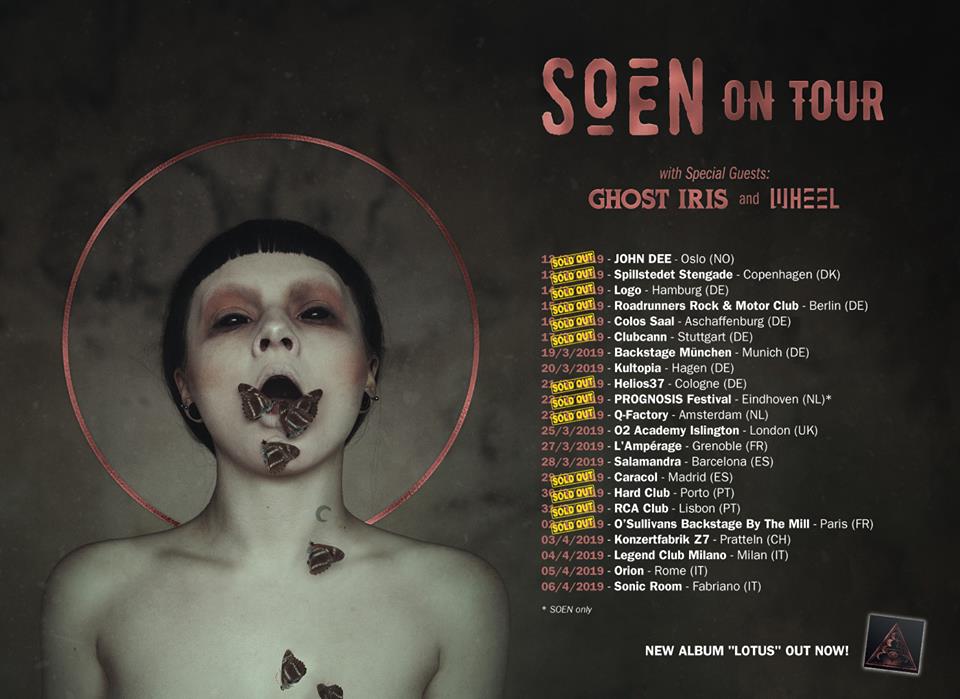 We already talked about this show in Episode 008 of our Progcast, but with the second leg of Soen's Lotus Tour in full swing already, we wanted to give you a little appetizer as to what you can expect if you plan on catching one of the remaining shows.
Starting off the evening were Finnish newcomers Wheel, promoting their brand new debut album "Moving Backwards". And they were able to deliver the goods live just as well as on the studio recording. Atmospheric and groovy, yet powerful and energetic in the right places, these guys manage to put well-known prog ingredients into a compelling own sound and might just be destined for greater things. Keep a watch on them and catch them on the second leg of the Soen Lotus tour!
Wheel  (Click on photo for full screen)
A little bit the odd one out in the package were Ghost Iris from Denmark. Also with a brand new album in tow, "Apple of Discord", their brand of modern prog metal leans heavily towards the djenty core side of things. So they brought plenty of riffs and downbreaks, lots of screams and some poppy choruses and kicked up the energy levels a notch. Definitely not entirely lost on the crowd, as a dedicated group of fans were going crazy in the front, but I am sure their sound could spark an explosion in a more fitting billing. Oh, and they also would profit enormously from adding a bass guitar to their sound, but maybe that is just my own personal old school sound aesthetics or preferences. An entertaining show nonetheless.
Ghost Iris  (Click on photo for full screen)
With the first intro sounds of 'Covenant', the main reason for so many prog fans to come out on this evening was clear without a doubt: Soen, finally on the big stage of the Backstage Werk where they belong. In the meantime able to choose from a four albums spanning discography full of masterful songs, the Swedes kept the energy high from the very beginning before arriving through the bass heavy grooves of 'Lascivious' and the sprawling oriental melodies of  'Jinn' at the preliminary emotional climax of the evening, the über-ballad 'Lucidity'. Guaranteed to make even the hardest metal guy weep. 'Martyrs' and the title track of the current Soen album 'Lotus',  followed hard on the heels in terms of emotional impact. The first two albums were visited with 'Tabula Rasa' in the first half and 'Slithering'/'Savia' ending the regular set, only leaving 'The Words' from 2014's "Tellurian" to be desired. But if you have an equally tearjerking hit like 'Lotus' as final encore up your sleeve, you shall be forgiven. Melodic emotional prog metal rarely gets better than this these days, so don't miss out when Soen come to town!
Soen (Click on photo for full screen)