Stormbound – December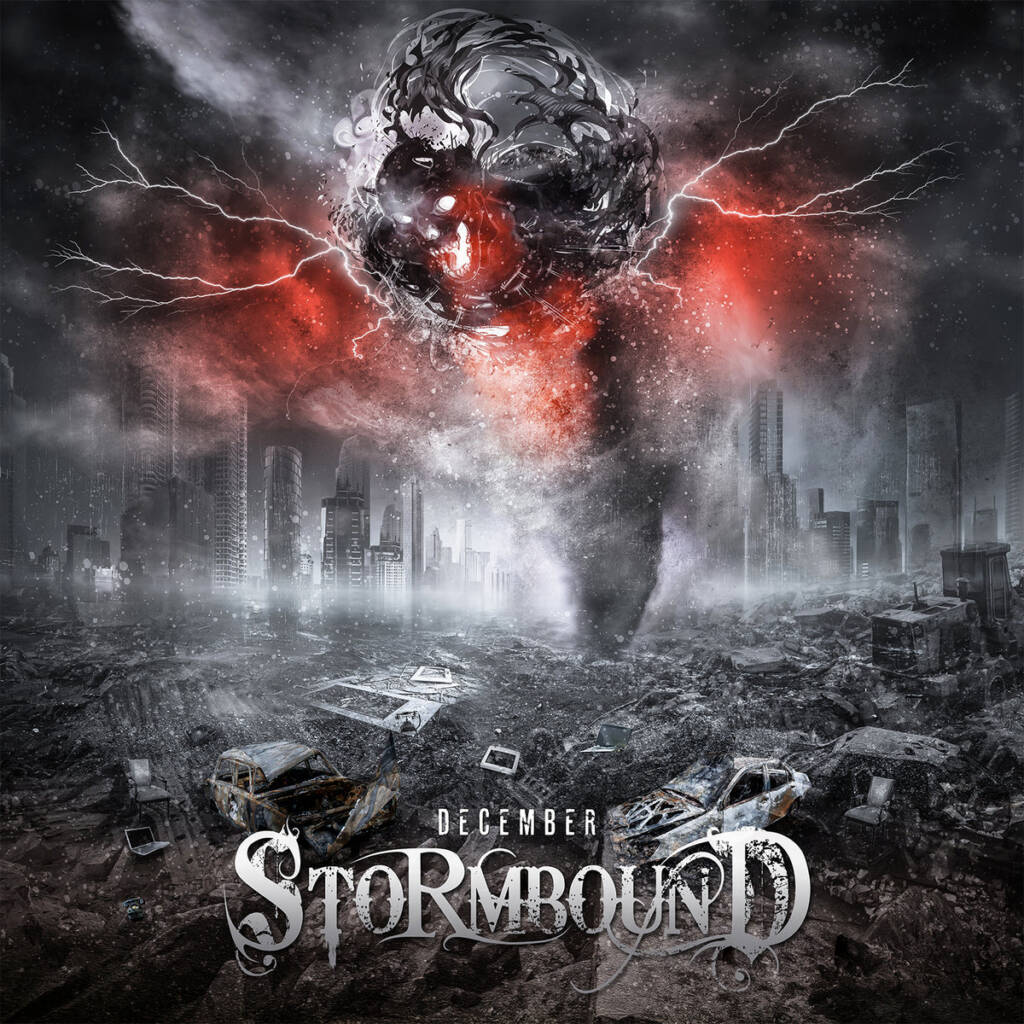 If there's one place where I know to look for good prog bands, it is certainly Israel. I never would have thought this tiny little country, separated from most of the congestions of bands found in areas like Scandinavia, Western Europe or the U.S.A., would have such a rich and flourishing metal scene, especially with a high emphasis on prog, but the last few years of my life have gotten me constantly finding artists from here, and being impressed time and time again. The last iteration of this phenomenon is Stormbound, a group I found nearly 2 years ago when they released their first single, 'Altar of Innocence'. They have been on my radar ever since, and after a series of very convincing single releases, their full-length debut was finally released. It is called "December", it is nearly an hour long, has 2 songs with proper prog durations (the title track at over 10 minutes run time and 'Child's Play' with just over 9 minutes) and it doesn't really like the concept of genres. So, at first glance, everything is spicy, but it's only after you give it a couple of spins that you really start getting what this band is all about.
After the first 2 singles, 'Altar of Innocence' and 'Desert's Roar' were out, this was starting to look like another Epica reiteration, with an alternation of male and female vocals and a big orchestral sound backed by heavy riffage and bombastic orchestration, though I would say it hearkens back to older Epica due to the organic, slightly dirty production sound and dark, ominous tone. But it also had main clean vocals and slight prog tendencies on its side, and the passion put into the songs made them stick their heads above many of the bands taking this direction. And yet, those were just the tip of the ice-berg, as a fabulous blend of progressive metal, death metal and various genre-defying influences were lurking under the surface. The entire stream feels like an opera, an adventure, and it really takes some time to process. It is not a linear story, or a concept, as far as I could tell at least, but every song sure takes you on a wild ride and if your imagination is rich enough, your mind will start picturing fairy-tales and adventures.
Stormbound – Altar of Innocence
But enough of my bombastic fantasizing. Let's talk music. First off, these guys really know how to write METAL!!! I know many bands on the symphonic spectrum can get really soft and mystical, and that's all fine, but I always crave more punch. And Stormbound delivers on that front. Galloping riffs, double bass drums and even blast beat tendencies as well as a couple of proper breakdowns are more than enough to pump the energy through you, and I would almost describe the third track, 'Sacred Lies' as a symphonic death metal track, though it has the catchy chorus breaking the aggression a bit. I guess guitarist Shani Friedman's influence from her progressive death metal band, Structural, must have taken some influence on the writing here as well. It's just gnarly and I'm all about it!
Stormbound – Desert's Roar
And then it's also progressive and nerdy. 'Away From Here' and the title track must be taking the Dream Theater award as the most progressive and also the most narrative songs on this album. They are structurally unconventional, complex in time signatures, and while the former has a sweet, nostalgic guitar line which I would associate with John Petrucci's approach to ballads, the latter feels more like what would happen if 'A Nightmare to Remember' was written by Epica. The main idea here is that they know how to keep their compositions interesting and very creative, even for long songs, without getting too repetitive or dragging. Every second of the song's run time is relevant and each section feels tightly connected to the previous idea, as well as effortlessly flowing into the next. Thus, the songs get a sense of evolution, lifting the listener on a tidal wave of excitement and curiosity, especially in their extended instrumental section, before returning to the main theme or chorus, clearing the tension and bringing forth a sense of familiarity.
Stormbound – Flying High
Then we must talk solos. I'm not sure whether it's Ofer Friedman or Shani Friedman that handles most of the guitar solos, but given that Ofer is also handling both clean and harsh vocals, I would say it's either Shani that tackled the solos, or this guy is a bit of a workaholic. Regardless, the solo writing is exceptional, very focused on melody and drama but not shy of some proper shredding, and it often can handle unstable territory, like setting a solo against a progressive or changing instrumental background and still managing to keep it properly integrated into the song. The same applies to Rotem Sadia's keyboard solos, which also bring a lot of variety in terms of tones. He explores with a lot of organ and keyboard sounds, some giving a throwback to classic rock in the vein of Deep Purple ('Away from Here'), while others sound modern and futuristic. This works well when set against the organic production, giving a sense of worlds colliding and causing chaos, which I can also relate very strongly to the artwork. 'December' especially has a very dramatic dystopian vibe, almost apocalyptic.
Strombound – Child's Play
On the vocal front, we have Ofer's clean vocals as well as screaming, and singer Yael Horwitz' unique style, which I really struggle to describe in terms of a style. It is maybe slightly linked to power metal belting as well as opera, reaching really high registers at times, but the constant grit in her voice makes me think it's rather rooted in a classic hard rock/heavy metal style. Again, placing it in a genre seems less important here, while the main point is that if she has a certain feeling or story to tell, she can always find a way to get that across in full power. We see a bit of childish innocence in 'Flying High' and 'Child's Play', a dramatic and confrontational approach in 'Altar of Innocence' and 'Desert's Roar' and some serious emotional hurt and a deep feeling of loss in 'Shadows'. Her technical approach is quite constant throughout the entire album but the feeling varies greatly from song to song, showing you don't necessarily need 1000 different techniques to adapt to a wide variety of songs. Sometimes an honest soul and the will to tell your story will do the trick.
At the end of the album, it feels like you ran a marathon, been transported through many places and even different eras, as if you were on a proper adventure, and you're left with a beautiful sense of finality. Everything is very organic, cathartic and real with this band. The emotions feel almost tangible, the raw production gives a very strong sense of vulnerability and openness even in negative emotion, and the addition of various sound effects like news articles, children's voices, wind, rain, thunder and what not, completes the sense of being transported somewhere else with each song. Damn, my room feels quite boring all of a sudden. Guess I gotta give the album another spin. Care to join me?
Track List:
Desert's Roar (05:03)
Altar of Innocence (05:12)
Sacred Lies (04:41)
Away From Here (06:04)
December (10:30)
Shadows (04:21)
Flying High (04:55)
Fragments (06:24)
Child's Play (09:02)