The Devils of Loudun – Escaping Eternity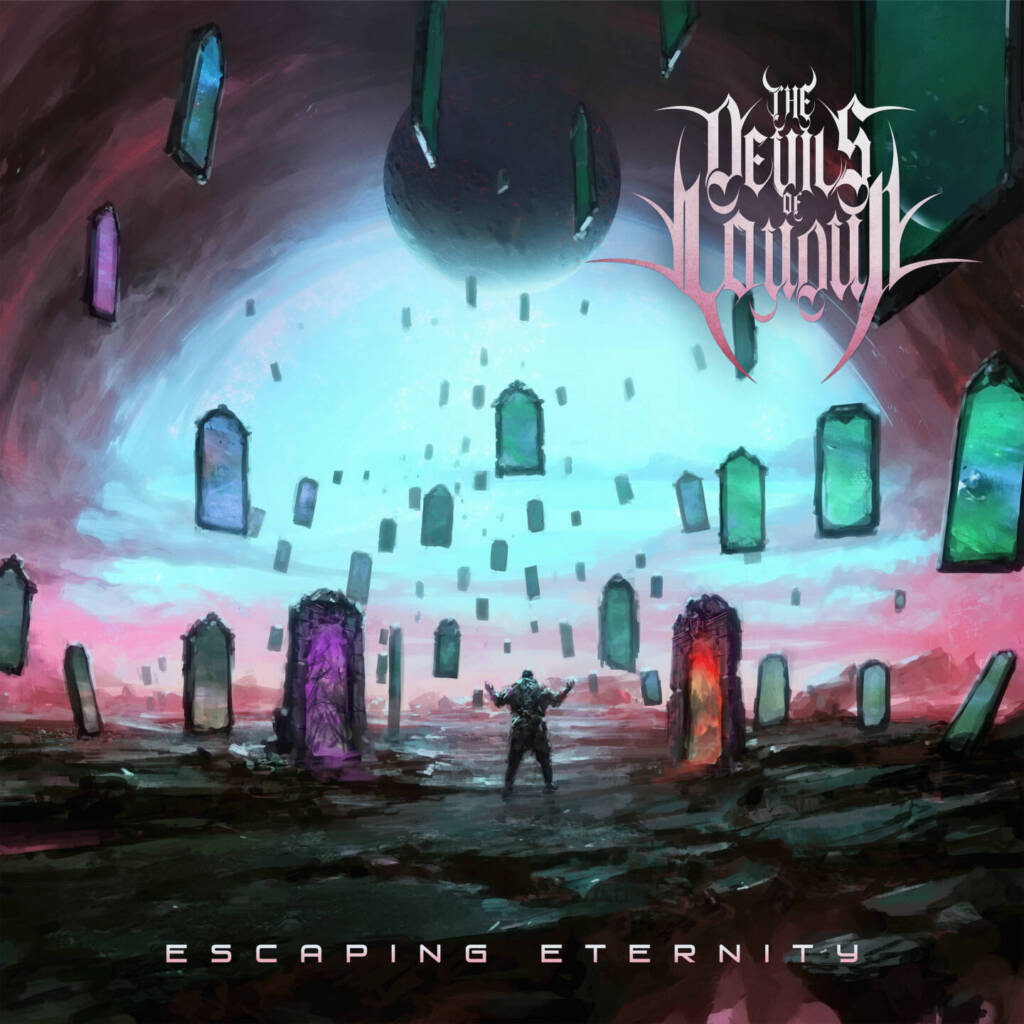 Up next among the newest releases on The Artisan Era is the debut album "Escaping Eternity" from Washington's The Devils of Loudun. This is yet another unknown band which seems to have emerged out of nowhere, being dead set on taking over the extreme metal scene, and to no surprise, they are on this label. Following 2 EP releases, these guys bring forth their full-length debut after a 6-year break since their last release, and it's an absolute monster that I would say, was definitely worth the wait for anyone anticipating this record, and a massive surprise for anyone just being introduced to the band (e.g. Me).
As soon as they dropped the first single, 'Incarnate', I had a feeling I was in for something special, given how well they mixed technicality and enjoyability with that song. But they sure knew how to pick their single because while the full-length does live up to the expectations, it also brings a few surprises that you wouldn't have seen coming based on hearing the single alone. It is a nearly one-hour long journey and a representation of pure mastery in the art of balancing extremity.
It's hard for me to pinpoint what exactly makes their music work so well and hook me almost instantly, but I would say there is no secret ingredient, rather a very meticulous and cleverly orchestrated balance between the various elements they have to offer. All band members display absurd technical skill as well as an impressive ability to put it to good use in interesting compositions. They bring an insane barrage of drums and riffage but contain it into groovy rhythmic patterns and mix it up with a superb sense of melody, cohesion and evolution throughout the songs. While they can clearly be labeled as prog/tech-death, I think the melodic death metal label is essential in capturing their full sound, and they have some "symphonic" to show as well.
The Devils of Loudun – Incarnate ( Click here if the video does not play )
At this point, you can clearly tell there's a lot going on. So let's break it apart. As far as drums go, we're greeted with all the typical elements of tech death (use of blast beats, inhumanly fast pedals) which is always a delight. But the way Kévin Paradis was able to integrate the speed and brutality into a hooky sense of groove is what actually impresses me. The dynamic alternations on drums and cymbal patterns, blistering transitioning as well as knowledge of when to clear out the barrage letting epic moments shine, makes his delivery a lesson in interesting use of your skill. Listening to him play is more about going bananas to the music than trying to keep up with it, but he still knows how to catch you off guard when the time is right. Sometimes he will do exactly what you expect, other times he will syncopate and tear apart the rhythm for just a moment or leave a momentary pause for tension before landing back into the groove.
On the riffs front, Scott Hermanns and Drew Tuel on guitars, as well as LJ Cline on bass, come together as an unstoppable force for mayhem. While at times they may be battering you in unison, it won't be long before each of them goes his own way, scattering the musical dynamics on multiple, separate yet synchronized fronts. For example you may have one guitar chugging rhythmic slices while another drills through tremolo picking melodies and the bass wobbles up and down the fretboard, but the match in pacing and clear accents keep them all moving forward as one. And given that the sound generally has this effect of a constant wall of sound, just stopping it and starting it again in certain moments enables some incredibly dramatic moments. It's also in these brief moments that one particular instrument gets a swift moment to shine by squeezing in a quick fabulous lick. They also have a style of breaking down the rhythm into more atmospheric, noodly and unstable moments before dropping back into the blast (see for example the bridge section in 'Incarnate').
The Devils of Loudun – Anamnesis ( Click here if the video does not play )
But where the guitars really get to shine is in the solos. Apart from the occasional morphing of riffs into solos and vice-versa (see intro to 'Ex Nihilo'), they also have clearly accentuated solo sections where the spotlighted instrument is given time to develop some beautiful, evolutionary musical ideas. Shredding furiously through hyperactive melodies that often seem akin to classical music, they know how to make their solos both fast and beautiful. They also slow down into memorable themes that stay in your head and develop a majestic aura of creepy grandeur. There are even moments of harmonization (have a look at 'Incarnate' again) where the two guitarists complement each other beautifully, coming together as one.
But solo sections aren't limited to guitars. In 'Anamnesis' we see a fabulous keyboard solo, courtesy of Ben Velozo, who I believe used something similar to a harpsichord tone for that one. So yes, there are keyboards as well, and they play a huge role in the mood that the music gets across. Given the epic string effect used for fast running melodies as well as epic background chords, this guy is the reason why I feel like comparing this band to Fleshgod Apocalypse, while the guitar parts get me thinking about early Wintersun. So yeah, imagine bringing those two together into a more progressive, modern tech-death sound and you kinda have what this band is about. You're simply not ready for this insane cocktail of sounds. And when you bring the keyboard and bass into the solo sections as well, you get something as colorful and flamboyant as whatever is the phenomenon going on in 'Ex Nihilo' where they quickly take turns, passing the lead role from one to another every few seconds.
While the blistering wall of sound is pretty much their jam for most of the running time, they do have some surprises in store, coming in the forms of breakdowns ('Incarnate' and 'Abysswalker'), sliced and rhythmically intricate riffs ('The Death of Sleep' and 'Praise the Eternal Nightmare') and progressive unexpected chops. For example, the intro section to Abysswalker legit sounded like a more whacky version of what Dream Theater might use as an overture to one of their epics. And there are many more highlights to look at, but listing them all would be more than I can handle.
The Devils of Loudun – Praise the Eternal Nightmare ( Click here if the video does not play )
On vocals, we have the mighty filth master Vance Bratcher, who I have recently heard on the new Aethereus record and while there, he played his A game in bringing forth the most gnarly, disgusting and putrid sounds, here he seems more focused on directed aggression, accurate pronunciation and fast pacing, keeping in tune with this band's music style. He still has a seriously stinking tone though, which is an absolute joy to hear, and on some of the more atmospheric parts, he displays his amazing black metal shriek, muffled slightly in the production for a more dramatic echoing effect.
I think this is not only one of the most balanced and creatively complete works to be released on The Artisan Era in recent years, but potentially one of the most theatrical as well. These guys once again prove that there's no boundaries to the forms of expression that death metal can take, and that you can step outside the box while still being engaging, captivating and relevant. I'm sure this album will be a delight to fans of the intricate and extreme, as well as those who just want to bang their heads. "Escaping Eternity" releases on February 11th on The Artisan Era. Be sure to keep an eye out for it.
Track List:
The Scourge of Beasts (06:48)
Ex Nihilo (07:11)
Incarnate (04:55)
Anamnesis (04:44)
The Death of Sleep (05:57)
Evolving Wilds (07:14)
Praise the Eternal Nightmare (03:50)
Abysswalker (08:30)
Formless (03:07)
Arcana Imperii (07:37)