Ad Infinitum – Chapter II – Legacy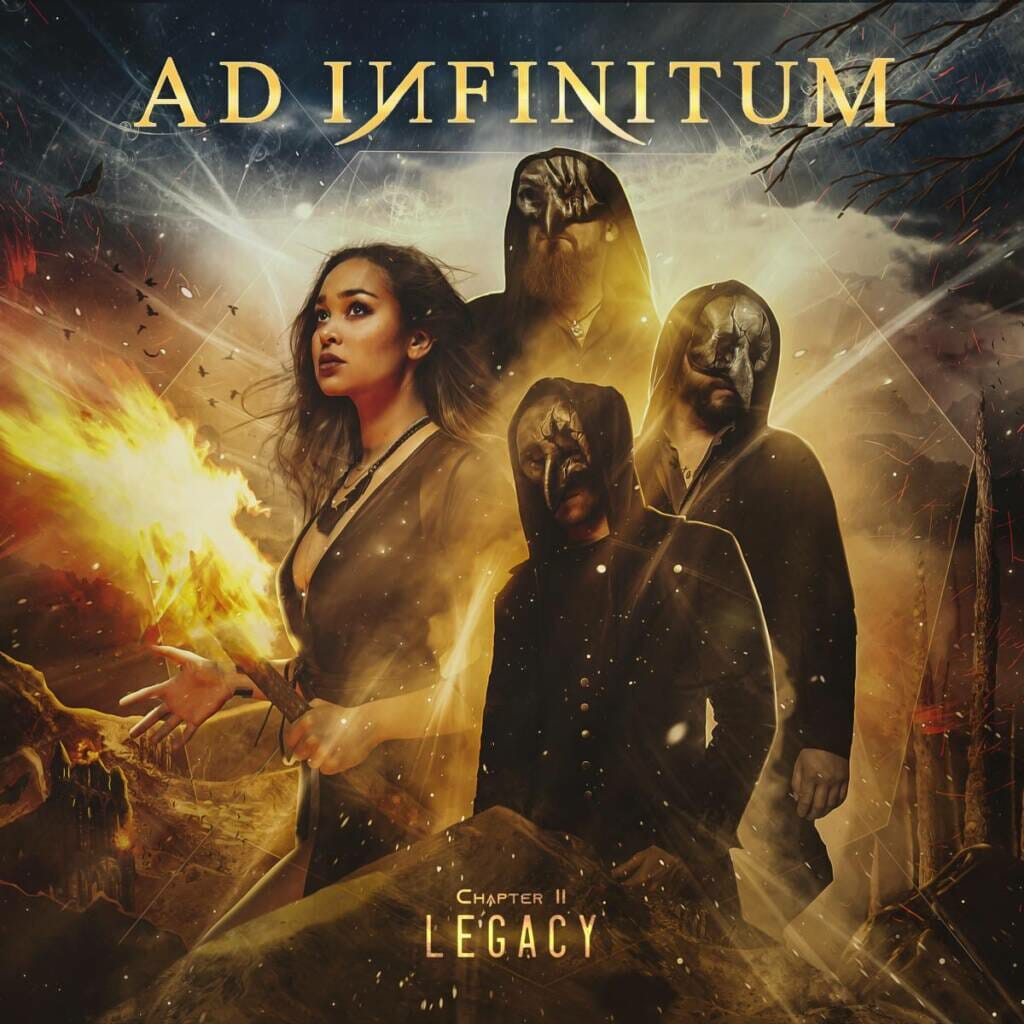 When I reviewed Ad Infinitum's debut album "Chapter I – Monarchy" back in 2020, I expressed a longing for Chapter II. Little did I know that it wouldn't be long to wait for that follow up. "Chapter II – Legacy" sees a change to the line-up and also their image. Replacing Jonas Asplind on bass guitar is Korbinian Benedict. Also judging by the recent videos and indeed the new album cover, they have new plague masks. The new design has shorter beaks which I have to say must make it easier to perform in.
As with the first album, the tracks are all on the short side. In fact, there are only two that are over four minutes long. There are twelve songs in all that clock in at a reasonable 44 plus minutes. One thing is for sure, they've been busy in the Ad Infinitum camp. Chapter II still has the familiar style that is associated with the band. This time though, they have expanded on the scope, incorporating djent/metalcore touches. Guitarist Adrian Thessenvitz has also added some new tricks into his repertoire.
That familiar sound ushers you into the album with 'Reinvented', although there are also flashes of angry vocals from Melissa Bonny. The band are making quite a name for themselves. Their video for 'Marching on Versailles' from Chapter I has exceeded 2 million views already. They must be getting a feeling of being 'Unstoppable', and that is the title of the first video track from the album.
Ad Infinitum – Unstoppable (click here if the video does not play)
The theme of the album described by the band is the paradoxical life and afterlife of Vlad The Impaler. He was also known as Dracula and inspired the lyrics for the album. To some he was a hero protecting his land against the Ottoman Empire. To others, he was a violent and heartless monster, and for many, he is the father of all vampires. 'Inferno' is essentially a ballad that has heavier parts and an exquisite guitar solo from Adrian. There are more gutturals from Melissa in 'Your Enemy' which is otherwise a powerful symphonic number.
There's a guest appearance on 'Afterlife' by Nils Molin (Amaranthe, Dynazty). He performs a vocal duet with Melissa, adding an extra dimension to the track. Melissa is no stranger to working with other musicians and bands. Recently her other band, The Dark Side of the Moon released a video covering the Game of Thrones song Jenny of Oldstones. She also appeared in a Feuerschwanz video last year which is now approaching 3 million views.
Ad Infinitum – Afterlife ft. Nils Molin (click here if the video does not play)
So now it's time for a breather. 'Breathe' is a softer number that only intensifies during the lead break. On 26th October, just three days prior to the album release date came another video premiere. 'Animals' is described as "a powerful cinematic track that will transport you from Heaven to Hell and back. Would you exchange your humanity for immortality?". This was their three-day warning and some exciting news, more on that later. For now, enjoy what I believe is a rare, unmasked video, other than the acoustic stuff that is!
Ad Infinitum – Animals (click here if the video does not play)
The pace and intensity are continued in 'Into the Night', but there's a more symphonic feel to 'Sons of Wallachia'. The next track is a mixture of styles. 'My Justice, Your Pain' swaps between metal, metalcore and a catchy, almost pop sound. This is perhaps the track that is furthest from their normal style. It might be my imagination, but the album seems to get heavier towards the end. 'Haunted' starts softly enough but then explodes into life and later the gutturals kick in. The last song in this chapter is 'Lullaby' but don't be fooled, this is nothing like a lullaby. At times it could almost be Jinjer.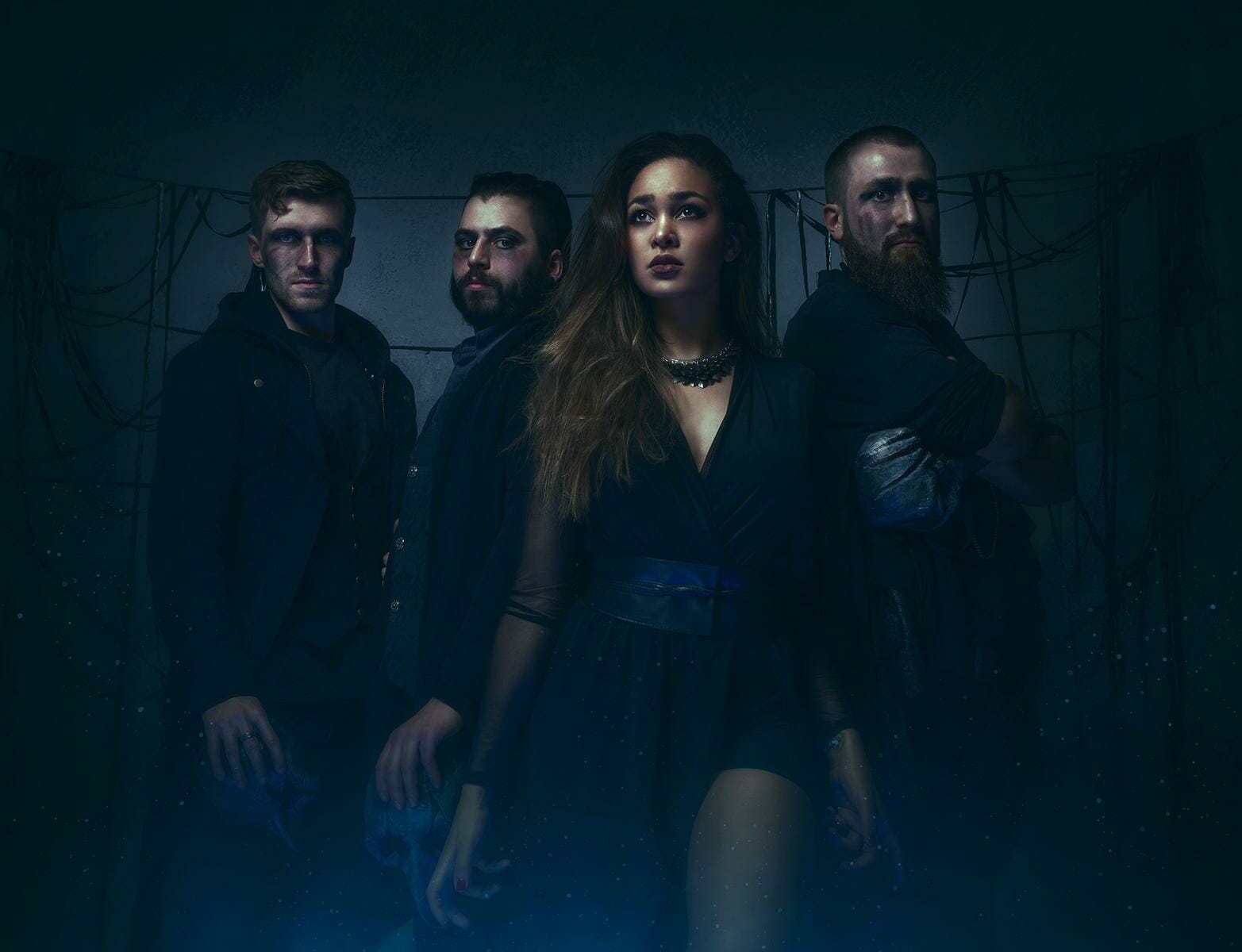 The band has a treat planned for us on November 6th. It's an online broadcast of a show that was recorded at Turbinenhaus in Kulmbach, Germany. They performed all the songs of the new album as well as the finest selection from "Chapter I – Monarchy", they also invited some prestigious guests to offer up a show to remember! Tickets for the event are available at the following link.
https://www.momenthouse.com/adinfinitum
I don't think fans of the band will be disappointed with this new release. The growls are quite subtle and short lived. Overall, "Chapter II – Legacy" is as majestic as one would expect. There has been some evolution here but not too much, and probably not enough to alienate loyal followers.
 Tracklist:
1. Reinvented
2. Unstoppable
3. Inferno
4. Your Enemy
5. Afterlife
6. Breathe
7. Animals
8. Into the Night
9. Son of Wallachia
10. My Justice, Your Pain
11. Haunted
12. Lullaby