Drifting Sun – Forsaken Innocence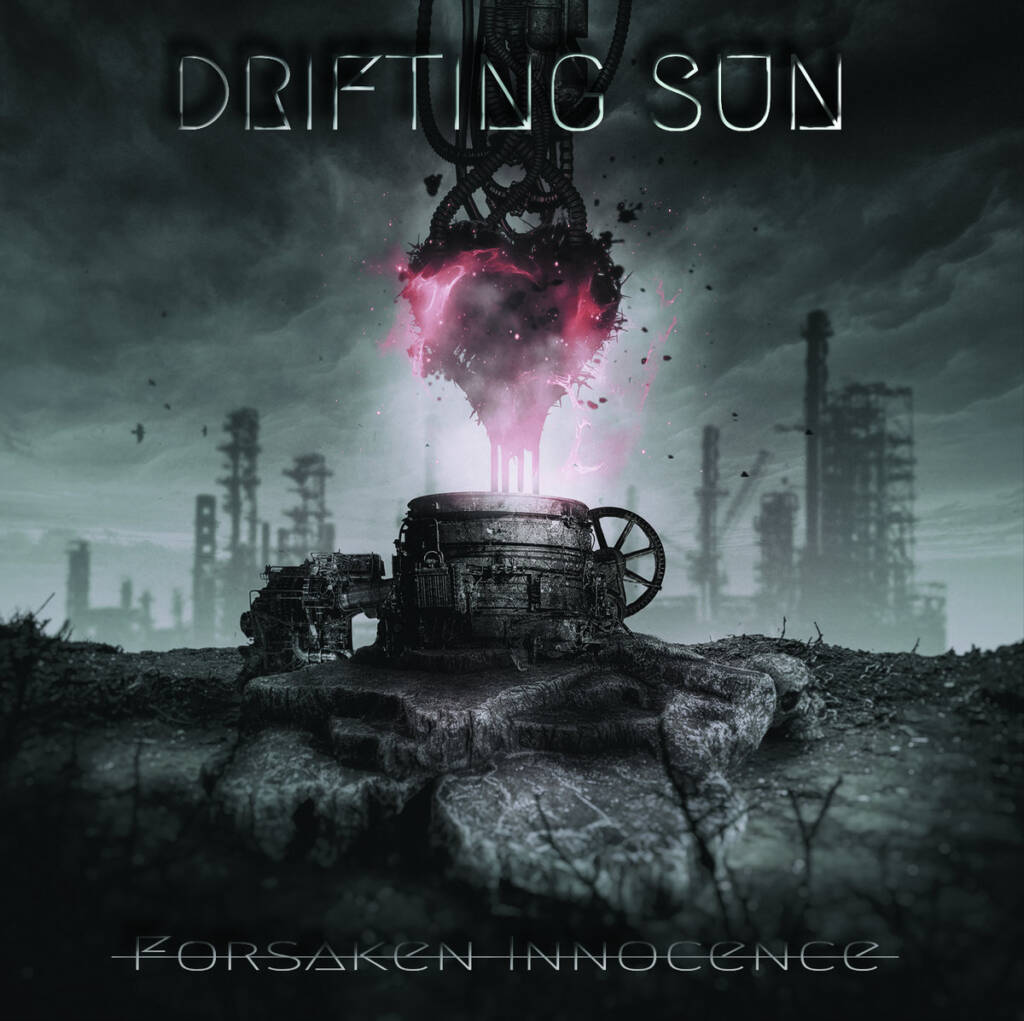 Drifting Sun has been active for quite some time already. The first ideas were already made in the early nineties, which resulted in a full-length album in 1996. The second album was released in 1998 after which a pause of 17 years followed. Main brain and founding member Pat Sanders then picked up the works again and with a completely new line up they released an album in 2015. After that, the band has been quite busy, releasing several EP's and three full-length albums.
Through all the years there have been quite a few vocalists active. After the two initial vocalists on the 90's albums, they had Peter Falconer doing the job on three albums. The last album "Planet Junkie" from 2019" had three guest vocalists; Colin Mold, Mark Atkinson from Riversea, and Joshua Corum from Head With Wings, as well as a number of talented guest musicians.
With "Forsaken Innocence" we get to hear another guest vocalist and in my opinion, one of the best voices in prog. John Kosmidis, better known as Jargon, is the main brain behind the band Verbal Delirium and of course his solo work under his own name.
Bringing this name into the band made this project instantly interesting for me because I have been a fan of his work for years.
I was not very familiar with the earlier albums of Drifting Sun, and yes, most everything written up till now I had to research. Comparing the music on this album to Verbal Delirium is almost unavoidable. This is also because it has many similarities. The characteristic use of piano and keyboard, which could have been played by Jargon himself, but as far as I can see, he only plays keys on one song. These credits go to Pat Sanders himself and are credits well deserved because the melodies and solos are very enjoyable.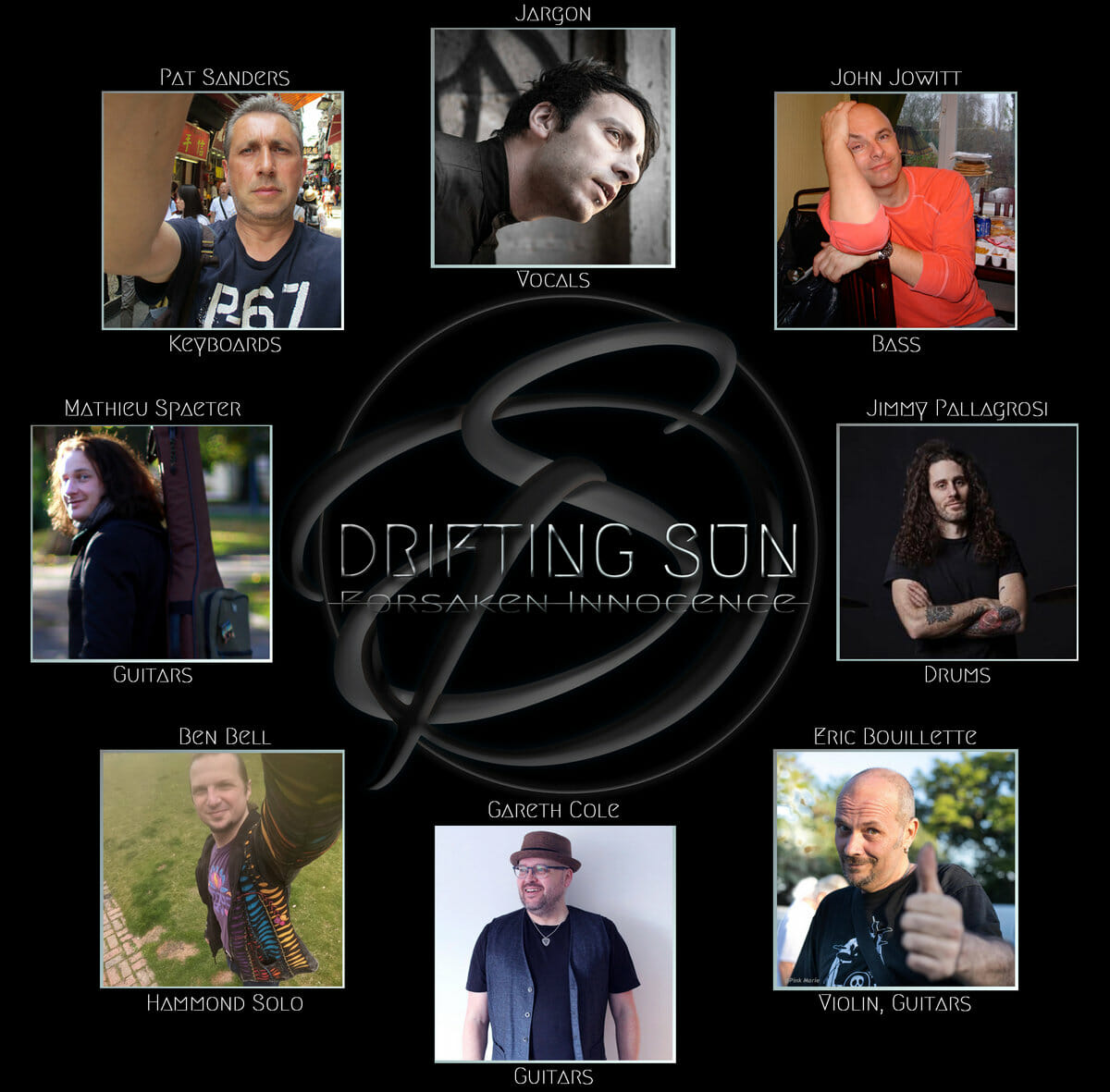 I would say that the "Forsaken Innocence" contains more or less pure neo-progressive rock, which is very much up my alley, and I imagine that will go for everyone else that is a fan of this genre as well.
With the first tunes at the start of the album, I got a bit misled. I had the idea for a moment this was the start of some kind of power-metal album, with the acoustic guitar and the multiple voice singing, but soon the synthesizer bursts in accompanied by the vocals from Jargon. 'King of the Country' directly makes the intentions clear for this album. A lot of instrumental parts are put into the songs, but with more than enough room for the vocal lines. Here and there are more atmospheric resting points to catch your breath because at some points the instrumental parts can become a bit overwhelming, though it's never too complex.
Almost every song is of epic length, except for the last song 'Time to Go'. With 8 songs (including the bonus track 'Hand on Heart') and an album-length of almost 70 minutes, you can calculate the average song length. Am I happy about this? Yes, mostly I am. I only struggle a bit with the title track. This one is almost 26 mins. and after 7 mins it is only instrumental. After a minute or eight of instrumentals, I get a bit lost. From there on out, you only hear the musicians flex their muscles on their instruments. It feels like there is no link to the original melody anymore. Luckily the band has split the song into two pieces 'Part 1' and 'Part 2'. The first part finishes with four minutes of instrumental music, while 'Part 2' has no vocals at all. The second part with its almost 15 mins is too long for me, preferring my prog with vocals, still, it's easy to skip, which I mostly do.
Drifting Sun – Forsaken Innocence, Pt. 1 (Click here if the video does not play)
Overall Drifting Sun has created a very nice neo-progressive album, with great instrumental parts and a vocalist showing his best side. Jargon really is a great addition to this album. The songs are perfectly balanced, except for the above mentioned second part of the title track. The songs grow with every listen, and the vocal parts can definitely result in some earworm symptoms.
If you're looking to discover very modern-sounding, or innovative progressive rock with experimental elements, then this might not be the right choice for you, but if you're looking for very good and solid neo-progressive rock, with great melodies, talented performances and good craftsmanship, then this is the album to check out.
Track listing:
King of the Country 11:36
Insidious 8:08
Dementium 9:10
New Dawn 6:48
Forsaken Innocence (Part 1) 10:51
Forsaken Innocence (Part 2) 14:52
Time to Go 2:28
Hand on Heart (bonus track) 4:48