More debut full length outings and Zeuhl vs. Mathcore!
Releases of the Week 42/2021 with Within Progress, Others by No One, Shamblemaths & Every Time I Die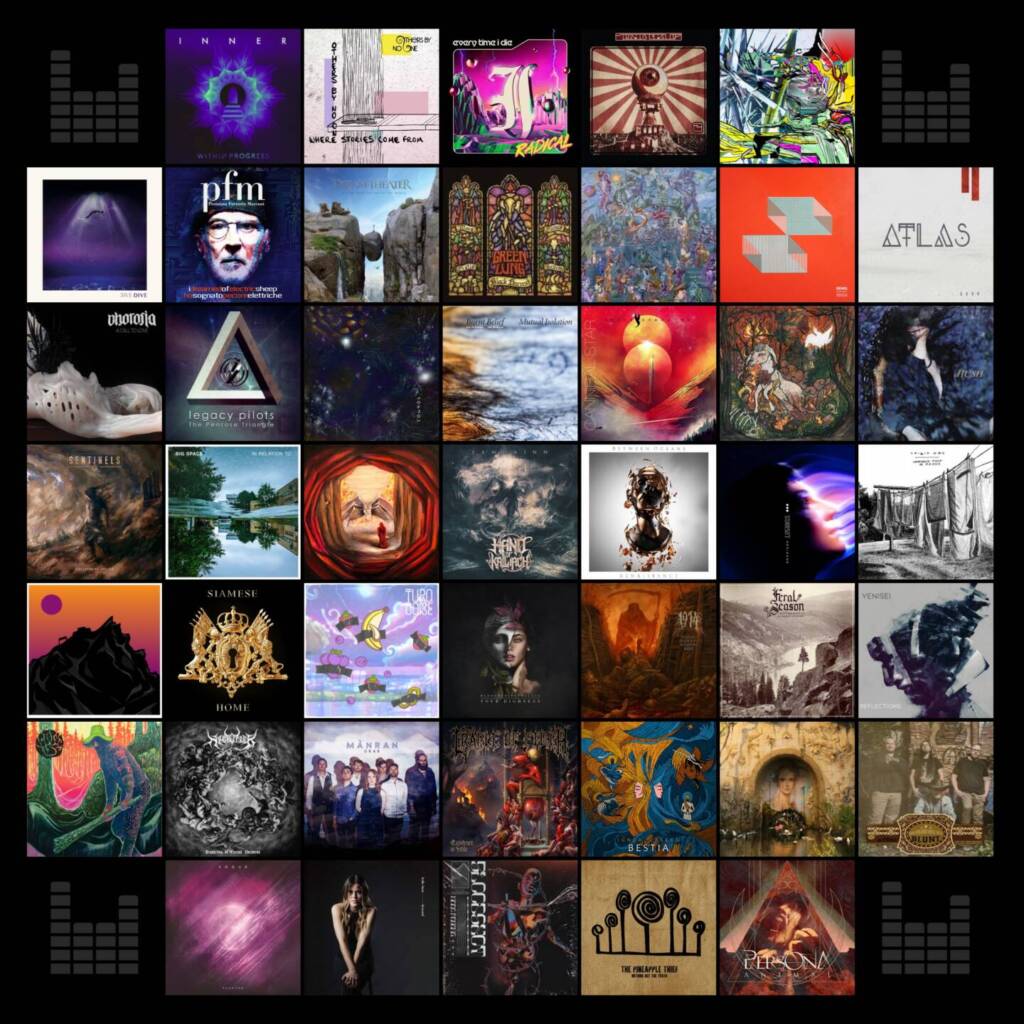 Out of the 45 releases that we have assembled from this week, we picked 4 eclectic highlights. Starting off with some greek prog metal from Thessaloniki: Within Progress released their debut full length album "Inner" yesterday already. "Book II: Where Stories Come From" is also a first full length outing, this one comes from Ohio proggers Others by No One. A sophomore effort for a change comes from Norwegian duo Shamblemaths. Simply entitled "Shamblemaths II", this one should appeal to all retro/proto prog and Zeuhl fans alike, while Colin's pick of the week, Every Time I Die's "Radical" sports a very different genre mix altogether: mathcore/metalcore with hardcore punk/southern rock undertones… A vast palette of progressive sounds to choose from as always! Dive in!
More releases for 22 October, 2021
Peculate - Your Own Personal Abyss (Oct. 18) Bandcamp
5ive Dive - Première Traversée (Oct. 21)
Ignea/Ersedu - Bestia EP (Oct. 21) Bandcamp
PFM - I Dreamed of Electric Sheep (Inside Out Music)Read Our Review
Dream Theater - A View from the Top of the World (Inside Out Music)Read Our Review
Green Lung - Black Harvest (Svart Records) Bandcamp Read Our Review
Hex A.D. - Funeral Tango for Gods & Men (Fresh Tea)Read Our Review
Seims - Four Bandcamp
Chorosia - A Call to Love Bandcamp
Legacy Pilots - The Penrose Triangle Bandcamp
Cognos - Cognos (Willowtip Records) Bandcamp
Burnt Belief - Mutual Isolation (Alchemy Records) Bandcamp
Venus Syndrome - Cannibal Star (Rockshots Records)
Harul Vinay - Bharari Ghat Bandcamp
Slow Crush - Hush (Church Road Records) Bandcamp
Sentinels - Collapse By Design (Sharptone Records)
Big Space - In Relation To Bandcamp
Zych - Dante's Inferno Part 1 (Metal Assault Records) Bandcamp
Hand of Kalliach - Samhainn Bandcamp
Between Oceans - Renaissance (Prime Collective)
Starset - Horizons (Fearless Records) Bandcamp
Spirit Was - Heaven's Just A Cloud (Danger Collective Records) Bandcamp
Forgonia - The Mountain Bandcamp
Siamese - Home (Long Branch Records/SPV Entertainment) Bandcamp
Turquoise - Fermented Fruit (Friend Club Records) Bandcamp
Bloodred Hourglass - Your Highness (Out Of Line Music) Bandcamp
914 - Where Fear and Weapons Meet (Napalm Records) Bandcamp
Feral Season - Rotting Body in the Range of Light (Profound Lore Records) Bandcamp
Yenisei - Reflections Bandcamp
Octopus Ride - II Bandcamp
Necrofier - Prophecies of Eternal Darkness (Season of Mist) Bandcamp
Mànran - Ùrar Bandcamp
Cradle of Filth - Existence is Futile (Nuclear Blast)
Circa Survive - A Dream About Love (Rise Records)
Wax Mekanix/Troll Teeth - Blunt Split/EP (Talon Records)
Rogue - Phantom EP
Leslie Hunt - Descend EP
Together In Tragedy - Memoriam EP Bandcamp
Bloodshot - Mono Pneuma EP
The Pineapple Thief - Nothing But the Truth Bandcamp
Persona - Animal (Oct. 23) Bandcamp