2 EPs, 4 albums, lots of jaw dropping new music!
Releases of the Week 43/2021 with Alex Canion, Moron Police, Kayo Dot, Addiktio, First Fragment & Mastodon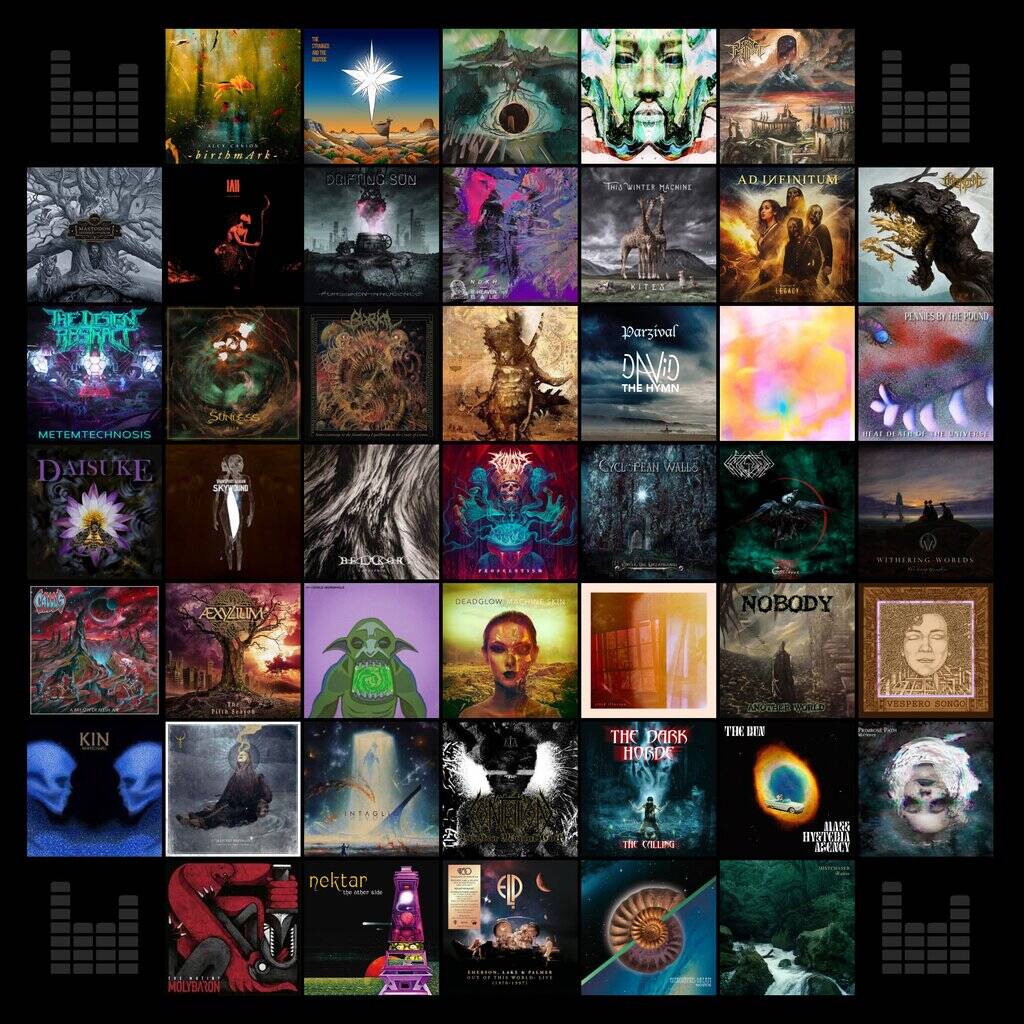 Another huge release week in this autumn frenzy with 44 new releases in total. Our highlights include Voyager bassist Alex Canion's debut solo EP "Birthmark", another EP with Moron Police's fun, western tinged "The Stranger and the Hightide" and 4 epic albums: Kayo Dot's tenth full length offering with the poetic title "Moss Grew on the Swords and Plowshares Alike", instrumental excellence with Addiktio from Norway and their sophomore effort "Anthem of the Year 2020", a  neoclassical tech death symphony from Canada with First Fragments' "Gloire Éternelle" and last but not least, the return of sludge overlords Mastodon into progressive waters with the huge double album "Hushed and Grim". Don't forget to subscribe to our weekly updated Spotify playlist as well to explore all those new releases as soon as they drop: https://theprogspace.com/rotw-playlist!
More releases for 29 October, 2021
Drifting Sun - Forsaken Innocence (Oct. 27) Bandcamp Read Our Review
NDKH - If Heaven Is A Lie (Oct. 28)
This Winter Machine - Kites (Oct. 28) Bandcamp
Ad Infinitum - Chapter II - Legacy (Frontiers Music)Read Our Review
Archspire - Bleed the Future (Season of Mist) Bandcamp
Sunless - Ylem (Willowtip Records) Bandcamp
Burial - Inner Gateways to the Slumbering Equilibrium at the Center of Cosmos (Everlasting Spew Records) Bandcamp
The Design Abstract - Metemtechnosis Bandcamp
Prophetic Scourge - Gnosis - A Sorrower's Odyssey (Klonosphere/Season of Mist) Bandcamp
Parzival - David - The Hymn (Hypertension Music)
Pennies by the Pound - Heat Death of the Universe Bandcamp
Transport Aerian - Skywound Bandcamp
Soars - Enfold Bandcamp
DaisukE - The Moth and the Lotus Bandcamp
Be'lakor - Coherence (Napalm Records) Bandcamp
Zeolite - Proselytism Bandcamp
Cyclopean Walls - Enter the Dreamlands Bandcamp
Entropic Awakening - Epilogue Bandcamp
Withering Worlds - The Long Goodbye Bandcamp
Callus - A Breath of Flesh Air (Trepanation Records) Bandcamp
Aexylium - The Fifth Season Bandcamp
Mellow Beast - Invisible Wormhole Bandcamp
Deadglow - Machine Skin Bandcamp
Vivid Illusion - Vivid Illusion Bandcamp
Nobody - Another World (Inverse Records) Bandcamp
Vespero - Sonĝo Bandcamp
Whitechapel - Kin (Metal Blade Records) Bandcamp
A Secret Revealed - When the Day Yearns for Light (Lifeforce Records) Bandcamp
Intaglio - II Bandcamp
Contrition - Broken Mortal Coil (Disorder Recordings) Bandcamp
The Dark Horde - The Calling Bandcamp
Mass Hysteria Agency - The Run EP Bandcamp
Primrose Path - Matriffe EP Bandcamp
Molybaron - The Mutiny (Re-Release) (Inside Out Music)
Nektar - The Other Side (Reissue) (Cherry Red Records)
Emerson, Lake & Palmer - Out of this World: Live (1970 - 1997)
Hieronymus Dream - Nostos (Oct. 30) Bandcamp
Mistchaser - Kairos (Oct. 30) Bandcamp