Amiensus – Abreaction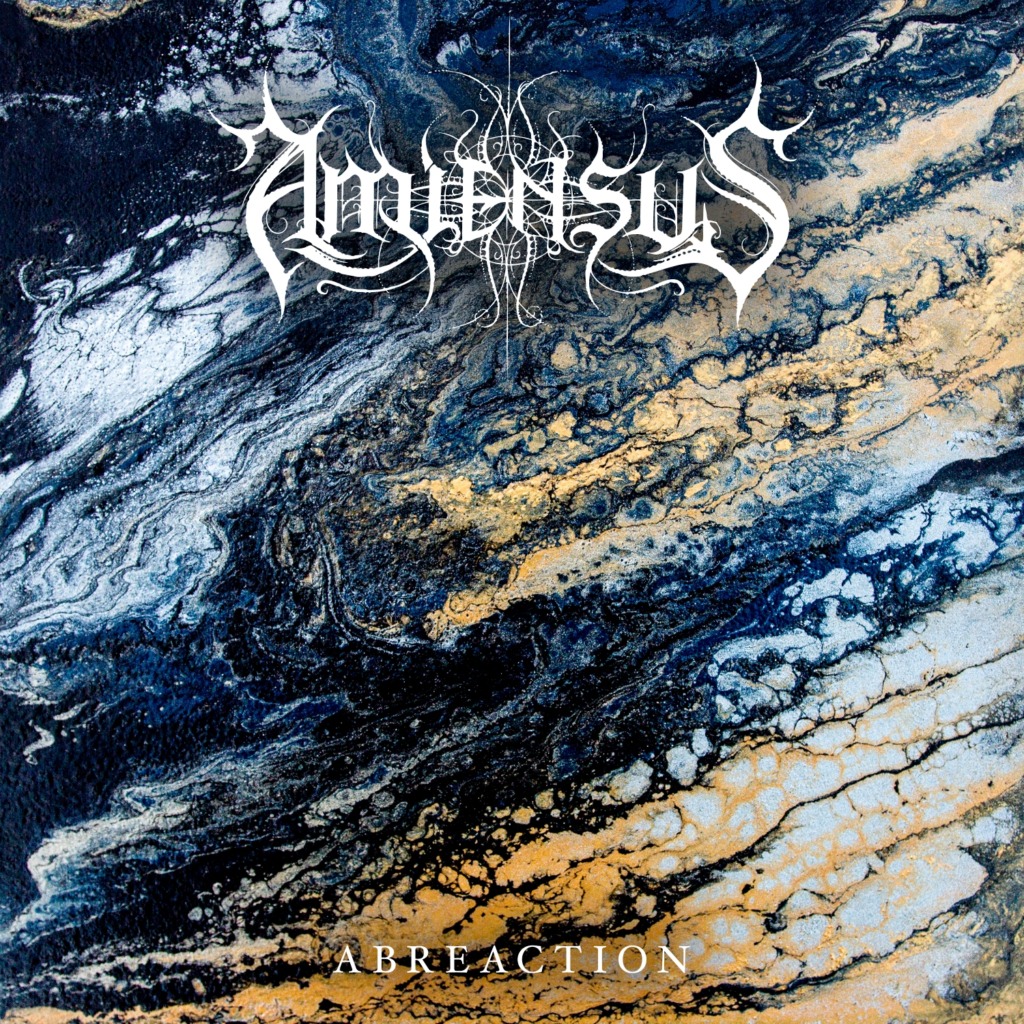 I only recently dove into the music of U.S. progressive black metallers Amiensus. They have been around for just over a decade now and with two previous releases under their belt, they have gained precious experience which is clearly visible on their latest outing. "Abreaction" was released on October 2nd 2020, so if you missed it, and if black metal with a twist might be your thing, then I strongly suggest you look into this monster.
"Abreaction" is a remarkable work, showcasing a variety of sounds and feelings, superbly balanced and intertwined. As far as the black metal component is concerned, they tick pretty much all the boxes but don't fully fit the pattern. The harsh production, drilling, flat sound of drums and guitar and the shrieking harsh vocals are all present. But the mixing is more refined, and while the instrumental textures  evoke the mushy, grinding sound typical to black metal, the overall quality, and impact is boosted. This especially favours the drum and bass parts, giving them a lot of meat, attack and definition. The same can be said about the performance itself: it fits the genre but bends it towards refinement, such that there is a lot of diversity and technical skill. The most impressive drum parts are in 'To the Edge of Life', drilling at a pace and precision akin to tech-death, without altering the music towards that genre's sound.
Click here if the video doesn't play
There's a strong progressive aspect to the music as well. The songs change pace and develop different dynamics. There's always a sense of growth and direction. The songs repeat ideas but they are organized in a way that lifts the energy in climactic soaring moments and then descends into abyssal depths. The connections between various ideas, sounds and feelings are very fluid, creative and unexpected, allowing the overall tone of the record to be maintained but altering different nuances and chaining them together in a homogenous yet multi-faceted experience.
Click here if the video doesn't play
In both creativity and performance, this band is truly impressive. But the essence of Amiensus resides in the feelings and sensations they evoke. The lyrics in this record dive into the experience of unloading repressed emotion, quite authentically depicted both in words and in the delivery. There are both clean and harsh vocals, sometimes alternating and sometimes overlapping, like a juggling dance between agitation and stillness. At times it feels dark, ominous and tormented but it also feels serene, calm and surreal. The clean vocals seem to coat the abrasive sounds in a smoother texture and to have the soothing and scarring vibrations intertwine, much like the contrasting colours in the artwork. The same effect is further amplified by the use of keyboards and orchestrations that merge with the drilling guitars. There are also acoustic guitar passages, and even an acoustic version of 'A Convocation of Spirits' which strips down the heavy elements and allows emotions to come through. There it becomes clear that the black metal sound was used as a textural foundation of the music, working as a support structure for the emotion that is to be delivered.
I find "Abreaction" to be a very strange contrasting experience. Harshness and calm, melody and impact, speed and stillness, all collide and merge into a complete and unhindered display of feeling. The core idea of this album is depicting and expressing a wide range of sensations authentically. It emphasizes human experience at the core, detached from the external source that may cause it. It's an advanced and refined piece of art on all levels of analysis and I strongly recommend checking it out.
Track List:
Beneath the Waves (05:11)
Divinity (05:52)
To the Edge of Life (05:39)
A Convocation of Spirits (06:23)
Euphorica (05:10)
Drowned (04:35)
Cold Viscera (05:26)
All That Is Unknown (05:13)
Iconoclasm (04:36)
A Convocation of Spirits (Acoustic) (06:41)