Magnum – Dance of the Black Tattoo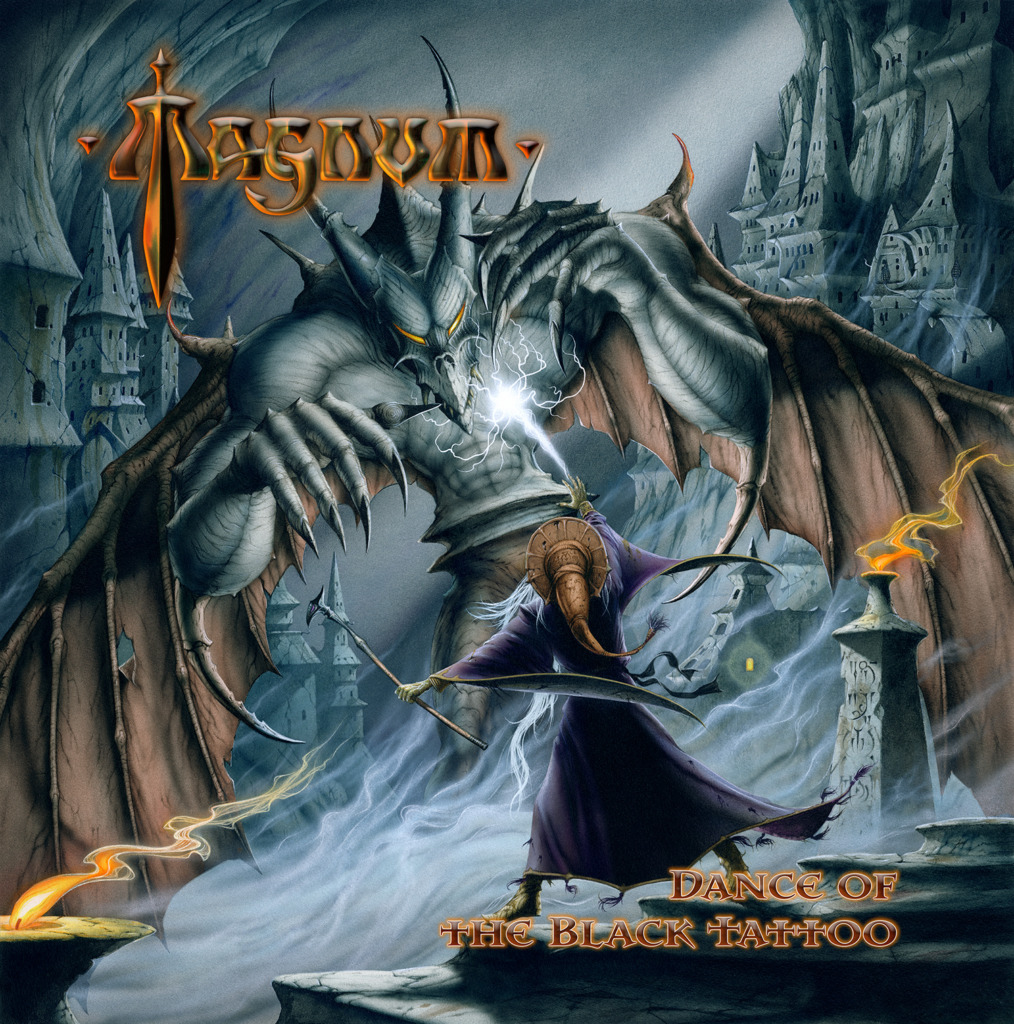 Oh boy, this album takes me back and conjures up many happy memories. The style is of its time and influenced the bands that myself and friends were in back then. None of those groups were as successful as Magnum needless to say, although I remember being part of the road crew for local band Paralex when they supported them in Boston (Lincolnshire).
"Dance of the Black Tattoo" is a collection of live tracks and radio edits. This follows on from Magnum's previous release, three years ago, which was also a compilation album entitled 'The Valley of Tears – The Ballads'. Whereas that one focused on their softer and dreamier side, this album brings together some of their favourite heavier numbers. The band have gone through their archives and selected rare live cuts and outstanding radio versions. Guitarist Tony Clarkin has remastered all 14 tracks so that they comply with modern sound technology.
The artwork for the album has been created by tried and tested artist Rodney Matthews. Anyone familiar with his work will know that he portrays fantasy worlds, that complement the musical content of the albums that they accompany. What he has produced for this album is no exception, again he has invoked an otherworldly scene and therein an air of mystique.
Some of the live versions were previously available as bonus tracks on the band's DVD 'Escape from the Shadow Garden'. One of these kicks the album off in fine style. 'Black Skies' builds ominously before launching into a driving riff. Then come the chills as the unmistakable vocals of Bob Catley lift the song in his warm and charismatic way. Bob has sung for Magnum for almost 50 years, and it's no wonder that Tobias Sammet chose him to be part of Avantasia.
'Freedom Day' fades in slowly, merging into a powerful guitar solo from Tony Clarkin. This is a slower number, and it showcases a dreamier aspect of Mr Catley's versatile vocal skills. As with many Magnum songs it has a lively and catchy chorus.
One track that stands out is 'On a Storyteller's Night'. Taken from the classic album of the same name, this is a long standing favourite of Magnum fans and a popular singalong at their gigs. The cover art for that album was also done by Rodney Matthews, and has no doubt been emulated many times in photos taken late into the night in pubs and bars the world over.
The album is stuffed with great tracks, the rhythmic 'Dance of the Black Tattoo (live)', their anti-war number 'On Christmas Day (radio edit)' and another fan favourite 'Born to be King'. The latter has not been available on CD before and a couple of other songs, 'Phantom of Paradise Circus' and 'No God or Saviour', were hitherto only available as bonus tracks on 'Sacred Blood – Divine Lies'. According to Tony the first of these very nearly sank into oblivion and he is happy that it is now getting the attention it deserves.
'Your Dreams Won't Die' and 'Twelve Men Wise And Just' are two live bonus tracks, which first featured on 'Lost On The Road To Eternity'. 'Show Me Your Hands', 'Not Forgiven' and 'Madman Or Messiah' are three previously unreleased radio edits from the still topical studio recordings 'Lost On The Road To Eternity' (2018) and 'The Serpent Rings' (2020). Clarkin is proud of these; "Sometimes it's not easy to shorten a carefully balanced composition for the radio, but in these three cases it worked really well".
The band have a tour planned in September 2021, pandemic allowing. In the meantime if you want a taste of them playing live, pop over to YouTube:
Magnum Live Rock Hard Festival 2019 (click here if video does not play)
This a great trip down memory lane and a piece of prog rock history. Whether or not we will see any new material remains to be seen. If you already own all the band's back catalogue this will be a valuable addition to your collection. If you don't, it is a nice collection that may well tempt you to investigate the band more. In any case, "Keep your night-light burning".
Tracklisting:
Black Skies (live) 6:06
Freedom Day (live) 6:20
All My Bridges (live) 4:55
On A Storyteller's Night (live) 5:09
Dance Of The Black Tattoo (live) 5:53
On Christmas Day (radio edit) 4:21
Born To Be King 5:31
Phantom Of Paradise Circus 5:88
No God Or Saviour 5:24
Your Dreams Won't Die (live) 5:44
Twelve Men Wise And Just (live) 6:22
Show Me Your Hands (radio edit) 3:48
Not Forgiven (radio edit) 3:38
Madman or Messiah (radio edit) 3:41