Hex A.D. – Funeral Tango for Gods & Men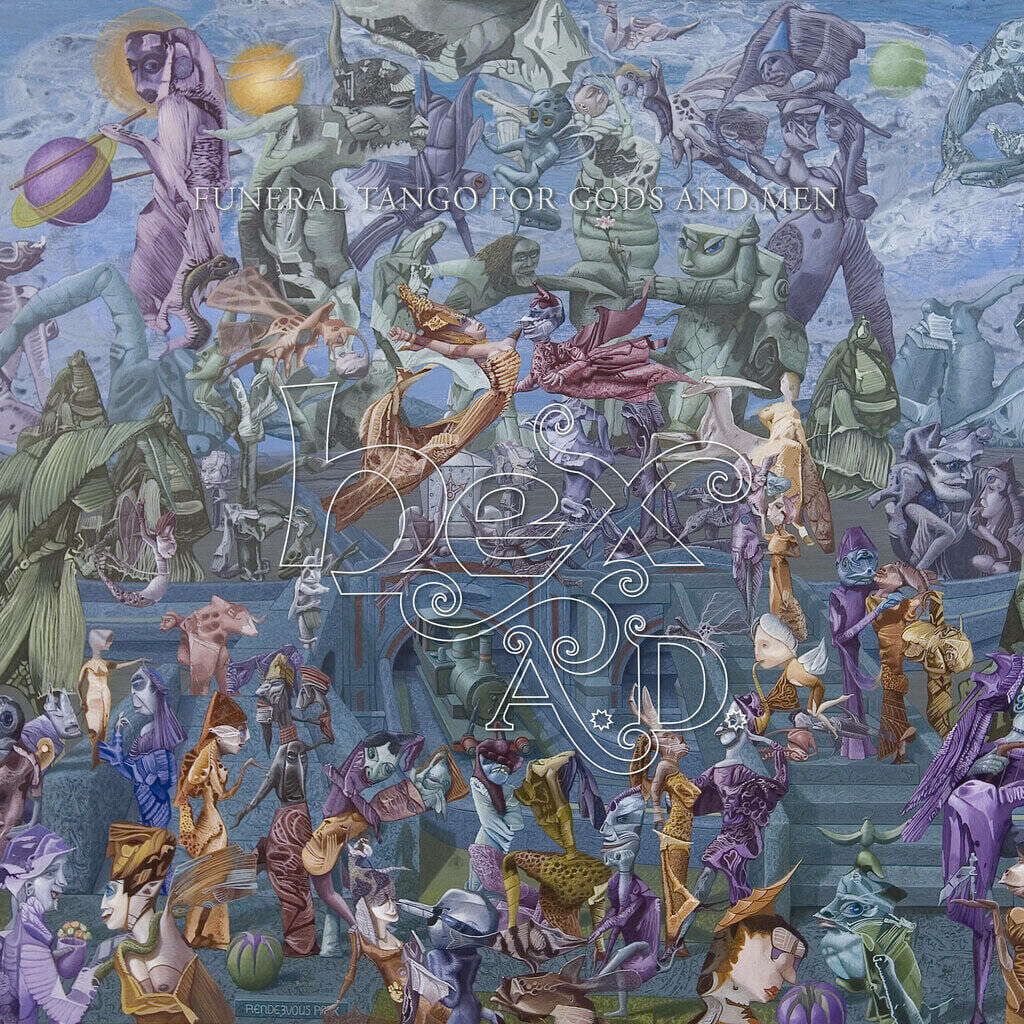 Need something fresh with a pop of nostalgia? Then "Funeral Tango for Gods & Men", the latest album from Hex A.D., might be just for you! The four Norwegian musicians show us their versatility and skill for the 5th time with the help of some guest stars.
The godly, busy abstract scenery on the cover, that draws your attention right away, is created by Dave Patchett. If it seems familiar, it's because that's the same artist, with whom Cathedral used to work. Both bands blend heavy doom riffs with 70's prog melodies in a similar manner, so it is not a surprise that Hex A.D. decided to reach out to Patchett to represent their music.
I have heard the previous record, "Astro Tongue in the Electric Garden", and hoped for a similar gypsy jazz influence, but sadly it seems like a one-time thing. "Funeral Tango for Gods & Men" takes a more serious, melancholic turn than their previous work.
Rick Hagan shares that this album contains his most honest and personal lyrics to date. As a non-native speaker I wouldn't dare to claim that I understand exactly what the album is about, my best guess is a story of heartbreak, betrayal and the hardships they bring along, told poetically with the help of some biblical and horror movie references.
The opener, 'Naadegave', greets us straight away with the grand haunting church organ, which sets the tone for the album.
Then in 'Seven blades' we get that classic sound, consistent during the whole album – grand guitar solos, catchy hooks and a vocal style I typically associate with bands from the 70's – 90's, but also some fresh bits with the percussions and the organ.
The fantastic organ and mellotron/moog work in "Funeral Tango for Gods & Men" stood out to me, I was especially touched during the solo of the hopeful ballad 'One Day of Wrath, another Gesture of Faith'.
The first guest appearance on the album is the band's unofficial 5th member Rowan Robertson, best known for his work with Dio back in 1989. He contributes to "Hell Hath No Fury" and "All the Rage" with his soulful and creative solos, keeping the interest of the listener until the last track.
There are multiple samples of old horror movies throughout the album. The single 'All the rage' starts with few lines from the cult classic "City of the dead", which I was able to recognize thanks to the sick video:
Hex A. D. –  All the Rage (click here if the video doesn't play)
As a closer we have "Positively Draconian" featuring Ronni Le Tekrø (TNT), who elevates the track to a whole new level with his masterful guitar work. The last song is a journey, with tension progressively building up until it reaches its peak and we get that grand release, fit for an end of the album.
Personally, I expected something slightly different from Hex A.D., but can't deny their level of professionalism and refined sound – they already sound like a well-beloved classic. It surprises me how a group on that level receives so little engagement. That's where you, dear reader, come to help. Go and show "Funeral Tango for Gods & Men" some love!
Tracklist:
Naadegave
Seven Blades
Got the Devil by the Tail
One Day of Wrath, another Gesture of Faith
Painting With Panic