Nauticus – Disappear in Blue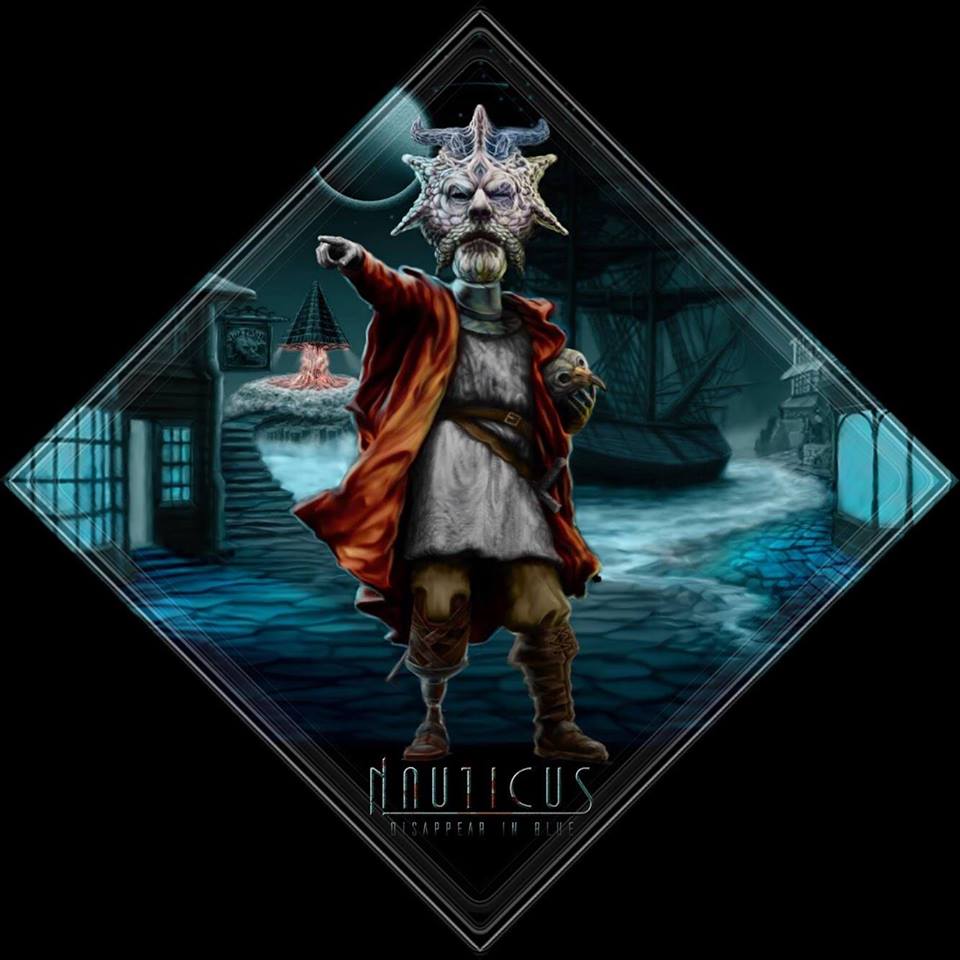 So this is another one of these reviews that took me a good long time to write, not because I felt the album wasn't good, quite the opposite actually. But because it's so complex, multi-layered and intricate, that every listen would change my opinion on certain parts, expose new details and reveal new fathoms of sound and atmosphere.
Well, let's not get ahead of ourselves here. First things first; Nauticus is a band from Turku, Finland. "Disappear in Blue", is their third release following the debut "A Wave To Carry Us Out" from 2009, and their second album 'The Wait", that was released way back in 2012. I'm not completely sure why it has taken the Finns so long to release their second offering, but after listening to their newest album, I have some ideas. One challenge was obviously that the band lost their singer Jani Rämö, and struggled to replace him, this new album is thus recorded with a stew of guest vocalists. Personally I believe this was somewhat of a blessing in disguise for the band, not because I dislike the vocals of Rämö, but because the addition of these guest vocalist have given this new album a very distinct personality. To put it bluntly, "Disappear in Blue" is a total reimagining of their sound. While 'The Wait' is a good album in its own right, it shows the signs of a band still not fully comfortable within its own skin. Those growing pains have all but disappeared on "Disappear in Blue", and the band comes out as ambitious, competent and mature in their signature sound.
The album is opened by the incredibly strong 'Magma'. A cyclic powerhouse of a maelstrom that drags you down into the subnautican world of the band. Overlaying melodies and riffs punctuated by the incredibly dynamic drumming of Tuomas Rajala. The track is also dominated by impressive vocals by Sakari Ojanen (Oddland), that adds incredible authority to the already potent sound. An atmospheric interlude, 'The Jesus of Lübeck', follows, before Rajala's drumming flows seamlessly into 'Claimed by the Sea'. A slower, droning, more doomy track, that keeps on adding intensity through its ten minute span. Here Tommi Siniranta (Reactor, Dissect) handles the vocal duties. Something he does admirably. The band keeps adding pressure, until it feels as if the dam breaks around the seven minute mark, sweeping the listener with it into the eerie, chaotic, undercurrents that ends the piece.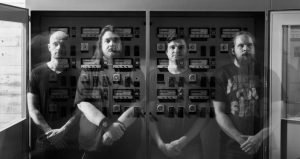 On the following song Ojanen is back adding his vocal talents to another long epic of a track. 'Strange Sequences/Lost Frequencies' drips in with a rhythmic melody by bassist Juuso Jalava, that acts as the foundation for the band to slowly expand upon. The whole track is like being caught in a mudslide, slowly but surely pushing the listener along, crushing and displacing everything in its path. The rhythmic midsection is quite mesmerizing, and once again builds into a more simple, but effective, melody, where an almost sacral feel is added by the vocals of Ojanen and the choirs, featuring the ethereal voice of Anette Kaukonen.
'Desolation' is another shorter piece, a beautiful slight instrumental carried on crystal clear guitar strings, that vividly conjures up the feel of standing on an abandoned shoreline gazing out towards the graying horizon, while rain falls around you. It leads into the track 'Singularity', lyrically a comment on technology overtaking humanity. Jyri Kuokka is the lead vocalist on this track, and his airy but energetic voice helps build the intensity. The instrumental part spins up like a whirlpool mirroring the theme of the track, before it flows seamlessly into the cacophonous opening of 'Arrival'.
This might, together with 'Magma' be my favorite track on the album. The atmosphere it conveys is not easy to explain, but imagine being out on the boundless sea, and seeing something large, no, immense, rising from the depths beneath you. Kuokka is the principal vocalist on 'Arrival' as well, with some added assistance from Kaukonen, and I have to say he does an amazing job at it. A perfect blend of cleans and growls, as well as the cyclical chanting of "Reptilian, Basilisk, Serpent, The Dragon, The Traitor, The Snake" really makes the hair raise on my back. The mid-section is more submerged, streaming back towards a more intense ending section with impressive work by bassist Javala, as well as a confluence of melodies from guitarists Markku Kastell and Jani Portaanoja. On 'Arrival' we also get our first taste of viola and cello, performed by Satu Kastell and Johan Wahlsten respectively. The viola and cello also feature quite prominently on 'Whale Bones' which is another short instrumental piece creating images of dark storm clouds approaching the seaside.
'Hieronymus' is out next, and is , with its almost fifteen minutes, the longest track on "Disappear in Blue". Here the band has recruited Amendfoil vocalist Lassi Maki-Kala which helps give the track an almost Tool-like quality, but only initially, as it quickly morphs into its own beast. The interlocking guitars of Kastell and Portaanoja once again just keeps on circling in-and-around one another, creating this atmospheric mesh that seems to grow, twist and mutate as the track grows. It ebbs and flows between darkly atmospheric moments, and almost threatening outpourings, underlined by frenetic shouts from Maki-Kala. Toward the end, a deluge of rhythm is built up on the foundation of Jalava and Rajala barreling down on the listener like a tsunami-wave. Powerful stuff!
The final piece of the album is titled 'Glass Pyramids', and is a more serene, post-rock inspired affair. There is still intensity and power here, and while it initially features something called "The Sailors Choir", the track overall supports the empyrean voice of Anette Kaukonen, who finally gets the chance to shine front-and-center. Kaukonen has the kind of voice where you just want to sit back and let it wash over you again and again, slowly dragging you back out toward the sea. 'Glass Pyramids' is a more tranquil, elegant way of ending a demanding album, and rounds up "Disappear in Blue" nicely.
Let me just say that this is a very impressive piece of art, an album that should definitely be on the radar of more people. I can understand how diving headfirst into this album, where many of the tracks reaches, or exceeds, the ten minute mark, can be challenging for a listener. But trust me, you are doing yourself a disservice if you don't give "Disappear in Blue" the attention it deserves. It's a delightful mix, saturated with post-metal, sludge, doom, avant-garde and progressive music. I will mention "Leviathan"-era Mastodon, Isis, Intronaut or Anciients as reference points when it comes to the sound of Nauticus, but even if these references touches on the sound of the Finns, it is also much more, quite unique and different.
I could hardly recommend this album more, get out there and support the guys, listen online, (available on their Soundcloud or Spotify) or even better – buy a copy!
Track list:
1. Magma (6:26)
2. Jesus of Lübeck (1:37)
3. Claimed By the Sea (10:33)
4. Strange Sequences / Lost Frequencies (10:26)
5. Desolation (3:21)
6. Singularity (7:43)
7. Arrival (11:13)
8. Whale Bones (2:54)
9. Hieronymus (14:47)
10. Glass Pyramids (9:01)