The Unguided – Father Shadow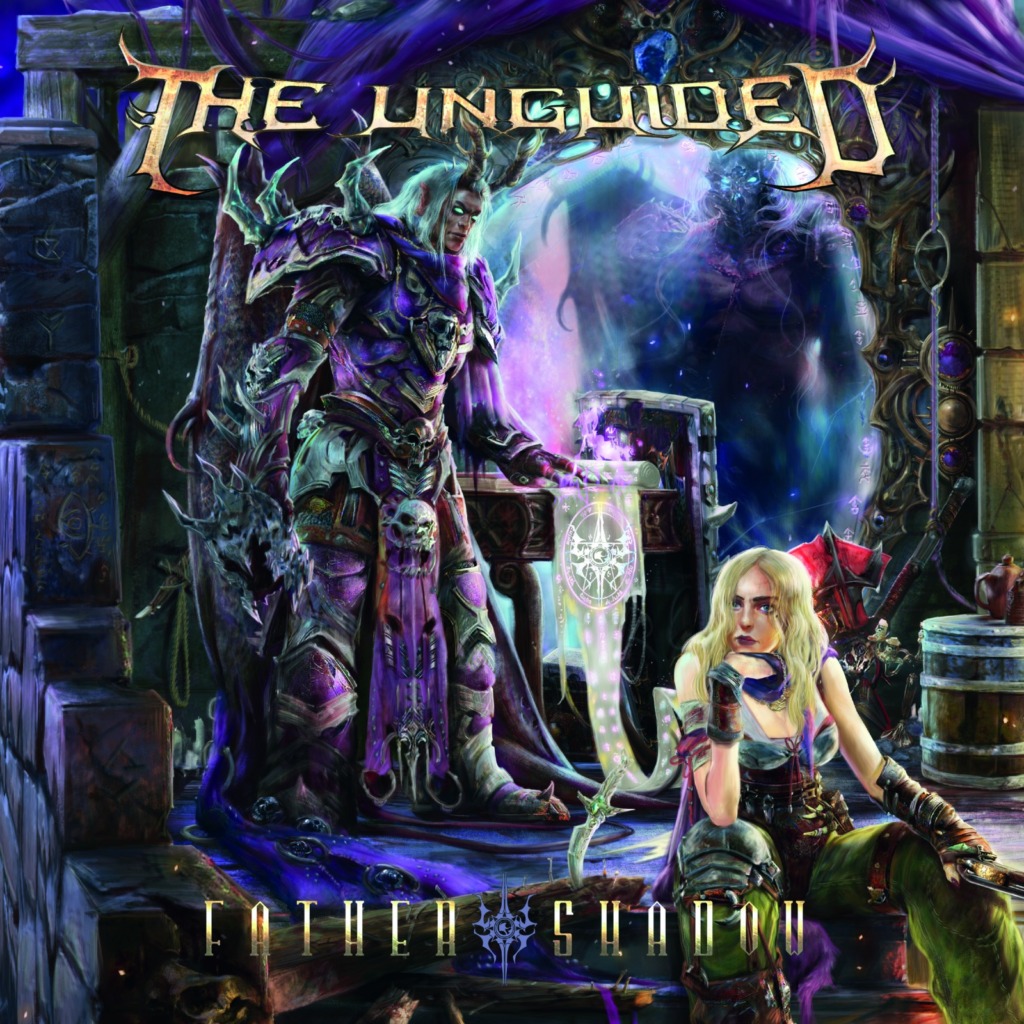 A lot of bands get labelled 'Melodic Death Metal' but seldom sound very melodic. The Unguided from Sweden lean more to that side, with not so much death. Which produces a nice balance as it turns out. "Father Shadow" is their fifth album along with five EPs, some of which are available from Bandcamp.
The current members of The Unguided were all formally in a band called Sonic Syndicate until 2009, and this album features three covers of their songs. So yes, in essence they are covering three of their own songs! It is worth mentioning at this point (or maybe not) that the digital version on Bandcamp does not appear to include these tracks.
The total running time is 59 minutes taken up by 14 tracks, so as you will have gathered, this band do not write long numbers. It puzzles me slightly why they have decided to include covers of tracks from over 11 years ago, maybe just to pad the album out. Anyway, forget about those, the rest is a mixture of death metal, metalcore, power metal and progressive metal with some electronic effects thrown in. There is plenty to keep you interested, and it never gets boring or monotonous.
Whilst there is no title track, a brief narrated piece that opens the proceedings at the start of 'Childhood's End', introduces the "Father Shadow" –  "While I can't hold your hand son, I will have your back". Then, clean vocals and slick lead guitar from Jonathan Thorpenberg and scream vocals from Richard Sjunnesson, give a great, varied introduction to the album.
'Never Yield' continues in this vein and has a catchy chorus and some nice guitar work. It appears to be about the Four Horsemen of the Apocalypse and Judgement Day, yikes!
THE UNGUIDED – Never Yield (Official Lyric Video) (Click here if the video does not play)
Up until very recently, there was a bass player in the band, Henric Liljesand who joined the band in 2011. He left on good terms in August 2020, after recording all the bass parts on this album. The band had this say regarding his departure: "Going forward, we are not looking to replace Henric. The remaining four of us have grown together too tightly and we don't want to meddle with that dynamic. We will continue as a four piece and we are in no rush to find a replacement. We'll figure out the formula as we go and see what will work and try to keep an open mind about it. We are sad to see Henric go but we know we have a friend for life."
"There is nothing worse for a lying soul than the mirror of reality" is the stark message in 'Crown Prince Syndrome', the first single released ahead of the album. The vocals switch back and forth between cleans and screams in this song, in which the son is agonising over the fact that he cannot live up to the stature of his father, the departed king.
THE UNGUIDED – Crown Prince Syndrome (Click here if the video does not play)
The subject matter strays into biblical territory in 'Lance of Longinus'. This track has a catchy chorus, chugging riffs, and a great guitar solo, and although it stands out title and lyrically wise, for me no track stands out musically from the rest, they are all good and it is a very enjoyable album. Longinus was the Roman soldier in the story of the Crucifixion, who stuck his spear into the side of Jesus to check that he was dead. The lance is also referred to as the Spear of Destiny, and this forms the backbone of the chorus. The cover artwork does not look very biblical, so I am not sure how the reference fits in with this image but nevertheless, it is a great track.
The last song is no exception, 'Gaia' featuring Erik Engstrand (Eyes Wide Open) on vocals is fast-paced and features all the band's elements and styles. In Greek mythology, Gaia is the ancestral mother of all life. In the 1970s chemist James Lovelock and Lynn Margulis formulated and developed the Gaia hypothesis. The theory asserts that living organisms and their inorganic surroundings have evolved together as a single living system that greatly affects the chemistry and conditions of Earth's surface. If there is a story running through this album, it is a very deep and complex one, with various mysterious elements weaved into the tale.
A visit to the band's web site reveals their love of fantastical stories involving gods, kings, angels & demons. 'The book of the Unguided, Canto I' can be read on the story page, if you have the time (it's over 6,000 words long).  'Canto II' can be found in the booklet of their 2017 album "And The Battle Royale".
Other notable guests on previous albums include Hansi Kürsch (Blind Guardian) & Peter Tägtgren (Hypocrisy & Pain)
The band are entering a new era, they have bags of potential and a compelling history. It will be interesting to see how they develop as a quartet going forward.
Tracklist:
1. Childhood's End
2. Never Yield
3. War of Oceans
4. Breach
5. Where Love Comes to Die
6. Crown Prince Syndrome
7. Fate's Hand
8. Stand Alone Complex
9. Lance of Longinus
10. Seth
11. Gaia (feat. Erik Engstrand)
12. Jailbreak (Bonus Track)
13. Denied (Bonus Track)
14. Jack of Diamonds (Bonus Track)