White Walls – Grandeur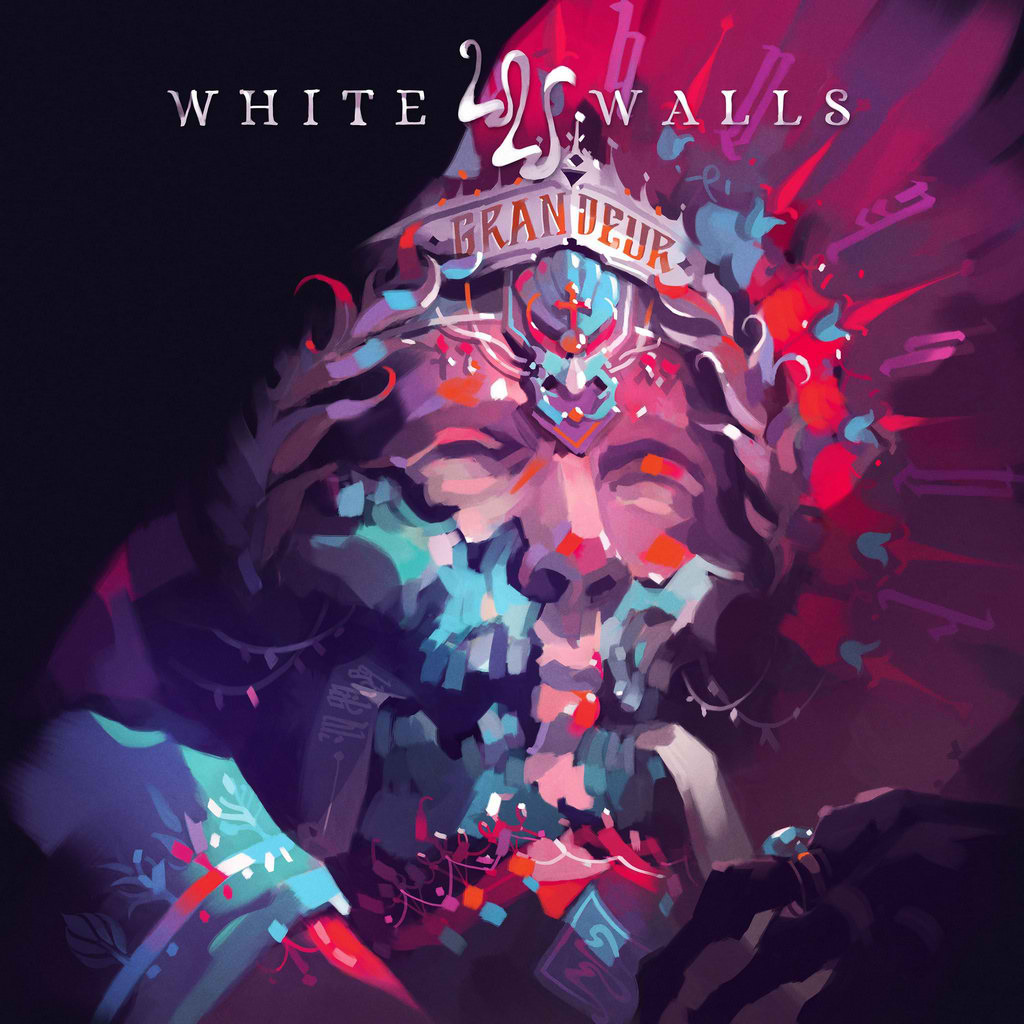 W
hite Walls is a Romanian progressive metal band, set out to release their third full-length studio record "Grandeur". I have had a tendency to shy away from Romanian metal bands despite being Romanian myself because they often aim towards sub-genres I'm not particularly keen on (black metal, folk metal). Coming across a prog band from my homeland is definitely a refreshing change and it gets even better once you realize that they really know what they're doing.
I usually aim to make my way into an album with a clear mind and no expectations. However, I think I had a negative bias towards this one lurking in the back of my head as I went in, and it's a beautiful thing to see that bias withering away as the album progresses, because the truth is that "Grandeur" is a brilliant record. If I were to list the primary influences I hear in their sound, it would most certainly be The Ocean, Opeth, and maybe a touch of Rendezvous Point in the vocal delivery. The riffs are somehow dragging and dynamic at the same time, laying down some seriously heavy artillery on both guitars and bass while maintaining a forward moving pace that sets an energetic tone.
Drummer Theo Scrioșteanu puts together a clever mix of hooky, straightforward patterns and progressive elements like pure headbanging beats cutting out into syncopated rhythms. The transitions are smoothly executed with a clear attention to detail and a well-delivered sense of groove on the snare and cymbals. And on occasions, he unleashes some sick double kick strums and flurries of blasting (see 'The Descent') that slightly resemble a death metal pattern. Bassist Șerban-Ionuț Georgescu really made an impression on me with a playing style that alternates constantly between background pounding and forward-thinking dynamic patterns that leap outwards into the spotlight with a slappy and badass sound. As far as guitars go, apart from the low-end chugging, there's constant use of melody that polishes the rough edges and connects the moving pieces into a sense of fluidity, making the music both challenging and engaging. Particularly the occasional use of soaring tremolo picking tickled my fancy to great extent, lifting the soundscape to a higher dimension. All the heavy, dynamic and contrasting elements are then further enhanced by a high-quality production that favors both impact and clarity while maintaining a slightly organic, raw edge.
Click here if the video doesn't play
Apart from the clever composition, "Grandeur" also offers a delightful atmospheric dimension. It is quite a heavy album and although there are clean and soft sections (delayed clean guitars and moody bass), these are quite scarce. But the dark, eerie and brooding mood that they develop seems to bleed into the heavy parts and maintain that tone all the way through, in such a way that despite the heavy riffage or dynamic technical aspects, it still has quite a steady feel. However, I feel that the album gets increasingly heavier as it progresses, with the atmospheric component falling more and more in the background as tension increases with each song.
When it comes to the vocal performance, I feel Eugen Brudaru's delivery is very fitting for the contrasting nature of the music. He delivers both clean and harsh vocals exquisitely and puts up a cool dynamic between the two approaches. The screams remind me of Mikael Akerfeldt's style, only with a shrieking tendency and maybe less of a guttural sound. And the clean vocals reminded me of Rendezvous Point's vocal parts with a remarkable high pitch that seems to be going towards the falsetto singing style but keeps a bit of natural vocal tone and grit in the process.
Click here if the video doesn't play
I was genuinely surprised by this album. It has a very good balance between heavy, soft and melodic elements on both instruments and vocals and while the sound is pretty much maintained throughout the record, there are changes and unexpected moments that prevent it from getting boring. From the song 'Locked-In Syndrome' onwards, I feel like the album boosts the energy and heaviness as well as the surprise factor. 'Locked-In Syndrome' has a breakdown that really caught me off guard and then on 'The Descent' we hear the most dynamic bass performance and cool mood changes throughout the song. The soft part in the middle sets an amazing dark atmosphere which then bleeds into a massive build-up towards the end of the song. This might actually be my favourite song on the record. If you are into heavy progressive metal with both impact and clever atmosphere, the likes of Opeth or The Ocean in particular, this is definitely one to keep an eye out for
Track List:
False Beliefs (01:40)
Eye For an I (04:45)
Home Is On The Other Side (05:06)
Holy Worse (04:51)
Velvet (04:58)
Speaking in Tongues (02:41)
Starfish Crown (05:33)
Locked-In Syndrome (04:32)
Month's End (04:22)
The Descent (06:52)
The Slaughter (Marche Funèbre) (08:42)