Framing Skeletons premiere lyric video for The Progression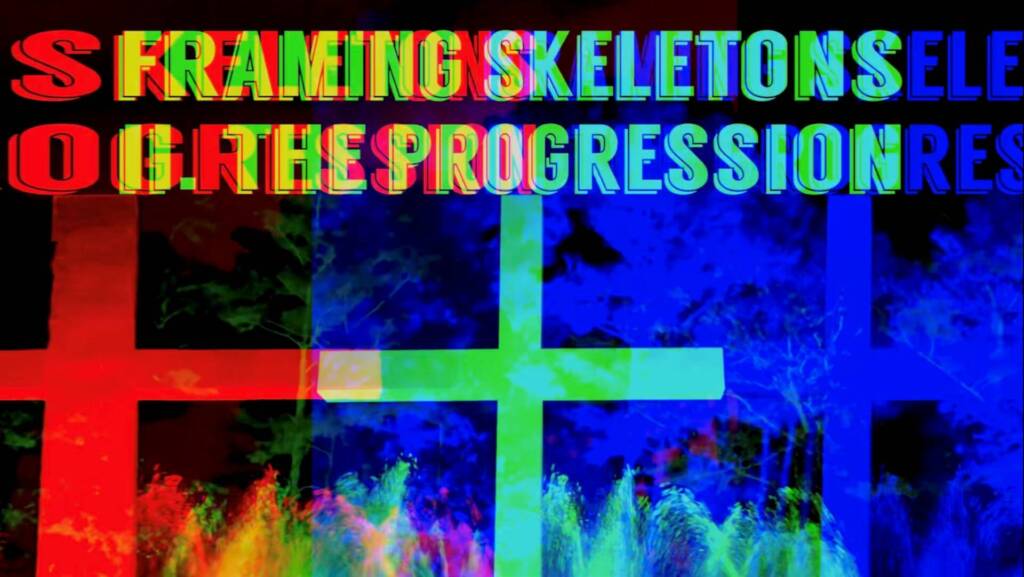 Back in February, Texan prog metal power trio Framing Skeletons surprised us with their massive third album "Luminescence" (Check out Bob's review of it RIGHT HERE!). You can still watch their powerful performance at our 2021 edition of The Progspace Online Festival RIGHT HERE, with which they opened Day 1! Now, at the end of the year, they have prepared a lyric video for the track "II. The Progression" to visualize that segment of the four-part concept centerpiece of "Luminescence".
Says drummer and lyricist Bryan Holub:
'II. The Progression' is about progressing to a better self in my mind's eye. It's about having a clearer conscience without the fear of God to cloud your judgment. This song is mostly about the façade of an afterlife and how meaningless it is to seek it when the only life we have is here on Earth. Throughout the video you will see some wacky evangelicals, massive structures of worship, far-right talking heads, acts of "God," and deeply rooted issues with the United States of America (i.e., police brutality, racism, etc.). In the end Jesus is shown on the cross which represents the irony of many evangelicals and far-right conservatives who think they're living the way Jesus intended, when the words in the bible go against most of what they preach.
Watch the lyric video for 'II. The Progression' exclusively here on The Progspace:
Framing Skeletons – II. The Progression (click here if the video doesn't play)
To check out part 1 of  this conceptual four-part series inspired by Bryan's very own journey, you can find the video for 'I. The Pariah' together with some liner-notes from Bryan RIGHT HERE!
Framing Skeletons are:
Jeremy Burke – guitars & vocals
Bryan Holub – drums, backing vocals
Ethan Berry – bass & backing vocals
Music by Framing Skeletons; lyrics and video by Bryan Holub.