Kepler Ten – A New Kind of Sideways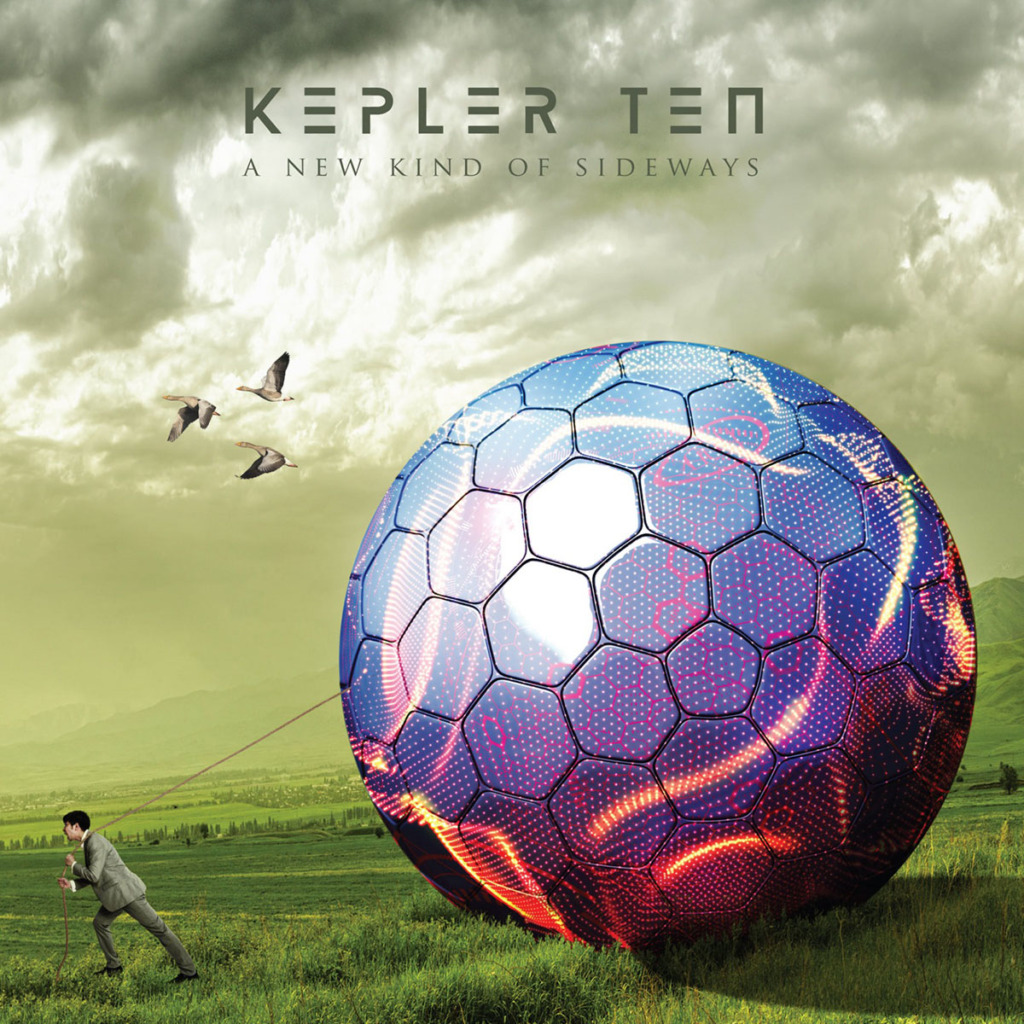 Sometimes it's nice to get nostalgic and step back in time, musically speaking. This is easy of course if you still have your old LPs or their CD replacements, and indeed if you are old enough to own such things. Alternatively, there are bands around that are keeping the music from the 1980s alive and one such band is Kepler Ten from the UK. Their second album "A New Kind of Sideways" clocks in at 68 minutes in true Prog Rock tradition and has a few lengthy numbers within. Opening track 'Universal' isn't one of them. At 2:53 minutes it is the shortest track but acts fine as the intro to the album. Instrumental in composition, it definitely gets you in mood for what is to come.
What comes next is much longer. 'Clarity' is just over 10 minutes long and it's here where the Rush comparisons start. Apart from the fact that they are a trio featuring a drummer, guitarist and bass guitar player who sings, and both guitarists play bass pedals, they also sound like them in places. It's not just Rush though. They encompass the styles of many bands to form an amalgamated sound of their own. This is then brought into the 21st century by the more modern sounding guitar playing of Alistair Bell.
'A New Kind of Sideways' is a semi-conceptual album, that has humanitarian and philanthropic themes. The band have said that by semi-conceptual, what they mean is, although each track stands out on its own, the album is held together in a cyclical manner by the first and last tracks. Anyway, 'Falling Down' was released as a single mid October 2020. It is a catchy number with a pounding beat, driven by the growling, rumbling bass from James Durand and solid drumming from Steve Hales.
Kepler Ten – Falling Down (click here if the video does not play)
The start of 'Weaver' is slow and soft, reminiscent of some early Queensryche and Crimson Glory. The middle is funky, jazzy, with a quirky guitar solo. There are some good songs on this album, 'These Few Words' and title track 'A New Kind of Sideways' among them, and a few earworms. After a few listens, I have decided that at times James' vocals sound like a cross between Jon Anderson and Sting.
The message conveyed on this album is apparently, that as human beings, we are all the same and have a duty of care and responsibility towards each other regardless of age, race, gender, or sexuality. We all bleed the same colour, yet we seem to spend most of our time finding ways to make life difficult for one another. Now, while I appreciate the sentiment, I am not sure that the last bit is true of everyone.
'Icarus Eyes' is the sort of song that I can imagine being a firm favourite at live shows. Multifaceted with shades of Yes and a sing along chorus. Let's hope they get a chance to perform it, and this album before too long. Final track 'One and the Same' takes up almost a third of the album at 20 minutes long. No doubt, serious prog rock fans will be licking their lips at this prospect. It is a three-part opus, the second part being instrumental with plenty of Rush influenced bits. It rewinds through the musical themes of the previous songs. The last part has a relentless but, laid back feel to it. It fades out slowly with some harmony vocals and a magnificent guitar solo.
It is nice to know that there are still bands out there keeping this genre alive, and these guys have all the tools to carry out the job. The Band found themselves under the professional wing of John Mitchell and White Star Records for their first album 'Delta-V' in 2017 and never looked back. A nice endorsement to have, one might say. It may be some time before we see another release from them, but I am sure it will be worth the wait.
Track list:
Universal
Clarity
Falling Down
Weaver
These Few Words
A New Kind of Sideways
Icarus Eyes
One of the Same