Pyramaze – Epitaph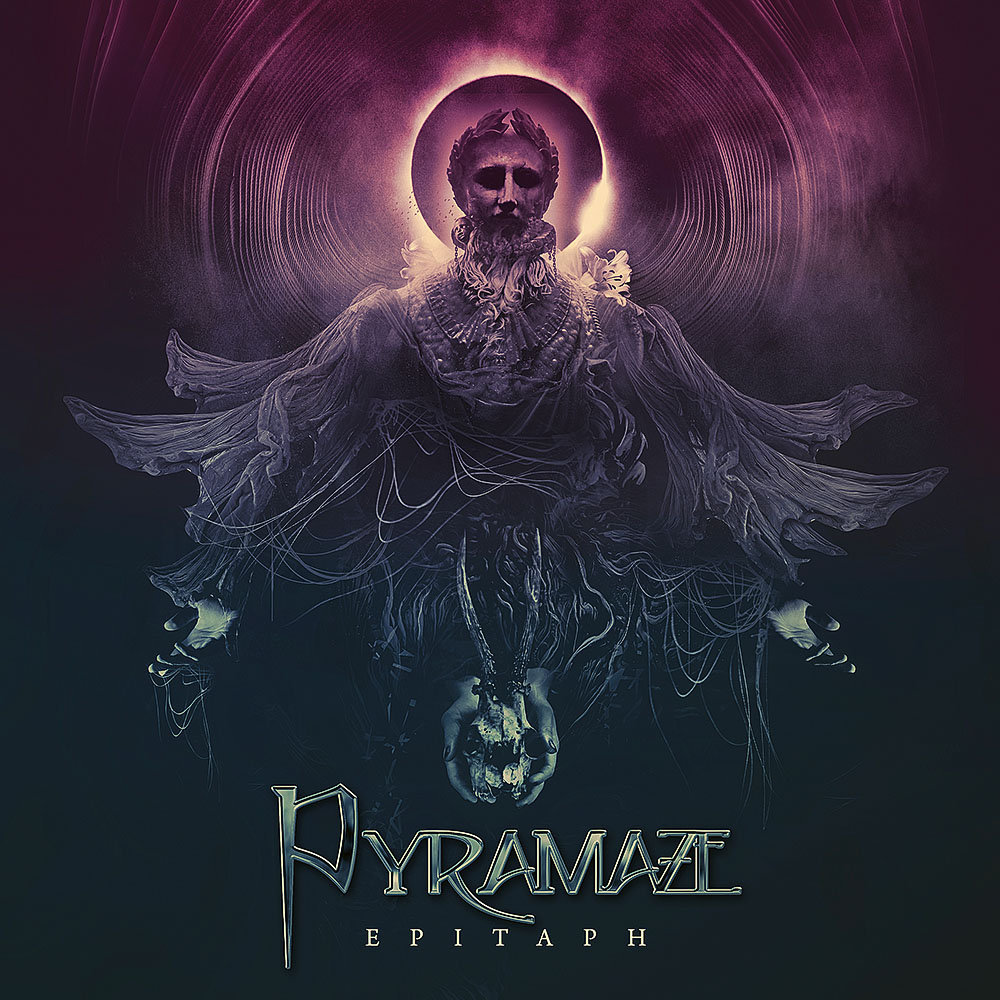 If you enjoy your prog metal full of power, emotive vocals, melodic hooks, and big choruses, then Pyramaze delivers on all levels. I must admit, this Danish band has largely been off of my radar since Immortal was released back in 2008 with former Iced Earth vocalist Matt Barlow, but I've greatly enjoyed revisiting old songs and even two whole albums which I'd neglected in the interim. With no founding members currently in the lineup (although keyboardist Jonah Weingarten did play on the first album, Melancholy Beast), Pyramaze manages to remain faithful to their powerful sonic roots on "Epitaph" while successfully setting themselves apart from those early releases.
The brief titular instrumental track sets the tone for the whole album with its simple yet emotional melody, and is followed by 'A Stroke of Magic', which showcases the band's talent for catchy, powerful riffs and precise rhythms, with choruses that have a tendency to get stuck in your head whether you're trying to remember them or not. This formula is used throughout much of the album, as we can hear with the tracks 'Steal My Crown' and 'Knights in Shining Armor', but it's a formula that works.
Pyramaze – A Stroke of Magic (click here if the video does not play)
Next with 'Birds of Prey' we get a needed change in tempo as we're treated to the closest thing to a classic "power ballad" on the album, with a chorus you'll be hard pressed to evict from your brain. 'Your Last Call' picks up the pace again to give us a little jolt, and flows easily into 'Particle', which continues the energy. The moody 'Indestructible' takes us into darker waters with its swelling melodies and atmospheric notes. 'Transcendence' features Brittney Slayes from Unleash the Archers, adding a welcome feminine voice to the soundscape.
Pyramaze – Particle (click here if the video does not play)
I don't know if it is for certain, but the whole album seems to be telling an overarching story of some kind, as an epitaph for a lost world. At the very least the lyrical and musical themes are connected in tone, and the last three tracks seem particularly entwined in my listening experience. The upbeat 'Final Hour' seems to be conveying the idea that this world is in crisis, and we need people to step up and take charge in the name of the greater good before it's too late. The melancholy 'World Forgone', with its choirs and theatrical orchestration, takes this idea further by saying that we've passed a threshold of no return, that we've caused too much damage to the earth with our greed and pollution, and that we've come to the sad end of it all.
With 'The Time Traveller', the band takes us back in time by having former vocalists Lance King and Matt Barlow both make appearances on the track. At just over twelve minutes long it's the most epic song on the album, and they utilize the vocal talents of King and Barlow well, imbuing each line with emotion and power right alongside Terje Harøy. With this closing track we're told that there is a chosen one, presumably the aforementioned time traveller, who will be able to reverse some of the damage that's been done to the world and save it for the next generation. The story seems very relatable for the current state of our own world, and I'm sure it would be worthwhile to read the lyrics while you listen to get the full benefit of the narrative.
Pyramaze – World Foregone (click here if the video does not play)
What makes this album so enjoyable is the underlying emotion at the base of each song. There aren't any risks being taken here, but that's not what this kind of music is about. "Epitaph" lets you escape into a beautiful musical landscape as each track paints a picture and tells its own story. The album's strength lies in its ability to allow you to listen effortlessly as you journey through each song. Each note has its proper place; nothing is wasted or unnecessary. Some might think the last song might drag on a bit too much with its long runtime, but for a veteran of prog metal this type of song is to be expected and I think they execute it quite well.
Permeating almost every sonic centimeter of Epitaph is keyboardist Jonah Weingarten, giving the album a particular atmosphere which speaks to the epic and theatrical nature of Pyramaze's songwriting in addition to allowing for soaring solos and little keyboard flourishes here and there, making sure there's always something for your ears to pick up. The guitar work Jacob Hansen and Toke Skjønnemand offer up is impeccable, providing a great balance of being well-polished and yet raw and powerful at the same time. Their playing often demonstrates a measured restraint where other players might try to dominate the mix. Even within this restraint there's a palpable energy in each note or chord that you can feel as you move with anticipation from one moment to the next. Often it seems as though the guitars provide a supporting structure for the orchestrations, yet when they shine they do so well to great effect.
Morten Gade Sørensen's drumming is also worthy of note. This man not only keeps excellent time, but he also contributes greatly to the overall atmosphere and feeling of each tune, showcasing an ability to imbue a simple hit with a drumstick with emotion. He also makes very good use of the space between beats. Knowing when to hold your hand back is equally as important as knowing when to strike it down. In fact, I would say that this entire album is an exercise in measured restraint, effectively utilizing emotional tension in the songwriting with dramatic results.
With "Epitaph", Pyramaze demonstrates that they're still very much in the game of powerful melodic metal by delivering an album with beautifully orchestrated melodies and emotional guitar solos overlaying a solid framework of catchy riffs and energetic rhythms. I look forward to hearing what they deliver next.
Tracklist:
Epitaph
A Stroke of Magic
Steal My Crown
Knights in Shining Armour
Bird of Prey
Your Last Call
Particle
Indestructible
Transcendence
Final Hour
World Forgone
The Time Traveller