Dear Mother – Bulletproof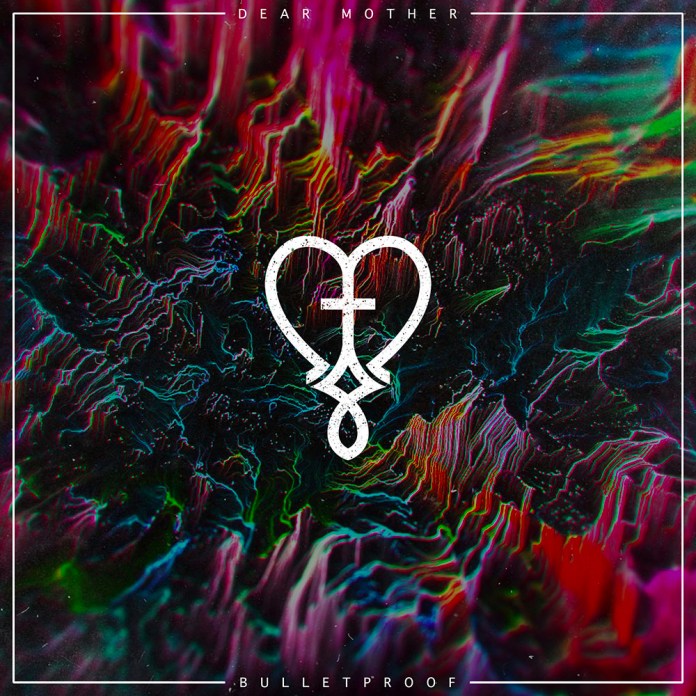 Dear Mother's debut album was one of my most anticipated releases of this year. I wasn't very fond of Delain, so the band breaking up wasn't such a tragedy for me, but I did enjoy them enough to be excited about what may rise from the ashes. Former Delain guitarist Merel Bechtold and drummer Joey de Marin Boer were actually down to business over a year before Delain fell apart and by the time the sad news came, I had already participated in the Dear Mother crowdfunding and was safely buckled up for the "Bulletproof" hype train.
"Bulletproof" is the new Dutch metal entity's highly anticipated debut album. The trio consisting of Merel, Joey and vocalist David Pear, were more than skilled at hyping up their upcoming beastie with a series of single releases that have been making an impression since late 2020. The first single was '12 Years in Exile' and that song was such a bomb that I was sold on the band after only hearing it once. However, 'Symbiose', 'Satellite', 'Invincible' and 'A Soul For Hire' proceeded to maintain and increase the hype throughout the first half of 2021 and to show that this band will somehow maintain their signature sound (yes, they already have one) while making each song an entirely different experience. And having heard the full album, I must say the same applies for all songs.
Click here if the video doesn't play
I was afraid that by pre-releasing so many songs, the band would spoil the surprise but they only enhanced the curiosity and when it finally dropped, "Bulletproof" left my ears both shocked and satisfied to a great extent. Unnecessary storytelling out of the way, let's have a closer look at the actual contents.
Genre-wise, this one is hard to place, which is already a good sign as far as I'm concerned. However, I would say the songs range over alternative metal, djent and metalcore, fusing into a weird hybrid of the three, that additionally also includes subtle elements of dubstep and electronic music. All musicians make their presence known to a great extent. Drum-wise, we see a very headbang-heavy groove infused performance spotlighting interesting kick patterns and occasional off-tempo beats or accents whilst constantly maintaining an accessible rhythm structure on the surface. We even hear blast beats on 'Vertigo' for extra flare and superhuman strength! The riffage is constantly punchy and pummeling on chugs and down-picking with a strong de-tuned effect, packing up great energy even on the softer songs along the lines of 'Satellite' or 'The Ones Below'. While the fuzzy sound can make it sound quite processed, it is nowhere near enough to lose its heart and soul. And though this isn't a very common element, guitar leads are also sprinkled on certain songs, making an impact for example with good shredding on 'Vertigo'.
Click here if the video doesn't play
As far as the alternative and electronic influence goes, there's notable use of some synth-fuzz effect on each song, often backing up the riffs. More outstanding effects however, can be seen in the dubstep-loaded riff-heavy ballad 'A Soul for Hire' and in the keyboard/synth effects used on 'Fade In'.
Then we get to talk about Vox and MY GOD does this dude make an impression. Tremendous versatility, easy clean/harsh vocal alternations and an amazing range over notes as well as grit come wrapped in a fiery package of heartfelt emotions and engaging charisma. From shouty gritty scream singing to falsettos, down to low growls ('Vertigo') and back up to easy pop-style singing ('Palace'), there's hardly anything this guy can't do. And he layers different vocal performances as well (See '12 Years in Exile' verses). When you think that he's also been the artistic mind behind the videos, David has "genius" written all over him… oh my god my review is becoming a Pear commercial!
Click here if the video doesn't play
Looking at the proficiency, creativity and diversity they present, this band is so worthy of respect, yet they leave plenty of room left for light-heartedness with bangers such as 'Symbiose' and cheesy tunes like the album closer "Palace". It all comes wrapped in a power-pack of punchy production that has the vocals and effects soaring through the stratosphere while the kick drums, bass and riffs rumble through the depths of the Earth. And the listener is delightfully caught in between. "Bulletproof" stands as one of the strongest independent releases I've ever heard, and I highly encourage all depressed Delainers, djent/core and modern prog enthusiasts, or simply music lovers in search of tunes and bangers to join the hype train right away!
Track List:
Vertigo (04:34)
Means to No War (03:31)
12 Years in Exile (03:56)
The Ones Below (03:36)
And Eye For An Eye (04:12)
A Soul for Hire (04:12)
Symbiose (03:46)
Satellite (03:32)
Fade In (04:18)
Heart (03:55)
Invincible (03:27)
Palace (03:27)