Michael Romeo – War of the Worlds, Pt. 2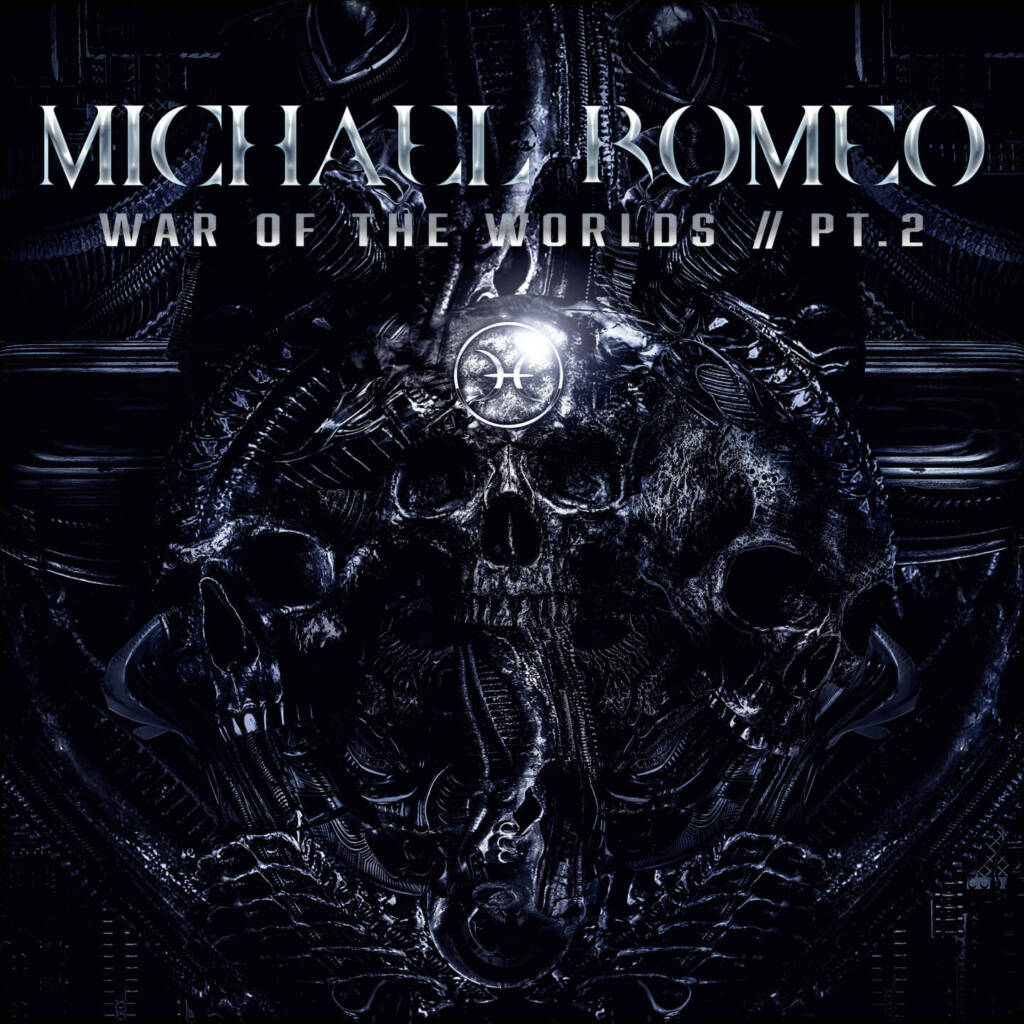 Michael Romeo is a man known and loved by many. His band Symphony X holds almost legendary status, and I am happy to say, I have seen them quite a few times. Mr Romeo has amazed me in three different countries over a couple of decades. But this isn't Symphony X, it's Michael's solo project and his album number three, "War of the Worlds, Pt.2". He also pops up as a guest on various albums occasionally, most recently on the new Star One album.
Comparisons to his regular band are inevitable and there are parts that sound similar. Croatian singer Dino Jelusick does sound somewhat like Russell Allen. Overall, though this is a different beast, and it stands up well on its own. There are eleven tracks plus two bonus ones which give you a very classy 66 minutes of excellent progressive metal.
'Introduction Part II' starts the ball rolling and is one of the few instrumentals on the album. It's grandiose and cinematic which is not surprising given that the inspiration comes from the book by H G Wells. Michael himself handled all the orchestration as well as keyboards, cello and obviously, guitars.
Michael Romeo – Divide & Conquer (click here if the video does not play)
As well as the more familiar instruments played by Michael on the album, there's some unfamiliar ones. The track 'Destroyer' has a Middle Eastern flavour, and this is enhanced with use of an Oud and a Saz. An Oud is a type of Lute that is fretless and usually has 11 strings. The Saz is traditionally Turkish used in Arabesque music and again is a type of Lute.
Returning to the fold are bass and drum duo John 'JD' DeServio (Black Label Society) and John Macaluso (Yngwie Malmsteen, James LaBrie). They lay down a driving, pounding rhythm onto which Michael weaves his magic. Guest vocalist Dino Jelusick of Whitesnake and Trans-Siberian Orchestra fame completes the excellent line-up for this album.
The album title would suggest a concept album, but the main man says otherwise. "The title feels a little more prophetic than usual", he says. "Just by taking a look around at what's going on in the world. For the most part, there's a strong sci-fi element to the album, but on a few songs I'm kind of like, 'Maybe the aliens can just sit this one out while we fight among ourselves…ha.'"
Michael Romeo – Metamorphosis (click here if the video does not play)
In some tracks, particularly 'Hybrids' Michael switched to a seven-string guitar. He explains why; "Anything you can do to get out of your comfort zone is a good thing. I'm always looking for different colours and sounds. It could be by incorporating electronic elements or different guitar tones. The seven-string added a cool, dark vibe on a few of the tunes"
Michael is at his very best when he's shredding and there are several tracks where he really delivers. 'Divide & Conquer', 'Mothership' and 'Maschinenmensch' are good examples. These are, and I quote "full-throttle sonic head trips with barnstorming riffs and heat-seeking solos." If these don't get you up and headbanging round the room, I don't know what will. Of course, it goes without saying, there is plenty more shredding across the album.
It's not all hell for leather though, there are slower parts, and 'Just before the Dawn' is such a track. It is one song that has a distinct Symphony X feel to it. There's nothing wrong with that though and it's one of my favourite tracks. Another instrumental track 'Hunted', has mellow passages and some subtle shredding, topped off with a glorious symphonic ending.
As the end of the album looms, there's one more shred fest before the finale. Also featuring a powerful vocal serving from Dino, 'Parasite' brings things nicely to the closing track. Obviously an album such as this deserves a powerful, stirring finish and it certainly gets one. Orchestrated, cinematic with choirs and quieter sections, 'Brave New World (Outro)' finishes the album as it started, majestically.
The album is also being released as a two CD set with instrumental versions of the whole album. The bonus tracks ('Alien DeathRay' is already an instrumental) appear on both CDs.
I love metal that incorporates a classical element and there's a generous helping here. Michael is not only influenced by great guitarists, but also classical composers such as Beethoven, Ravel and Stravinsky. The maestro's back catalogue speaks for itself, and this striking addition only strengthens that portfolio.
Track List:
Introduction – Part II (2:37)
Divide & Conquer (4:46)
Destroyer (5:34)
Metamorphosis (5:53)
Mothership (2:23)
Just Before the Dawn (5:01)
Hybrids (6:14)
Hunted (4:32)
Maschinenmensch (9:03)
Parasite (4:33)
Brave New World (Outro) (3:36)
Bonus tracks:
The Perfect Weapon (7:41)
Alien DeathRay (4:31)