Vokonis – Odyssey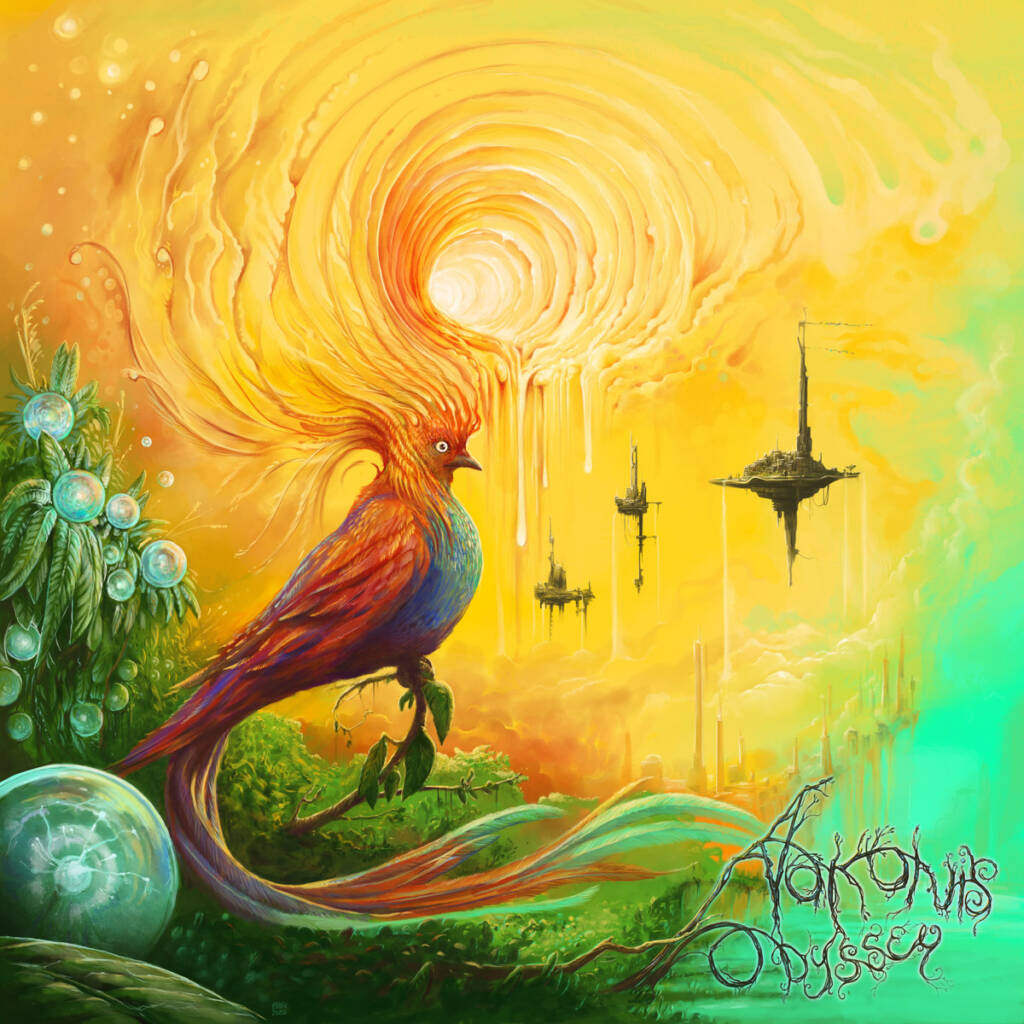 When you start listening to this album, your first thought might probably be that this is just an "ordinary"  power-rock album. The first song is quite short and starts immediately with a thriving riff, followed by a roaring voice, close to growls. "So the tone is set", was my initial opinion. But quite soon the roaring vocals are replaced by a clear warm voice and again later it's followed by aggressive screams. All within the first 3:17 minutes of the album, on the opening track 'Rebellion'.
But do not let this put you on the wrong foot, because there is much more to discover on "Odyssey". With three short songs and three long ones, the full album length is just over 40 minutes. A bit short perhaps, but it has no weak songs in my opinion, and so the Swedes have chosen quality over quantity I guess. Where the shorter songs are quite direct and powerful, the longer ones contain more variety and some calmer and more atmospheric sections. The level of progressiveness employed by Vokonis on this album could possibly cause some discussions among listeners. But in my opinion "Odyssey" definitely has enough variety to fall under the heading of progressive Power Rock/Metal.
Let's take the vocals, for instance, I can hardly believe that the band only has three members, because there is so much happening with these three constant battling voices. Guitar player Simon Ohlsson is behind what I refer to as the "power-rock" voice.  Howling, forceful and tireless vocals, nearly growling. The bass is played by Jonte Johansson, he switches between the more aggressive screams and clean warm vocals. These clean vocals are my favorite, maybe not so strange, because normally I am not so fond of overtly aggressive vocals. But also because this voice brings my mind back to the grunge days of the early nineties, reminiscent of bands like Stone Temple Pilots and Alice in Chains. Music I enjoyed way before I ever heard of the progressive rock and metal I love so much nowadays.
Vokonis – Blackened Wings (click here if the video does not play)
Still despite my tendency to dislike aggressive vocals, on this album it actually works for me and even makes the music stronger and more interesting. The band ensures with these styles, that the vocals totally fit with the instrumental side of the album. Besides singing, these guys also know how to play their instruments. The riffs and solos from the guitars are just amazing and I haven't even mentioned drummer Peter Ottoson yet, and man how I do love his drumming. Constant energetic, thriving and powerful, hitting the skins on those drums. Of course, I also have to mention the fact that the band has employed the services of keyboardist Per Wiberg on "Odyssey". Wiberg is of course best known for his work with Opeth, and more currently Spiritual Beggers, and his presence is felt through the entire album, adding tasteful atmospheres and layers of majestic sound to the groovy framework provided by the rest of the band.
Their best track, 'Through the Depths', is left for the end of the album. Almost 13 minutes long and the most diverse of all. Not even halfway in, the song continues with only instrumentals. Long guitar solos, warm, throbbing, bass sounds and again this amazing drumming. This song made me bump the album up an extra point in the end, it's just that good!
This album is like a metal train that runs over you. Well, please put it in reverse and run me over, again and again.
And if you like it as much as I do, then hurry up, and get yourself a copy of the album, and be sure to buy a t-shirt, because the artwork, by Kyrre Bjurling, is simply amazing as well.
Track list:
Rebellion 03:17
Odyssey 08:54
Blackened Wings 04:04
Azure 03:50
Hollow Waters 07:49
Through the Depths 12:48