Caligula's Horse – Rise Radiant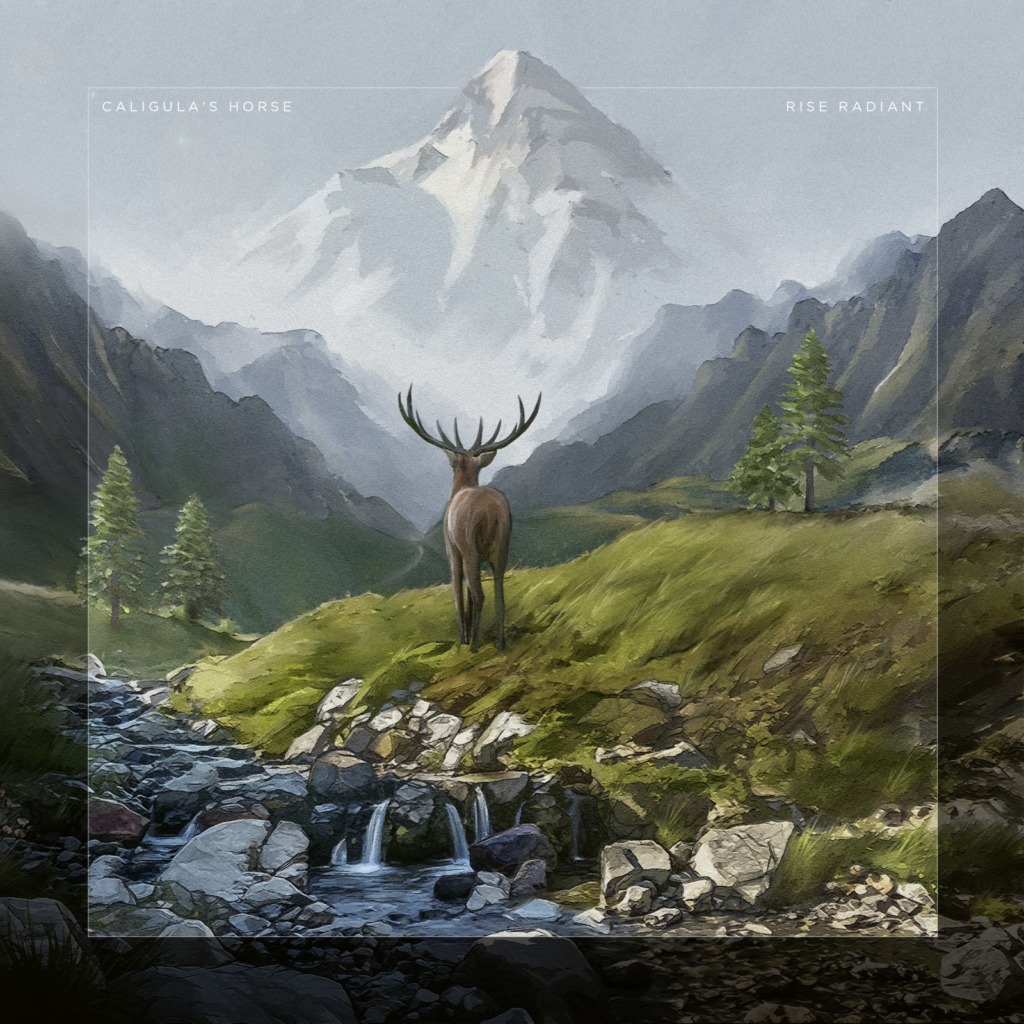 What happens when 5 hungry and creative musicians reach what you think might be the pinnacle of their musical career? After a massive world tour, they go back home, close themselves in and in a few weeks deliver an album that will literally knock your socks off!
This is exactly what Australian wonders, Caligula's Horse – also known as "C-Horse" or more lovingly named "the Ponies" by their faithful fans – have done. Yes, I must admit I'm one of the latter, after being smashed with the infinitely awesome "In Contact", one of the best albums of the latest years for me, as well as seeing them live several times during their European tour while being able to chat with the guys, discovering they're personally as amazing as their music is: yes, I'm a fan-girl and I love the Ponies.
Despite all this, I must admit I was afraid of listening to "Rise Radiant". Many questions came to me: would they really produce a work of art equally moving, unforgettable and enjoyable as their previous work? The singles that came out before I got to hear the full album at first were just ok for me. They didn't move me as I thought they would.
BUT, and a big capital BUT, when I heard the full album, all fell into place and everything changed after the roughly 45 minutes of its runtime. So yes, I found myself repeating aloud: this album is a grower! And too short, though it feels complete when the last note fades.
Caligula's Horse – The Tempest (click here if the video doesn't load)
Maybe I was not in the right place when I first heard the songs, so I must thank the 5 guys from Brisbane, their music served as a vehicle for me to, indeed, rise again. As singer Jim Grey puts it, the word 'Rise' – carries the implication that you're already down in order to rise. The album explores subjects like being fragile and powerful within that same vulnerability, trying to capture human nature, and its experiences, that beauty in our fragility and temporary nature.
'The Tempest' and 'Slow Violence' are the perfect singles and opener tracks, a smashing mirror in your face (yep pun intended, go and watch the excellent video for the latter, directed by their own Adrian Goleby, and what a superb video production job he did!). Both songs feel like if you're falling down a waterfall during a thunderstorm. The sheer intensity provided by the rhythm section, including all strings serving as a rhythmic lead, while Jim's sweet soaring vocals complete charging the first 8 minutes of the album with such electric intensity. I see myself singing at the top of my lungs next time I'll see the Ponies live!
Caligula's Horse – Slow Violence (click here if the video doesn't load)
Both songs will surely be anthems of the clearly distinguishable C-Horse sound, even more technical and complex, but at the same time melodic and poppier if I may say so: behold those ever-present catchy melodic lines impossible not to sing along or headbang to.
'Salt' can easily become one of my all-time favorite C-Horse songs. It comprises everything I love of this band of 5 fine musicians. The dynamics on this song, Jim's varied vocal melodies (and lyrics), the different pattern-changes, the emotions, heavy riffs and light passages, all combined to create a superb masterpiece that goes straight through me and tears me to pieces…
… to make me float and glue them together again during 'Resonate'. What a beautiful song this is! A slow, short piece that builds up on electronic sequences and Jim's sweet voice. Lyric-wise, it brings a moment of self-introspection, a calming moment to help come back to one's senses.
'Ocean Rise' and 'Valkyrie' bring more of the already 'classic' C-Horse sound. Masterfully crafted songs weaving between catchy melodic lines and heavy, dense and complex riffing with a lot of djent elements like muted guitars, Josh Griffin's clockwork drumming and the ever-presence of the "newcomer" Dale Prinsse with his deep bass sound enveloping it all. Dale is not that new on the C-Horse camp, as he's been involved since a long time in different duties.
'Valkyrie', the third single released, brings a solo duet between songwriter mastermind Sam Vallen – skilled, technical and fully emotional as always – and Adrian nailing his first solo with the band. It also brings the ever hopeful positive light with lines like "It's not impossible, it's just the end of your reach -This is not forever".
Caligula's Horse – Valkyrie (click here if the video doesn't load)
'Autumn' and 'The Ascent' are the longest and ending tracks of this superb album. The first presents us with acoustic guitars and Jim's wonderful voice, slowly increasing the instruments and backing vocals and raising the already emotional intense song, climaxing in a beautiful bass-solo by Prinsse and a positive vibe towards the middle of the song. Another tune to take us through a roller-coaster of emotions. This is exactly what I love most from this band: how they can take you through such emotional journeys to find yourself reflected in Jim's words.
The last and longest track on the album, pretty much in consonance with the longest ones on "Bloom" (Dragonfly) and "In Contact" (Graves) deliver us with a knife of a master-piece, the sharpest tool cutting through it all, the one that will surely bring tears to your eyes (if you're an emotional creature as myself). Vallen and Grey really know how to smash everyone down, whether it is by the incredible riffs, powerful bursts of energy, dreamy melodies and a voice of an angel, but the poetic and deeply moving lyrics that rip through the heart. Oh Boy! 'The Ascent' has it all. Hats off, Caligula's Horse's next masterpiece is born.
Yes, Caligula's Horse are djenty but not like your average djent-band. They focus on striking melodies and powerful riffs, with an energy that feels contained but delivered at the right moment with the right amount to turn you upside down.
"Rise Radiant" is definitely more than the obvious result of what the guys of Caligula's Horse have been creating for the past decade. It is a conclusion and a marking point on their careers. With solid songwriting, super crystal clear sound production thanks to the master of the knobs Jens Bogren, and excelling on their own skills as instrumentalists and vocalist respectively, Caligula's Horse reached a new stage that will see them reaching new heights. And what a gorgeous artwork, depicting visually exactly what the album is about in the form of a beautiful but actually frail deer ready to face the majestic snowy peaks ahead of his way.
"Rise Radiant" is poetically brilliant and combined with its powerfully crushing energy and moving melodies, delivers what surely is for me one of the best albums of the year!
Tracklisting:
1. The Tempest (04:50)
2. Slow Violence (04:32)
3. Salt (07:40)
4. Resonate (02:37)
5. Oceanrise (04:37)
6. Valkyrie (05:11)
7. Autumn (07:51)
8. The Ascent (10:42)
9. Don't Give Up (05:14) (bonus track

– not covered on the review as it was not sent with the promo for review

)
10. Message To My Girl (03:56) (bonus track

– not covered on the review as it was not sent with the promo for review

)