The Ocean – Phanerozoic II: Mesozoic | Cenozoic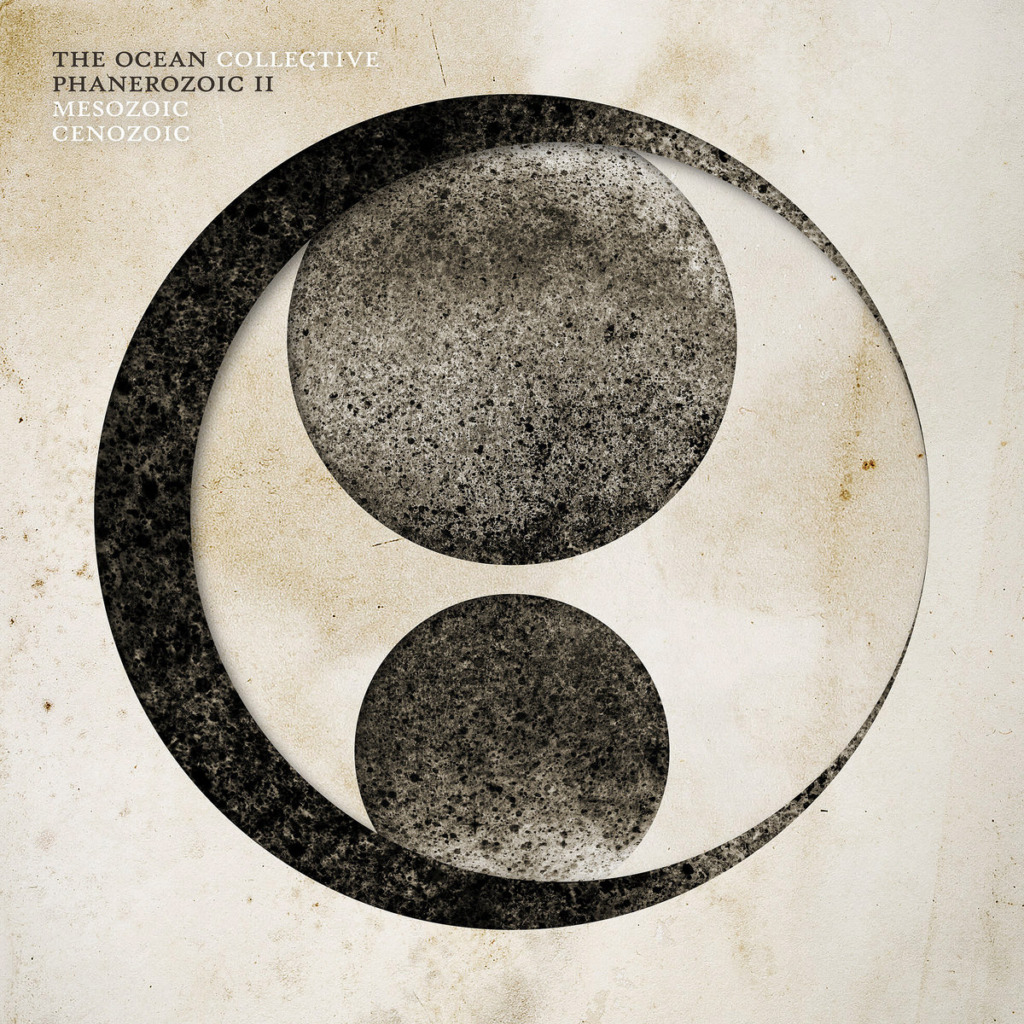 Who's up for some geology metal? When it comes to weird concepts to base your music on, Germany's The Ocean Collective probably takes first prize. Not only have they chosen to write their music about geological aeons, but they stuck with it for an entire discography and keep making it work. Their latest release "Phanerozoic II: Mesozoic | Cenozoic" is the continuation of their previous record, which was actually my introduction to the band, and while that was a phenomenal record, I am pleased to say that this one surpasses it in every way.
Being labelled anywhere from sludge, to post-metal and progressive metal, The Ocean create an unusual and impressive blend of styles that sets them apart from just about any other prog band out there. I feel the production and sound textures themselves play a huge role in delivering what The Ocean is all about, sounding raw and natural but incredibly well defined. The crushingly heavy, yet somehow steady pace of their riffs evokes a phenomenal mixture of energy and strength that makes the music sound very well structured and solid but also volatile enough to allow powerful contrasts and changes in movement to occur.
The progressive nature of their compositions, based on complex time patterns enables the listener to go through a song multiple times just to keep uncovering new things and peel off multiple layers of details. But the use of repetitions and their talent to infuse certain ear-worm melodies or grooves in an otherwise highly eclectic and intellectual sound, allows them to also grab you from the first spin and make sure that you will be enjoying the album every step of the way. The bass presence is incredibly valuable, standing out beautifully into the mix and playing a huge role in creating the powerful and penetrating sound that defines this band's signature. The drums are also quite unique and surprising, complementing and enhancing the movements and energy of the songs. Whether we're talking heavier patterns or softer, atmospheric soundscapes, the drum part always plays into the vibe and becomes a part of that, sounding very musical expressive.
My favourite thing about this album would have to be the sense of cohesion and continuity that it gets when listened to as a whole. The songs are clearly separated but each song somehow seems to pick up on the aftertaste of the previous one and then start shifting that mood into a subsequent phase. This gradual evolutionary pattern is what makes the album keep you engaged and focused from beginning to end and prevents any sense of monotony to sink in, even though this sort of music actually presents a high risk of that happening. They are very diverse and versatile musicians and that allows them to stay on the scientific topic for 51 minutes but to always hit you with something fresh and exciting.
The first song "Triassic" is pretty heavy, dynamic and very groovy, and constantly oscillates between clarity and harshness, softness and aggression, melody and riff. But the true potential for destruction is actually somewhat contained. It is only unleashed to the fullest in the second track, the monstrous 13-minute creation taking you through the Jurassic and Cretaceous eras. Though this composition makes consistent use of atmosphere, it constantly builds tension and momentum, until it builds into a relentless wall of sound with blistering double pedals, roaring guitars and sprinkles of blasting. Vocalist Loïc Rossetti does a phenomenal job with both clean and harsh, contained or unleashed vocals and on this one, he is also joined by Katatonia's Jonas Renkse for a few verses.
What surprises me so much about The Ocean is how they manage to make their music expressive and meaningful while also connecting to the topic. No one would ever tell you that a geology lesson could be bombastic or intense but these guys found a unique way to do just that. The music doesn't directly deliver emotion, as that wouldn't fully fit the concept, but it somehow evokes the sense of natural phenomena unfolding before you. The vocals release massive amounts of energy at times and can also be very calm, warm and peaceful, but all these vibrations are suggested through a somewhat impartial attitude that could be interpreted as if the earth itself is speaking to you.
The Ocean – Jurrasic|Cretaceous (click here if the video does not play)
From 'Jurrasic|Cretaceous', we move on to the 'Palaeocene', which keeps the heavy energy going but seems to slow down the hectic sense of entropy in the previous track to a more steady, groovy pace, allowing the album to then flow into a softer phase with the 'Eocene' allowing clean vocals and melodies to take hold of the sound and 'Oligocene' turning full instrumental. This one is actually one of my favourite moments in the album as it gives some time to really slow down and take in a calming vibration. The keyboards really breathe into it and convey more of a meditative atmosphere with a sense of stillness.
However, the drums still move forward with smooth, detailed and gentle groove and soon we venture into the 'Miocene|Pliocene' which starts a slow upward dynamic from a moody and somewhat menacing sound, into a larger, fuller soundscape. The energy then keeps building into the 'Pleistocene' which also picks the tempo back up and eventually grows into an almost black-metal styled part of blast beat and shrieky, high-pitched screaming vocals. Then almost as a calm after the storm, the final track welcomes our current age, the 'Holocene'. This one is more like a dark post-rock, somewhat dynamic but also ambiental song, and as a final addition to make the closing special, a reprise from the Triassic is used, only with more sombre, menacing tone, as if it heralds yet another storm of extinction. Where will our current times lead us?
The Ocean – Pleistocene (click here if the video does not play)
Some goodies to top off the experience are guest vocal appearances by Katatonia's Jonas Renkse on 'Jurassic|Cretaceous' and previous The Ocean vocalist Tomas Hallbom on 'Palaeocene' and superb use of cello on the final two tracks. I am amazed by this band's capacity to bring so much charisma into such an intellectual and challenging topic and compositional approach. The album is truly a masterpiece of creativity and expression and it works great on its own as well as a continuation of "Phanerozoic I: Palaeozoic". It is diverse and complex but fluid, cohesive, coherent and kept on track. Many things are striking and unexpected but nothing is overdone and the flow of the events described is never shaken, making it one of the strongest progressive metal releases of the year.
Track List
Triassic
Jurassic | Cretaceous
Palaeocene
Eocene
Oligocene
Miocene | Pliocene
Pleistocene
Holocene